The Mariners released reliever Justin De Fratus on Wednesday, Ryan Divish of the Seattle Times reports. In a response to a tweet, Divish noted that De Fratus was topping out at 90 MPH. During spring training, the right-hander gave up three runs on six hits and three walks with four strikeouts in six innings.
De Fratus inked a one-year deal for $750,000 with the Mariners back in December, two months after the Phillies outrighted him. The Phillies rode De Fratus hard this past season, having him log 80 innings over 61 games, easily eclipsing his previous career-high of 52 2/3 innings. He finished with a poor 5.51 ERA, a far cry from his production in the previous two seasons.
The Phillies moved him into a mop-up role, a decision that wasn't initially communicated to him and a role which he didn't want.
Worryingly, De Fratus saw his velocity plummet during the season, perhaps caused by overuse. Via Brooks Baseball: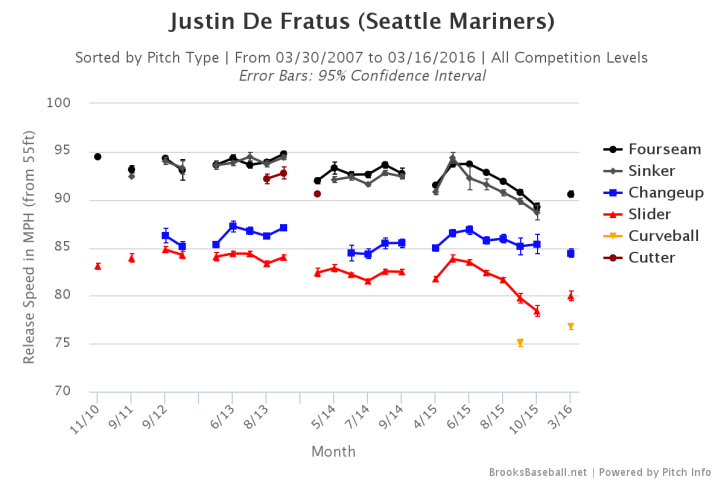 De Fratus is still only 28 years old and is relatively inexpensive, so he'll likely be able to find another opportunity elsewhere, but that velocity drop is very concerning, especially since he wasn't able to regain it after an offseason of rest.