Pitcher Chien-Ming Wang is 35 years old now — 36 at the end of this month — and hasn't pitched in the majors since a one-off spot start for the Blue Jays in August 2013. He signed a minor league deal with the Royals in January, which might very well have been his last shot to get back to the big leagues.
Apparently, Wang has rediscovered his stuff, as he is reportedly sitting around 94-95 MPH with his fastball, per MLB.com's Jeffrey Flanagan. Wang said his velocity was below 90 MPH last year and credits pitching "guru" Ron Wolforth for his rebirth.
Pitching coach Dave Eiland said, "He looks now like the same pitcher I had 8 or 9 years ago. A little amazing."
Here's a look at Wang's velocity over the years, from Brooks Baseball: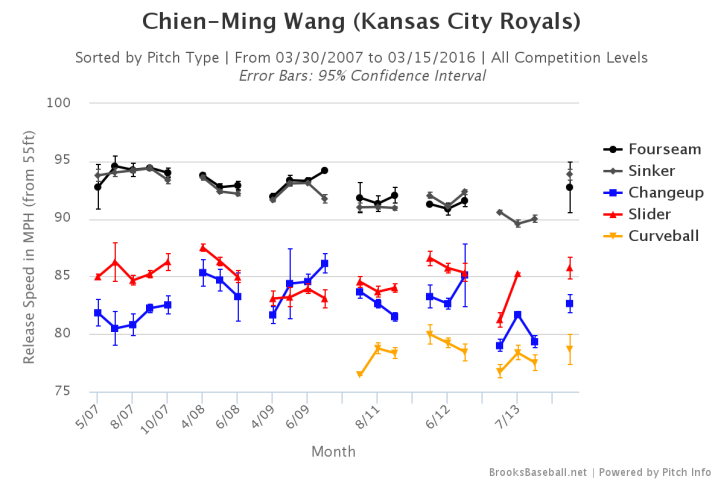 If Wang makes the Royals' major league roster, he would earn a base salary of $1 million. It might not sound like much, but considering Wang has had to take minor league deals dating back to 2013 and played in the Atlantic League last year, that's a nice chunk of change.
Wang has a career 4.37 ERA and a 364/234 K/BB ratio over 792 1/3 innings spanning parts of eight seasons in the majors.