Angels starter Jered Weaver had a forgettable afternoon against the Dodgers on Wednesday in a Cactus League exhibition. The right-hander was immediately greeted with a leadoff home run by Joc Pederson and walked the next batter. Weaver ended up yielding five runs on six hits and a walk with no strikeouts. Three of those six hits were home runs, with Austin Barnes and Scott Van Slyke joining Pederson.
A scout had Weaver topping out at 80 MPH with his fastball, according to Pedro Moura of the Los Angeles Times. The home run to Barnes came on a 78 MPH fastball.
Velocity is a pretty big deal for Weaver, as he's been losing it at a rather steep rate. Check out this chart from Brooks Baseball: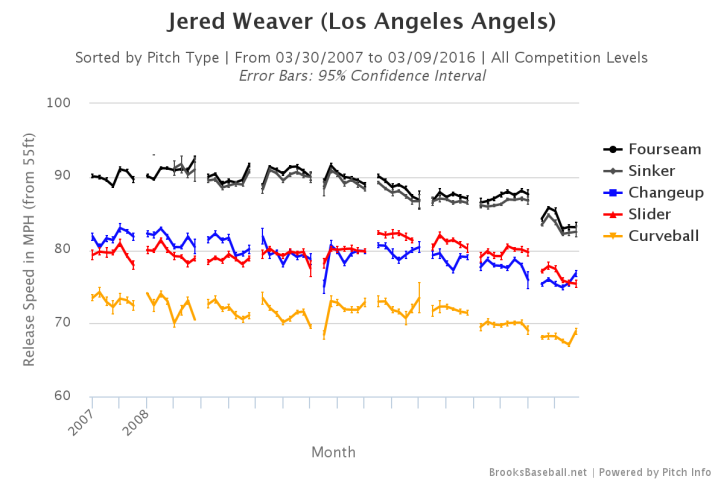 Weaver had the worst season of his career in 2015, finishing with a 7-12 record, a 4.64 ERA, and a 90/33 K/BB ratio in 159 innings. He battled a hip injury in the middle of the season and a shoulder problem towards the end of the season. The Angels have Weaver under contract for the 2016 season at $20 million after which he can become a free agent.
It's early, so a lot can change between now and the start of the regular season. Weaver could get back into the high 80's, but considering what happened last year, it's at least something to keep an eye on.