In December, Major League Baseball announced recommendations — not rules, but mere recommendations — that clubs put protective netting in front of all seats between the near ends of both dugouts (i.e., the ends of the dugouts located closest to home plate). Most parks already had netting which extended to the near edge of the dugout, of course. That, combined with the emphasis on notice to and education of fans regarding their safety made some — including this author — think that baseball's netting initiative was less about increasing protection for fans and more about increasing protection of itself from liability.
The Minnesota Twins, however, just announced that they are going to go beyond these recommendations:
The "DSP" is David St. Peter, the Twins president.
Based on the immediate responses to this news, as seen in one Twins reporter's Twitter replies, this isn't going to go over particularly well: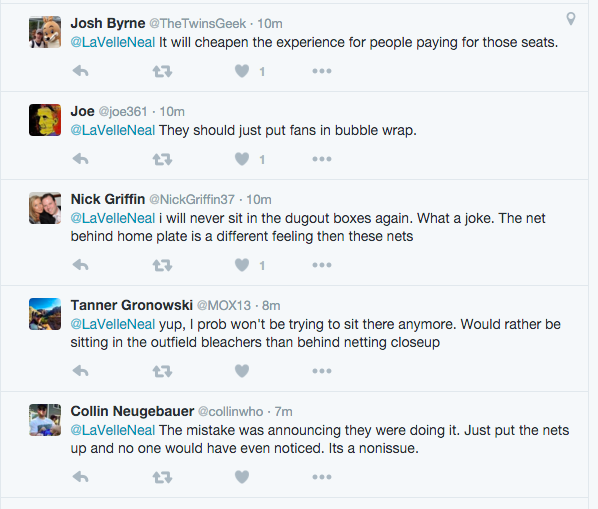 On some level I understand. Fans still like to sit down close. Many like to get foul balls and interact with players as much as they possibly can. As the league said back in December, they have an interest in balancing fan experience and safety. Someone is gonna get angry when nets go up. Maybe a lot of someones.
But those dugout seats in Minnesota are really close. And people can get seriously hurt. While most fans can and do sit down there without getting hurt, the Twins and their employees are there every day and likely see their fair share of injuries and near-misses too. If they're nervous about it, it's hard not to defer to them in this regard.