It's been a very slow news day, baseball-wise. And I'll be honest, I spent most of the day listening to David Bowie music and reading David Bowie remembrances. Haven't you?
Oh, like a lot of people in the content-creation business, I spent a few minutes lamely searching for some vague connection between Bowie and my area of content-creation. That's what we do. I found nothing other than baseball-style David Bowie t-shirts, and even I'm not that desperate to stretch that into a post. The only person I saw make an actual legitimate Bowie connection to baseball was Dave Brown over at CBS who found out that the Yankees and Bowie were business partners during the early medieval period of the Internet age. That much was interesting.
Then, a few moments ago, when I was getting ready to sign off for the day, I saw someone mention David Bowie's Twitter account and his random assortment of follows. So I went and had a look at who the Thin White Duke followed.
It was mostly the usual suspects. Artists. Record labels. Former collaborators. Respectable news sites, actors and celebrities. Oh, and this guy, in the top row, middle: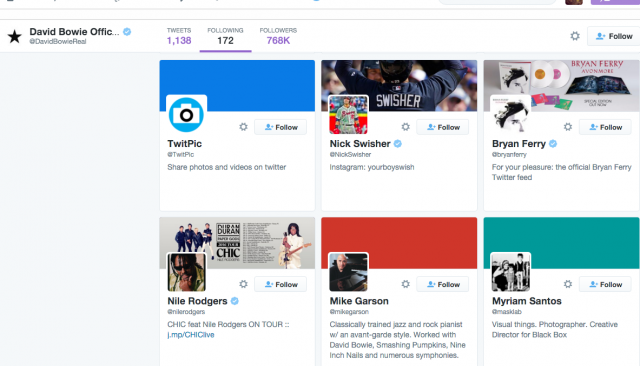 "It's on America's tortured brow that Mickey Mouse has grown up a cow. Now the workers have struck for fame. 'Cause Swisher's health-y again."
RIP, Ziggy. Good luck in 2016, Bro.