There was a big victory parade in Kansas City today for the Word Champion Kansas City Royals. The Cardinals season ended three weeks ago with a loss to the Cubs in the NLDS. One would think that that would be enough to make the question of "who is better, the Royals of the Cardinals?" pretty irrelevant.
One would be wrong to think that, however, because this ran at the St. Louis Post-Dispatch's website today: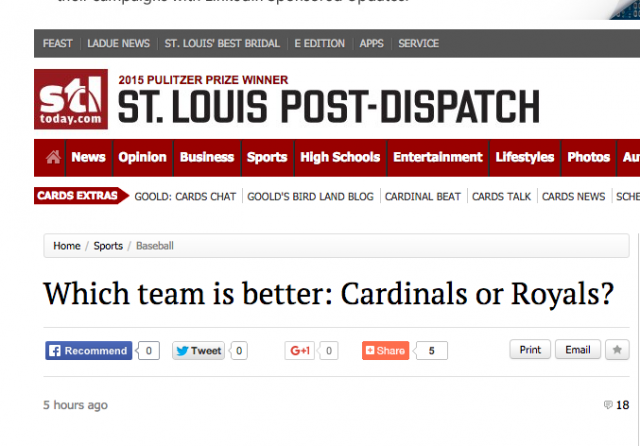 It's not some snarky, wound-licking sour-grapes-inspired "well, it's still cooler to be a Cards fan" thing. That may have been kinda funny actually. No, this is an actual position-by-position breakdown, the sort of which you might see just before a World Series matchup as opposed to the day after the season ended.
For the record, the writer believes that the Royals are better and does not simply rely on "scoreboard!" reasoning. So, whatever one thinks of the exercise — I choose to think of it as constituent service by some savvy Post-Dispatch editors who know that there's a segment of Cards fans who need to reassure themselves that the Cardinals are still THE BEST — one cannot claim it was less-than-straight up in its execution.
Now, if you'll excuse me, I'll be searching the archives for the article the PD ran in 2006 asking what teams were better than the 83-win Cardinals squad which won the World Series. I'll let you know when I find something.