I didn't know that person who sang the Anthem last night. I don't know who is singing it tonight yet but I probably won't know them either. This is all on me, of course, as I am old and out of touch with most things after, oh, 2001 or so.
So thank goodness for this: Billy Joel will sing the National Anthem prior to Game 3 Friday night.
Not that I'm big Billy Joel fan, really. But familiarity is nice with such things. And no matter what else you can say about Billy Joel, he's not likely to use it as an opportunity to show off like some new pop flavors of the month do. He's Billy Joel. He really doesn't have anything to prove to us.
Joel is a huge Mets fan, of course: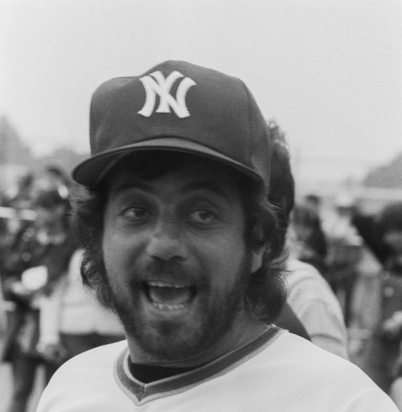 Um, never mind that. He's totally a Mets fan. And this season the Mets played "Piano Man" as a sing-along in the middle of the 8th inning. Which is weird as, at bottom, it's a song about a guy being in a depressive rut while trying to figure out what to do next with his life. Maybe that's more Mets than "Sweet Caroline." I dunno.
This is not Joel's first rodeo at the World Series. He sang the anthem at Game 1 of the 2000 World Series between the Mets and Yankees. Indeed, if the Martians ever invade New York and demand that the city provide it with an official minstrel to sing as the citizens are ushered off to the Martian POW camps, Joel will probably be the one they send out. He'll do a couple verses of "New York State of Mind" while everyone waits for the Avengers to come save the day or what have you.