Apropos of, well, the insanely good run on which the Mets find themselves, I'll note that going back to its advent in 1969, teams which have swept the NLCS are 6-2 in the World Series. That's good!
I'll also note that teams which have swept the ALCS — which, functionally speaking works exactly like the NLCS — are 2-10 in the World Series. That's bad!
Wait a minute. It's almost as if that "this happened in history" stuff you hear so much about during playoff broadcasts is merely interesting as opposed to predictive or particularly insightful! Heck, mere guessing is better. So why not just go with some wild guesses rather than a bad half hour pregame show and use your time before today's games more productively? Besides, this is all you really need to know anyway:
The Game: Kansas City Royals vs. Toronto Blue Jays
The Time: 4:07 p.m. ET
The Place: Rogers Centre
The Channel: FS1
The Starters: Edinson Volquez vs. Marco Estrada
The Upshot: When you give up two touchdowns and have a position player pitch for you in a playoff game your battle plan has not survived engagement with the enemy. Such is the position the Blue Jays find themselves in anyway, and now they turn to Marco Estrada, who also got the call when the Jays were on the brink of elimination against the Rangers in Game 3 of the ALDS. He came through, allowing one run in six and a third innings, picking up the win so keep that thought for a while, my Canadian friends. The Royals, meanwhile, turn to Edinson Volquez who turned in a nice performance in Game 1, scattering hits and stranding base runners in six shutout innings.
The story here, though, is offense. The Royals are pounding the heck out of Toronto, out-homering the most homeriffic team in baseball and racking up 46 hits in all in the series' four games. The Blue Jays need to find a way to miss bats, because the Royals are playing their contact-heavy game to perfection.
The Game: New York Mets vs. Chicago Cubs
The Time: 8:07 p.m. ET
The Place: Wrigley Field
The Channel: TBS
The Starters: Steven Matz vs. Jason Hammel
The Upshot: Hammel may be the starter, but in an elimination game like this expect Johnny Wholestaff to really be pitching for the Cubs. Indeed, if Hammel even farts off-key Joe Maddon will come and yank him for Jon Lester or, really, anyone. That may mess things up going forward, but a messed-up-going-forward scenario would at least mean that the Cubs won the game. There is no tomorrow.
As for the those Cubs? Man, I dunno. Just a bad week of baseball, which happens, and a Mets team hitting on all cylinders. Though certainly not a flukey Mets team. Daniel Murphy may have sold his soul for a week of being mid-2000s David Ortiz, but that pitching staff is no joke and, really, no surprise. You just can't argue with, reason with or stop young healthy aces who throw high-90s cheese and never seem to tire. Steven Matz goes today. He's been the most mortal of the young aces, I suppose, having lost last week's Game 4 to the Dodgers following a long layoff with a stiff back. But he also went 4-0 with a 2.27 ERA in six regular-season starts. The Cubs may get their homers — they've been hitting a lot of them — but as long as Mets pitchers keep the bases mostly clear for them like they have been, they'll be in good shape.
We began this post with a nod to historical references which, really, mean nothing. Let's go with one more: The last and only time a team came back from a 3-0 deficit in a seven-game series came against a New York team, the victors were run by Theo Epstein, as the Cubs are currently. People started mentioning it last night as the Mets seemed assured of victory and I'm certain that TBS will roll film of Dave Roberts and the 2004 Boston Red Sox tonight too. Maybe that will make Cubs fans feel better. Maybe it will even coincide with a Cubs win. But it's worth remembering that the 2004 ALCS was extraordinary in the most literal sense of the term and that needing only one win in four remaining games puts the Mets firmly in the driver's seat.
Can the Cubs do anything?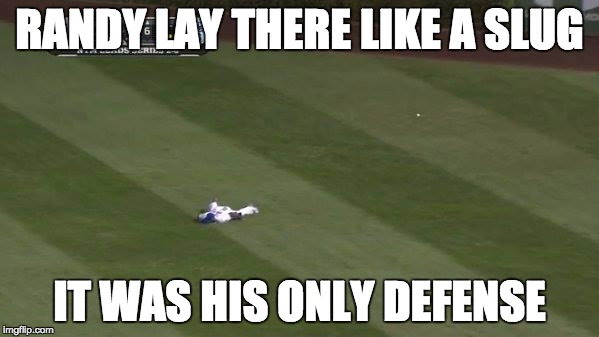 I guess there are no bad ideas at this point.