Major League Baseball just released the start times for all of the games in the League Championship Series. And it's pretty clear that, when it comes to scheduling, Chicago and New York are MLB's kind of towns.
For the most part, when the ALCS and NLCS teams are in action, the NLCS gets featured in prime time with the AL relegated to the 4pm EDT slot. The only exception: next Saturday, if those games are necessary: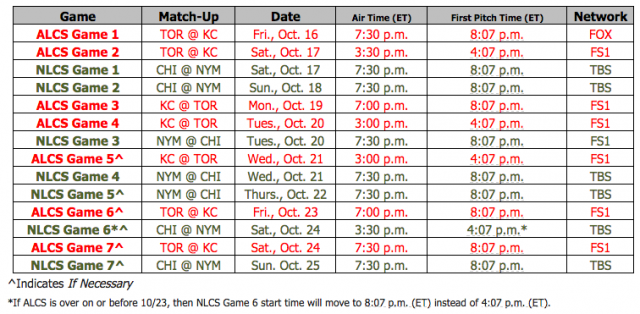 I suppose some people will see some sort of regional bias in all of this, but a lot of biases make sense. Toronto is a huge city, of course, but US broadcasters like Fox and TBS don't broadcast up there and don't get any benefit of Canadian ratings. The other part of the calculation is simple math:
New York Metropolitan Statistical Area: 20,092,883;
Chicago Metropolitan Statistical Area: 9,554,558
Kansas City Metropolitan Statistical Area: 2,071,133
It's a business, eyeballs mean money and no matter how much people talk about how much they miss daytime baseball, the fact is that ratings are always, always, always better for night games.