Yankees 4, Red Sox 1: Win number 10,000 for the franchise. And, of course, the win clinches a spot in the American League Wild Card game. Not too bad for a team just about everyone said was too old, too injured and too lacking in young talent to make it through the grind. It certainly wasn't easy for them, but here they are. Best part: decent performance from CC Sabathia — one run over five innings of work — who, if the Yankees make the ALDS, will have to do this sort of thing again.
Rangers 5, Angels 3: And the Rangers are in the playoffs for the first time since 2012, thanks in part to Derek Holland, who allowed three runs over six and a third and Adrian Beltre who hit a go-ahead bases-clearing double in the bottom of the fifth inning. The Rangers were probably picked by fewer than the Yankees were to make the postseason, especially after Yu Darvish went down for the season. What a year for unexpected results, especially in the American League.
Phillies 3, Mets 0: If someone had asked me before looking at this box score what a "Jerad Eickhoff" was, I probably would've said that he was the great-grandson of some low-level German war criminal who, despite his lineage, is very clear-eyed about history and uses the limited notoriety bestowed by his infamous last name to travel to schools with his electronica band, spreading the word of peace and tolerance. He gave thoughts to running for the Bundestag on the Social Democratic Party ticket at one time but decided that baseball was his true calling. The fact that he shut out the Mets for seven innings and struck out ten last night seems to have validated that decision.
Orioles 6, Blue Jays 4: John Gibbons trotted out the most post-clinch lineup I can remember: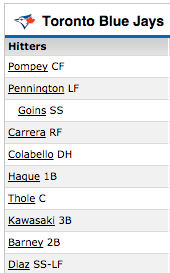 But it was justifiable given that Wednesday featured a doubleheader and, of course, Wednesday night featured a lot of drankin'. The game was made more comical or miserable, depending on your point of view, by three and a half hours worth of rain delays. All this after it was rescheduled for noon to avoid the rain. To top it off Joe West worked this game and got all soggy and you can NEVER get wet Joe West smell out of your carpet, couches and drapes.
Cubs 5, Reds 3: The 12th straight loss for the Reds. Ye Gods. They're one away from tying the franchise record, set in 1945, so hey, it's something to shoot for. Brian Price after the game:
"The caveat to a terrible season is the guys haven't quit"
Which is exactly what you would say if you were desperately trying to hold on to your job amid copious evidence that, well, your team has kinda quit.
Dodgers 3, Giants 2: Brett Anderson pitched two-hit ball into the eighth and got the win. It was his 31st start and his innings odometer went over 180 after this start. Which makes you wonder if this is really Brett Anderson or if, rather, his face is gonna melt off like the people in that G.I. Joe episode "There's No Place Like Springfield."
Don't look at me like that. That was an amazing two-part episode.
Padres 3, Brewers 1: Ian Kennedy struck out 11 in six innings and Yangervis Solarte hit a two-run homer. Free agency time for Kennedy. He could be eating innings at a ballpark near you next spring!
Twins 4, Indians 2: I assumed the Twins would throw at Jose Ramirez after Wednesday's bat flip, but instead they just put a voodoo hex on him or whatever and made him commit a ninth inning throwing error which gave Minnesota two runs and the win:
"He committed an error and went 0 for 4," Hunter said. "He might have suffered enough. He's young. You got to know the game. What he did last night was wrong, but I'm pretty sure he understands that."
So Torii Hunter, among other things, believes in instant karma. I dunno. It's more plausible than other stuff he says. Oh well, the Twins are a game back with three to go so they have more important things to worry about than Jose Ramirez.
Nationals 3, Braves 0: Stephen Strasburg struck out seven over six innings. In his final four starts of the year, Strasburg was 3-0 with a 0.62 ERA and had 44 strikeouts in 29 innings, so it's something to grow on for next year.
Rays 4, Marlins 1: The Rays sweep the Marlins as Jake Odorizzi allowed only one unearned run on four hits and struck out seven. 9,657 souls bought tickets to this game. Many came dressed in their finest empty seat-print finery.
Royals 6, White Sox 4: More injuries and ailments for the Royals as Kendrys Morales left the game with quad tightness and Salvador Perez had some swelling in his right thumb. But never fear, Jonny Gomes is here! He drove in three runs as the Royals keep pace with the Jays for home field in the playoffs.
Diamondbacks 8, Rockies 6: The Dbacks win, which means they can play for a .500 record this weekend against the Astros. Between that, the pride one can take in being a spoiler and the fact that the Astros will be without their DH in the interleague games makes that final series pretty interesting.