Rangers 14, Astros 3: The narratives are getting hard to ignore, even for an anti-narrative killjoy like me. The Rangers are coming together! It's gut-check time for Houston! That stuff aside, this is clearly a moment where things feel like they've changed in the NL West. Houston has one more chance to make something, anything, of this series tonight, but the Rangers' five-homer attack last night has to have them feeling woozy. Postgame quote from Rangers manager Jeff Bannister:
"This is not an exhale moment. This is putting a foot down, continue to do your yard work, stay focused."
The Rangers are doing their yard work with a brand new EZtrak™ Z625 Zero Turn mower from John Deere while wearing noise-canceling headphones and some sweet mirror sunglasses. The Astros have that unreliable neighbor kid with a slingshot in his back pocket pushing one of these: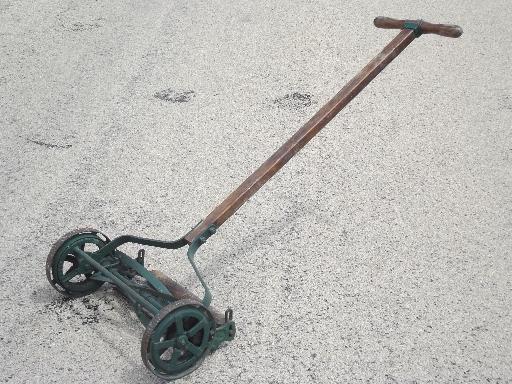 Cardinals 5, Brewers 4: AP gamer lede:

Look kid. I know the beat can be a long, hard grind. I know this is game 145 for you and that they sort of blend together in a beige swirl of random baseball and that, quite often, trying to make a story out of random events like you have to do every single night is not an easy job. I know the pay sucks, the travel is life-sapping and that you have to interview people who probably don't care if you live or die and consider you to be an interloper in their land more often than not. For the job you do I have every bit of respect and for the conditions under which you're forced to do it I have no shortage of sympathy.
But I'm being dead serious here, kid: use a lede like that again and you're fired. That's just terrible.
Tigers 7, Twins 4: Tied at four in the 12th before Ian Kinsler's two-out RBI single and J.D. Martinez's two-run homer. The AP lede on this one was a bit more poetic than the Cards-Brewers one:
MINNEAPOLIS — The home run hit by Detroit's J.D. Martinez landed on the emptied metal benches in lower left field, causing a clanging noise that was audible throughout the eerily quiet ballpark.

That was the sound of defeat near the end of a long Wednesday night for postseason-chasing Minnesota.
That's a guy sucking it up after a long season and doing his job. Could he have started it out with "Theeeirrrrr Grrrreeeat!" Of course he could. He's a human being with agency and I'm sure his editor cuts him some slack. But he didn't. Because he's a damn professional.
(note: there is no way in hell I wouldn't have used the "Phamtastic!" thing if I had to write that Cardinals gamer. Ain't gonna lie).
Cubs 3, Pirates 2: Jake Arrieta was cruising until the sixth when a run scored on his own error and lasted eight, but left with a tied game. In the 12th, however, his teammates came through against Vance Worley, stringing together a single, a wild pitch, another single and a sac fly to go ahead for good. The Cubs pull to within three of the Pirates for the top wild card slot and the Pirates fall four back of a thankful St. Louis team for the division lead. Cardinals fans can root for the Cubs one more day — today — before they have to face Chicago this weekend.
Red Sox 10, Orioles 1: Party like it's 2009: Dustin Pedroia homered twice and drove in five and David Ortiz homered as well.  Partying like it's, oh, I dunno, 2019, was Henry Owens who gave up six hits over seven and two-thirds shutout innings.
Nationals 12, Phillies 2: A homer for Bryce Harper — who was only seven years-old in 1999 — and two for Jayson Werth, who was 20. Not that I can talk as I was 26, but still. Four wins in a row for Washington, though it's a little too little, it's a little too late (Pat Benatar's "Get Nervous" album came out in 1982 when Werth was three and Harper was -10).
Yankees 3, Rays 1: Luis Severino gave up one run over five and two-thirds and beat Chris Archer while Greg Bird homered and drove in two. Struggling to think of a time when young players were as important to the Yankees as these two are here. New York takes two of three from Tampa Bay and stays three games behind Toronto in the AL East.
Indians 5, Royals 1: Francisco Lindor's push for the Rookie of the Year Award continues as he went 3-for-4 with a home run and four RBI and Danny Salazar  took a three-hit shutout into the seventh. The Royals have dropped nine of 12.
Blue Jays 9, Braves 1: David Price allowed one run in seven innings and Russell Martin hit a homer and drove in four runs. For the Braves, hard luck starter Shelby Miller lost again, but at least he earned this loss, allowing five runs and failing to get out of the fourth inning.
Marlins 6, Mets 0: Adam Conley with seven shutout innings as the Fish take two of three from the Mets. This is the first time the Mets lost two in a row since the end of August and the first time they were shutout since way back on July 23. They face the Yankees this weekend and I figure someone will talk about it being a possible preview of a "Subway Series," which really, is a brand of hype I ain't ready for yet. Get everyone past the wild card game and I'll indulge it, but not now guys, OK?
White Sox 9, Athletics 4: A six-run fourth inning for Chicago settled this. Mike Olt homered in that inning. Glad for that, as I was about to send out a search party for him. I mean, how could the Opening Day starting third baseman for the playoff-bound Chicago Cubs just disappear like that between April and September? It's almost like, maybe, he didn't really deserve that job and merely had it because of roster shenanigans. But glad to see his year ending on a somewhat higher note.
Padres 4, Diamondbacks 3: Matt Kemp hit a three-run homer in the fifth for the winning margin. With the Padres stinkin' most of the year it's easy to forget that Kemp was supposed to be a key acquisition for them. Not a great year on the rate stats but OK on the power — .265/.313/.443 with 22 homers and 97 RBI — but maybe the most significant thing about him is that he's played in 144 of the Padres 147 games. I don't think anyone expected MVP Matt Kemp to come back, but durable, useful, second-or-third-level offensive threat Matt Kemp was reasonable and that's basically what he's been.
Mariners 3, Angels 1: This time last year Jesus Montero was a disgraced figured, suspended by his team for getting into a fight with a scout over that ice cream sandwich incident which, while sorta hilarious, was kind of funny. Last night he hit a three-run homer which provided all of the offense the M's needed. He's certainly not a complete ballplayer and his future in the game is pretty damn far from secure, but at least he's serving as evidence that anyone can turn things around if they have some talent and determination.
Dodgers 2, Rockies 0: Alex Wood put in a performance showing that it doesn't necessarily have to be a two-man show in the Dodgers rotation. Eight shutout one-hit innings for the kid, striking out five, needing only 78 pitches to get through those innings. Bully for Wood, but maybe someone should see if the Rockies had late dinner plans or something they were hell-bent on not breaking.
Giants 5, Reds 3: Jake Peavy went six innings, got the win and hit a homer. Not too bad. Giants pitchers have nine homers on the year. No other team's pitchers have more than two.