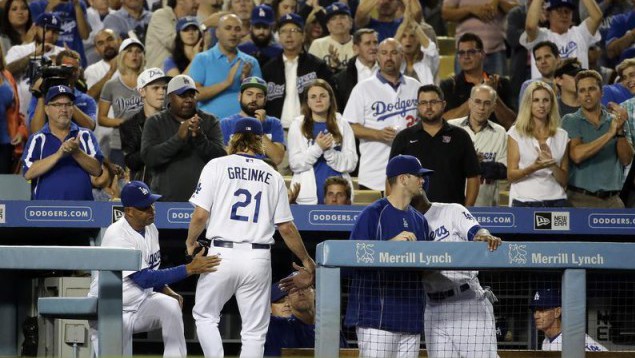 Dodgers 2, Giants 1: I don't believe in "statement games" in baseball because I don't believe baseball works like that. The season is too long and too random and there are just too many variables involved for any one person, let alone 25 people, to be able to collectively will themselves to a notable victory in some particular, certain terms. When we say such-and-such a game was a "statement game" in the sense that the players actually came out with the specific intent to make a specific statement, we're grafting post-hoc narrative onto things.
That being said — and at the risk of splitting hairs — I do think we can note when a game, however it was approached by the player or team, did, in fact, make a statement via the results of things. This, it seems to me is one of those games. The statements being made:
Zack Greinke is winning the dang Cy Young Award; and
The Dodgers, however flawed and injured they may be, ain't letting the Giants off the mat. Not this year.
Gereinke outdueled Bumgarner, tossing one-run ball into the eighth to Bumgarner's two-run ball over seven. The Dodgers have won seven of eight and have a five and a half game lead over San Francisco. And, for all of the talk about how Madison Bumgarner is better than Clayton Kershaw in the big games, it's worth noting that Greinke is 7-0 in seven starts against the Giants since coming to the Dodgers before the 2013 season. That's not the sort of thing that defines a pitcher or his greatness, but if, like a lot of Giants fan, you think that head-to-head stuff is super important, give credit where it is due.
Sorry for the abbreviated recaps today. Some morning things are happening at Chez Craig. The rest of last night's results are below. Box scores here.
Diamondbacks 6, Rockies 4; Diamondbacks 5, Rockies 3
Rays 11, Orioles 2
Blue Jays 5, Indians 3
Yankees 3, Red Sox 1
Marlins 7, Braves 1
Phillies 14, Mets 8
Cubs 5, Reds 4
Tigers 6, Royals 5
Brewers 7, Pirates 4
Twins 8, White Sox 6
Mariners 7, Astros 5
Cardinals 8, Nationals 5 — yeah, this will get its own post later.
Angels 6, Athletics 2
Rangers 8, Padres 6