Cardinals 8, Nationals 5: The Cards mounted a five-run rally in the seventh that had the Nationals fans in my Twitter timeline saying unspeakable things about Matt Williams, the Nationals and, in some cases, the very dilemma of human existence. Really, they started to get kinda deep about the philosophic abyss that confronts us all. I almost felt bad for them but then I remembered that they're Nationals fans, so who gives a rip? OK, that's not fair. Even Nats fans don't deserve Matt Williams. Which perhaps might hurt Matt Williams' feelings to hear, but given that he's peacefully dozing in the dugout, he's really not hearing it at all. Shhh! Don't tell him to bring in Drew Storen during the rally! It's only the seventh inning! Williams' little analog alarm clock with Goofy's arms as the hands doesn't start ringing for Storen until the eighth!
Dodgers 5, Giants 4: Adrian Gonzalez hit a bases loaded single in the 14th inning to walk it off. It was a long game. How long? It started in August and ended in September! Wow! In other news, the Giants really can't be losing head-to-head games with the Dodgers if they wanna make the playoffs. It's now a four and a half game lead for L.A.
Red Sox 4, Yankees 3: Old: David Ortiz hits career homer 495. Young: Mookie Betts homered and Jackie Bradley Jr. had three hits and scored twice. He's been up and down and people have been expecting a lot from him for more than a couple of years now, but in 43 big league games this year Bradley is hitting .277/.358/.555 with outstanding outfield defense.
Rays 6, Orioles 3: Six shutout innings aided by an amazing grab by Kevin Kiermaier to rob Manny Machado of a homer.
[mlbvideo id="434571583″ width="600″ height="336″ /]
Baltimore has lost 11 of 12. Asdrubal Cabrera, Evan Longoria and Tim Beckham homered for Tampa Bay.
Indians 4, Blue Jays 2: Danny Salazar struck out ten and Jerry Sands singled home the go-ahead run in the seventh. Sands' failure to pan out as a prospect over the past couple of years has obscured the fact that he is the best 1950s-60s-era Vegas comedian to ever play Major League Baseball. And it's all the more impressive given that he wears a sequined tuxedo jacket and a ruffled shirt when he plays in the outfield.
Marlins 4, Braves 0: It was obvious that the Braves were going to lose here given that they traded away their clubhouse leader Jonny Gomes last night. You laugh, but when the Royals win the World Series and some baseball writer credits Gomes', like, 11 ineffective plate appearances but his excellent top-step-of-the-dugout fist-pumping for "providing the leadership they lacked in 2014," try not to injure yourself as you violently roll your eyes into your head. In other news, stop me if you've heard this one before: Shelby Miller pitched well, allowing one run on six hits and no walks over seven innings yet failed to win for the 19th straight outing because the Braves provided him zero in the form of run support. He has a 2.56 ERA on the year and a 5-12 record.
Mets 3, Phillies 1: Eight shutout innings for Bartolo Colon. Which, to be fair to the Phillies, is understandable as Colon was wearing camouflage: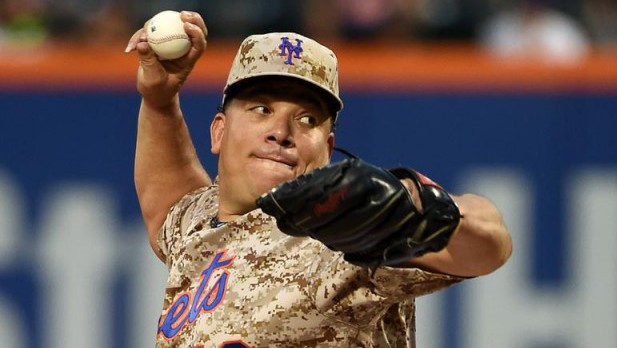 Given his stealthy appearance, to Phillies batters it had to look like the ball was floating in mid air and suddenly hurled in their direction as if propelled by an otherworldly spirit.
Reds 13, Cubs 6: Adam Duvall and Eugenio Suarez hit two-run homers in a four-run sixth inning. Those four runs all came against Justin Grimm. Who actually came in with a lead and gave up those four runs in one third of an inning. If only there was a word to describe Grimm's performance. Bleak? Ghastly? Gruesome? Give me a few minutes, I'll think of one.
Astros 8, Mariners 3: Dallas Keuchel got his 16th win and Carlos Correa hit his 16th homer.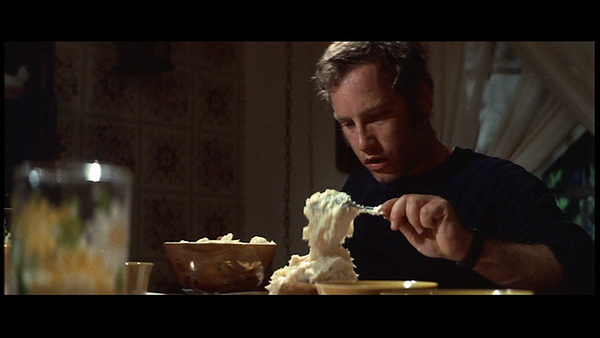 Rockies 5, Diamondbacks 4: No one cares about this game at this point of the season so let's watch Brandon Barnes eat dirt.
[mlbvideo id="434400383″ width="600″ height="336″ /]
Athletics 11, Angels 5: The Angels got slaughtered, the details of which you can read in the box score. The important part here is that Shane Victorino broke the Oakland Coliseum when he ran into the dang wall:
[mlbvideo id="435842383″ width="600″ height="336″ /]
The A's really need to find the receipt for that place.
Padres 7, Rangers 0: Tyson Ross tossed seven shutout innings and had an RBI single to [all together now] help his own cause. Texas' lead in the race for the second wild card slot is down to one game over the Twins.