Dodgers 1, Reds 0: A win for the Dodgers but a costly one as both Adrian Gonzalez and Yasiel Puig left with injuries. Gonzalez's is minor and he says he'll play tonight. Puig says his hamstring is worse now than his original strain, so it's not unreasonable to think he's done for the year. But at least they have Zack Greinke, who tossed seven shutout innings and lowered his ERA to 1.61. If the season ended today that would be the fifth lowest ERA in the live-ball era.
Angels 2, Tigers 0: As everyone expected, a pitchers duel between Matt Shoemaker and Randy Wolf. Shoemaker was scoreless into the eighth, tossing one-hit ball. The game story notes that Shoemaker is from just south of Detroit and he was happy to pitch in front of family and friends. So just like Jerome Bettis. In case you were unaware. Also: the Harbaughs are brothers.
Rangers 4, Blue Jays 1: The Blue Jays are finally cooled off. Yovani Gallardo was scoreless into the sixth and picked up his 100th career win. Delino DeShields walked three times, scored twice and had two hits, including a single on which he totally rounded the bases because Jose Bautista let the ball roll under his glove and all the way to the wall.
Royals 5, Orioles 3: Yordano Ventura struck out 11 in six innings. He's 5-0 in his last seven starts. Not bad for a guy who was demoted in he middle of the year. The bullpen this time was not as impressive — Kelvin Herrera and Greg Holland each got beat up a bit — but K.C. held on. Costly loss for the O's too, as Adam Jones ran into the wall and had to leave the game. He doesn't leave games often. I think he once played three innings after a gator bit is dang leg off.
Giants 9, Cubs 1: If you think Ventura was overpowering I'll raise you a Madison Bumgarner, who struck out 12 in six innings. And he did this:
[mlbvideo id="418245583″ width="600″ height="336″ /]
Also, Kelby Tomlinson hit a grand slam. Which has to be a joke because there is no way someone named Kelby Tomlinson is not a backup quarterback for an SEC team. More of a runner than a thrower, but coach is trying to get him to stay in the pocket more to keep the defense honest.
Nationals 4, Padres 2: Jayson Werth and Ryan Zimmerman homered, and starter Joe Ross allowed only one hit. That's good! Meanwhile, Yunel Escobar, Michael Taylor and Denard Span are all sidelined by injuries now. That's bad! So bad it's inspiring some Nats fans to be less-than-optimistic:
At this point, maybe the Nats should just start losing games on purpose to get better draft picks.

— RM Cooper (@RFCapsMoustache) August 28, 2015
//platform.twitter.com/widgets.jsGonna be a long winter in Washington if they don't mount some crazy rally in September.
Mets 9, Phillies 5: The Mets are 18-6 in August. They're getting outs with crazy plays. They're starting rallies with relief pitchers getting hits. They're watching Daniel Murphy be a hero. They're making Jeff Francoeur pout a little:
Phillies' Jeff Francoeur: "It stinks because of all the Mets fans coming in here and stuff. It stinks to get swept. It hurts a little bit."

— Anthony DiComo (@AnthonyDiComo) August 28, 2015
//platform.twitter.com/widgets.js
Hard to script this any better if you're a Mets fan.
Pirates 2, Marlins 1: Gerrit Cole allowed one run into the eighth and the Pirates take three of four. Pedro Alvarez homered and Francisco Cervelli tripled and scored.
Rays 5, Twins 4: The Twins' six-game winning streak is snapped. Rays relievers Brandon Gomes, Alex Colome and Brad Boxberger combined for four and two-thirds scoreless innings. The Twins fall just behind Texas for the second wild card.
White Sox 4, Mariners 2: Adam Eaton had three hits and scored three runs and Carlos Rodon took a shutout into the seventh. More importantly, the White Sox looked like this: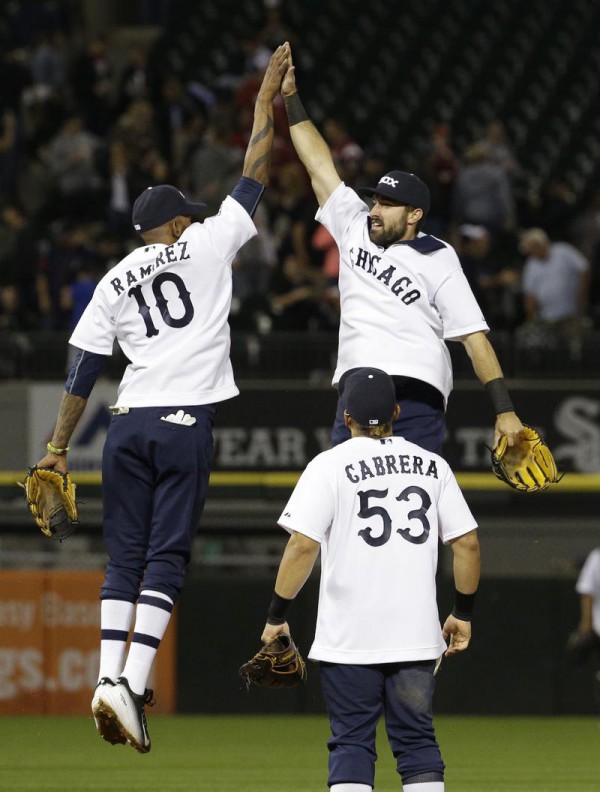 If Rafael Soriano played for the 1976 White Sox, what would he do to celebrate each save? Tuck IN his shirt?
Cardinals 5, Diamondbacks 3: Seth Maness got came into the game with the bases loaded in the eighth and no one out, the Cardinals clinging to a two run lead. He got two strikeouts and induced a groundout, threat over. The Cards just aren't fair sometimes.