This is . . . novel.
Bryce Harper was batting in the bottom of the sixth inning with a 2-1 count when he seemed to ground out to first base. He came up limping, however, and the umpire called it a foul ball off his foot, so he lived to take another pitch. Two more pitches, in fact, both of which were balls, so he was awarded first base.
Except, the ball never hit his foot. He totally faked it. Watch the video here. And look at this: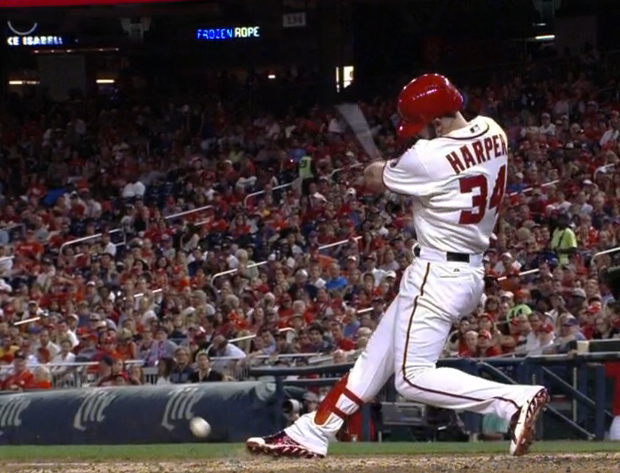 Note: that is not his foot. And no, it did not ricochet off his foot to that position. That's where it's hitting the ground on the fly.
I'm sure someone will say that this is bush league. Not playing the game the right way. Maybe it is. We don't see stuff like this too often. Guys pretend they get hit by pitches sometimes to take a base and no one gets too bent out of shape about it, but this seems maybe a step beyond that. More like A-Rod "I got it" territory or something. An interesting philosophical question.
But whatever you think about it, you do have to marvel at his reflexes here. You can't go up to the plate thinking about doing this as you have too many other things to think about. He had to come up with this ruse in a fraction of a second, on the fly. That's pretty dang impressive.