Orioles 5, Mets 4: Henry Urrutia with the walkoff bomb to cap a night in which the O's rallied from 3-1 and 4-3 deficits. It was Urrutia's first big league homer. A Mets fan caught it and gave it back to him, after which Urrutia said "That's the best gift for me tonight. Now I can give that baseball to my son." If this was a bad 1980s action movie the terrorist with whom Urrutia served in special forces back in the day would now kidnap the son, causing Urrutia to go on a rampage after him. In the final battle, Urrutia and the terrorist would exchange some one-liners, the terrorist would say something like "we're not so different, you and I" and then Urrutia would kill the terrorist with the actual baseball from that homer, and the credits would roll as he hugged his son. Man, they don't make good movies anymore.
Rangers 7, Mariners 2: Derek Holland came back from four months on the disabled list and allowed two runs while pitching into the seventh inning. Mitch Moreland, Mike Napoli and Elvis Andrus all went deep as the Rangers keep pace with the Angels and Astros in the west and the Angels and Orioles in the wild card race. Still not quite believing the Rangers are in the thick of things, but they are.
Brewers 8, Marlins 7: Remember when I said a week ago or so that the only time I notice Khris Davis is when he hits two homers in a game? It happened again. A two-run shot and a three-run shot for a man with the most specific and odd super power of all the comic book heroes. Not as useless as Aquaman or anything, but still very esoteric as far as these things go.
Yankees 4, Twins 3: Pa pa pa pa, pa pa pa pa, pa pa pa pa, pa pa pa pa Pa pa pa pa, pa pa pa pa, pa pa pa pa Papa, ooma mow mow Papa, ooma mow mow: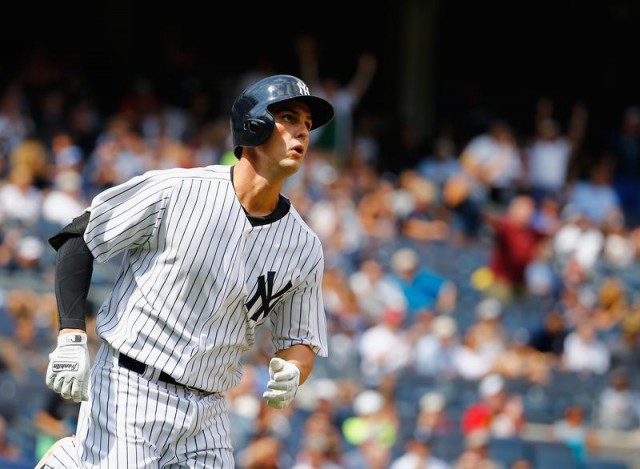 Athletics 5, Dodgers 2: Paragraph from the AP game story:
After the low-budget A's won 5-4 in 10 innings Tuesday night, they beat baseball's biggest spender again to win consecutive games following a seven-game skid on a recent road trip through Toronto and Baltimore.
Fun fact: there is basically no correlation between payroll and playoff contention this year, with just as many low budget teams in playoff position as high budget and just as many big spenders near the bottom of league standings as poor sisters. It's always fun for baseball writers to talk about payrolls, but it's fair to say that the A's disappointing season is just as much a function of their bad decisions as their payroll this year. As such, it'd be just as insightful to say the "green-wearing team beat the blue-wearing team" in the above passage.
Padres 3, Braves 2: The Padres complete the three-game sweep of the Braves, for whom San Diego has become a personal hell in recent years. But at least the opposition beating up on my boys looked sharp as hell yesterday: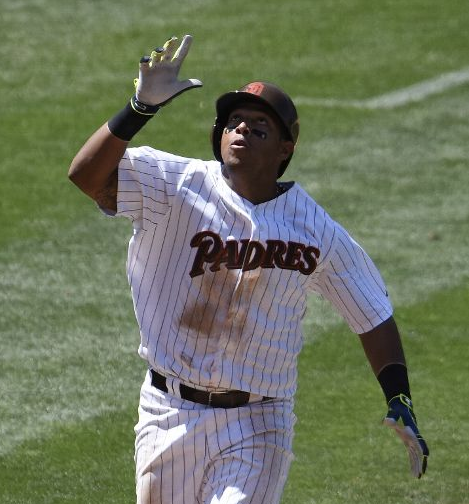 Phillies 7, Blue Jays 4: Aaron Altherr, which sounds like a name some underaged kid makes up on the spot when questioned by campus security about where he got that beer, homered, doubled and drove in three runs. The real story here, however, is that this was the first Phillies game in nearly a decade and a half in which Chase Utley was not a member of the team. Which is causing some feelings among Phillies fans, you should know:
Pirates 4, Diamondbacks 1: J.A. Happ pitched six shutout innings. Not gonna say there was a lot going on at the trade deadline, but I completely missed that Happ was traded to the Pirates. Hi, I'm Craig Calcaterra, baseball news man.
Red Sox 6, Indians 4: David Ortiz, Travis Shaw, Jackie Bradley Jr. and Ryan Hanigan all homered. It was Dave Dombrowski's first game as team president following his, I dunno, inauguration, or whatever it was that happened yesterday. As Bradley hit that homer, I assume he was fondly remembering all of the times he flipped peaking outfielders for way better value in trades when he ran the Tigers. I almost feel bad for Dave Stewart, because the odds of him getting fleeced out of a great player when Dombrowski calls him this winter have been taken off the Vegas boards.
Royals 4, Reds 3: Ben Zobrist had four hits. And, for the first time in my baseball-watching life, some dude tried to score from third after the infield fly rule was called. Jason Bourgeois of the Reds, specifically. He was tagged out. What in the heck? Bourgeois was also picked off first base early in the game. Not the best day on the basepaths for him.
Cardinals 4, Giants 3: Yadier Molina hit his 100th career homer to put the Cards over the Giants. He also had an RBI single in the game. I suppose this will cause Cards fans to renew that whole "Molina is better than Posey" argument that always makes me smile. Posey has 99 homers in his career, for what it's worth. In five fewer seasons.
Tigers 15, Cubs 8: Tigers starter Daniel Norris homered but he also suffered an oblique injury, so a decidedly mixed bag for him last night. A worse bag for Jon Lester, who got pounded by Tigers hitters to the tune of three homers and seven runs in two and two-thirds innings. Nick Castellanos homered twice and drove in five.
Astros 3, Rays 2: Carlos Correa homered and hit a walkoff single in the 13th inning. It's so cool to watch a star being born. Two straight walkoffs in extra innings for the Astros over the Rays. An .895 OPS and a 20-homer pace for Correa, who will end the season playing in around half of his team's games. This kid is going to be incredible.
Nationals 4, Rockies 1: As I've been watching Nationals fans melt down over the past few weeks, two of their favorite targets have been Stephen Strasburg and Jayson Werth. Here Strasburg pitched seven strong innings and Werth hit a tiebreaking triple in the eighth, so I guess they get a day off of abuse.
Angels 1, White Sox 0: A sixth inning homer from Carlos Perez was all that happened with the bats here. Jered Weaver pitched shutout ball into the seventh. That homer was all that Jeff Samardzija let happen. In light of that, how this game went nearly three hours is a mystery to me, but I guess not everyone is Mark Buehrle.