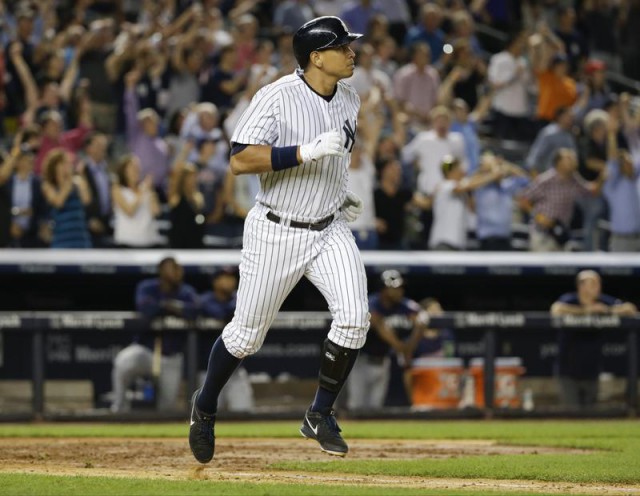 Yankees 8, Twins 4: Six months ago the Yankees' view of Alex Rodriguez was "Who?" And if he so much as farted off-key, they probably would've tried to void his contract. Now, in August, the Yankees are in a pennant race, Rodriguez has an OPS of .868 and 25 homers and, after he hit a grand slam with the Bombers down three in the seventh, he gets his own hashtag from Yankees Twitter. "#BAEROD"
When you deliver in the clutch, you get your own hashtag. http://t.co/49mGZ4PzZm #BAEROD pic.twitter.com/vJZ7H8rtkb

— New York Yankees (@Yankees) August 19, 2015
What a weird six months it's been.
Mets 5, Orioles 3: Jacob deGrom allowed one run and took a four-hitter into the eighth inning. Curtis Granderson hit two homers. If this was the 1980s they'd make some cheesy poster of them with the words "deGrom and deGrand" on it and they'd be wearing, I dunno, chef's uniforms or something. And that'd be one of the more understated posters as far as those things went. I have such a hard time explaining the 1980s to my kids.
Blue Jays 8, Phillies 5: Josh Donaldson hit two home runs, one of which travelled about eleventy-seven thousand feet unto the upper deck in left field at CBP, where homers don't often go. Now is probably a good time to remember that Billy Beane traded Donaldson away for largely non-baseball reasons. Guess that didn't work out too well.
Angels 5, White Sox 3: Kole Calhoun and Albert Pujols homered in the first inning and the Angels never looked back. Well, it was close late so they were looking back a good bit. But it was only a glance or two. The sort of looking back you do when you try to see if you're being followed but you don't want it to look like you think you're being followed. But really, if someone wants to follow you, there are better methods. As one of my cinematic heroes once said: "People know they're being followed when they turn around and see someone following them. They can't tell they're being followed if you get there first." There's some wisdom there, friend.
Pirates 9, Diamondbacks 8: Pedro Florimon tripled home Francisco Cervelli with two outs in the bottom of the 15th to end this marathon. Pittsburgh had a five-run lead after seven innings but the Snakes came back with three in the eighth and two in the ninth. Those ninth innings runs were both the product of infield errors, so there are some infielders happy about the end of this one getting them off the hook.
Red Sox 9, Indians 1: It's definitely been an eventful week in Boston. John Farrell's cancer diagnosis, Dave Dombrowski getting hired and the Sox winning four of five. Travis Shaw went 4-for-4 and Brock Holt had three hits and two RBI. Trevor Bauer's nightmare second half continues. He didn't make it out of the second inning, having given up five runs on six hits.
Royals 3, Reds 1: It was 1-0 heading into the ninth when Ben Zobrist managed to hit a homer off of Aroldis Chapman, sending it on to extras. He was also part of the Royals' two-run rally in the top of the thirteenth. The blown save was Chapman's first one at home in 57 save opportunities, dating back to September 2012. Overall, sixteen pitchers combined to allow four runs — only three earned — in 26 innings, striking out 24. Welcome to baseball in 2015.
Tigers 10, Cubs 8: Ian Kinsler had five of the Tigers' 19 hits, one of which was a homer in this wild one. A rain delay knocked out the starters in the third inning, which means the Tigers needed to depend on their relievers. And Detroit had a 6-2 lead heading into the fifth inning but blew it before rallying later. Brad Ausmus:
"Offensively the lineup did their part. We've just got to be better out of the bullpen."
This is not a repeat from 2014, 2013, 2012, 2011, 2010 . . . .
Mariners 3, Rangers 2: Last time he pitched Hisashi Iwakuma tossed a no-hitter. It seems that whenever guys do that lately their next start — or next several starts — are lackluster. Not here. Iwakuma allowed two runs over seven and got the win. All of the M's runs came in the first, including a Seth Smith homer.
Marlins 9, Brewers 6: Ichiro was 4-for-5 with two runs scored. It was his first four-hit game in two years. He now has 2,919 hits on his career, with 75 this year. If he says on his current pace he'll likely get 20-25 more or so this season. It's inevitable, then, that someone will give him a chance to break the 3,000-hit mark in the United States next season and it's very likely that he'll do it, one assumes. It's just astounding when you realize that he didn't start here until he was 27. And has 1,278 hits in Japan.
Astros 3, Rays 2: Marwin Gonzalez had three hits including a tenth inning walkoff homer. He also doubled in a run earlier. A.J. Hinch said that Gonzalez, normally a utility guy, gets to play again today. I'd say that's only fair.
Giants 2, Cardinals 0: Ryan Vogelsong pitched six shutout innings, but he wasn't the only Giants starting pitcher who played a role here. In the seventh inning Bruce Bochy used Bumgarner to pinch hit for Vogelsong, and he singled. Two walks and a hit-by-pitch later and he came in to score the Giants' second run. Bumgarner homered in his last start. The Giants have three games at Oakland in late September. Maybe he should DH? The Giants have won six of eight.
Nationals 15, Rockies 6: Washington snaps its six-game skid. Yunel Escobar and Ian Desmond each drove in four. Bryce Harper walked four times. The Nats as a team walked ten times, including three times in a four-run eighth inning. A run scored that inning on a balk too. You'd think the Rockies had played in Colorado long enough to realize that you can't get away with that sort of thing.
Athletics 5, Dodgers 4: Clayton Kershaw didn't have his a-game, but he did allow only one run through seven innings and stood to be the winner after the Dodgers scored three in the top of the eighth. Then Pedro Baez gave those three runs back in the bottom of the eighth and Yimi Garcia allowed back-to-back doubles to Mark Canha and Billy Butler to lead off the tenth to let the A's walk it off. In addition to scoring the winning run, Canha was 4-for-5 and drove in two.
Padres 9, Braves 0: Melvin Upton Jr. homered twice against the team who signed him to a $75 million deal before the 2013 season and who did jack squat for them while he played there. If you forfeit a game you lose 9-0 according to baseball rules. That may have been preferable to watching Upton hit two homers against the Braves. In fact I know it would've been.