Last month after the All-Star Game Fox's Rob Neyer was nice enough to let me tag along with him to a neat place. It's called the Green Diamond Gallery and it's a baseball memorabilia museum of sorts just north of Cincinnati.
I say "museum of sorts," because it's not the sort of place you can just enter. It's more like a club. You need to have a membership and they're not cheap. And there are a limited number of memberships. But what you get for your money is really, really cool. Today Rob writes about our visit there and talks about what makes the Green Diamond Gallery so cool. Mostly it's about the monthly programming featuring baseball greats in an intimate and casual setting. Really, you get to drink beer and shoot the breeze with immortals, with them not bugged by autograph-seekers or media, which lets them put their guard down and you not overwhelmed by hundreds of other fans trying to get in close to the legend.
For my part, I'll say it's the best memorabilia collection I've seen outside of Cooperstown and it's wonderfully organized and arranged. The owner, Bob Crotty, has things separated by decades, teams, 500-HR club, 3,000 and 4,000-hit club, Hall of Famers and other sorts of breakdowns which makes the 5,000 square foot space seem very manageable and organized. You don't get that overwhelmed feeling there like you do in some places.
Oh, and there's a picture on the bathroom wall of Pete Rose and Tony Perez on toilets, side-by-side, and who wouldn't want to see that?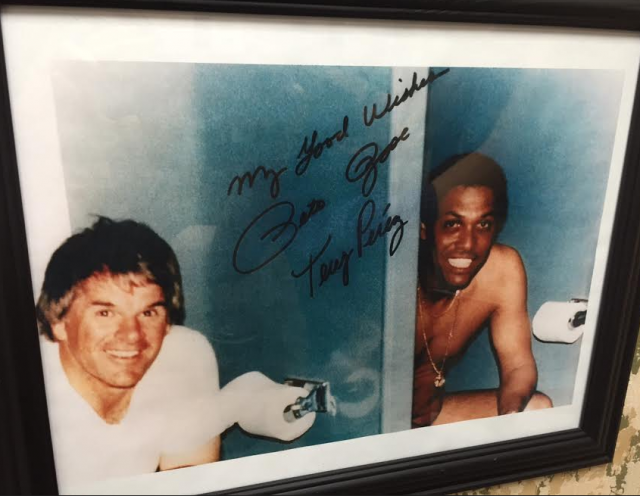 Go read Rob's article about it for more a more mature take on it.