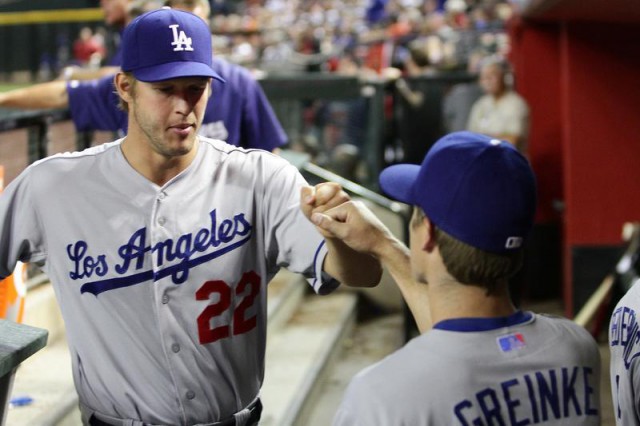 The current Dodgers team has two amazing starters and then . . . not so amazing starters afterward. Indeed, Clayton Kershaw has a 2.39 ERA and is threatening to strike out 300 guys this year. Zack Greinke has a 1.59 ERA and started the All-Star Game. The rest of the Dodgers starters? Nice guys all, I'm sure, but a bit of a work in progress.
The 1948 Braves are the most famous example of this dynamic, with Hall of Famer Warren Spahan and 24-game winner Johnny Sain leading them to the NL pennant that year. As those two carried the team down the stretch, Gerald Hern of the Boston Post worte a nice little poem about then. It's often misquoted, so here's the whole thing.
First we'll use Spahn
then we'll use Sain
Then an off day
followed by rain
Back will come Spahn
followed by Sain
And followed
we hope
by two days of rain.
This morning I noted that the old "Spahn and Sain and two days of rain" thing could apply to the Dodgers, but that it's hard to come up with rhymes for "Kershaw" or "Greinke." Thankfully, you commenters and some folks on Twitter helped me out. None of you are as eloquent as Hern, but I applaud your efforts all the same: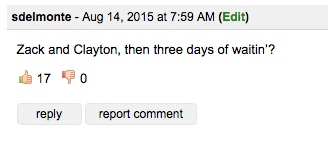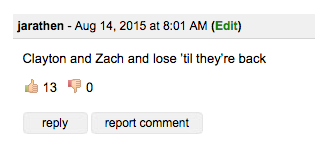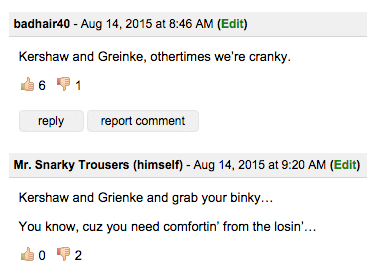 And then we have the Twitter replies:
@craigcalcaterra Kershaw and Greinke then 3 rinky dinky.

— PCB (@ComericaEric) August 14, 2015
@ComericaEric @craigcalcaterra Kershaw & Greinke then downhill like a Slinky®

— internet alias (@geronimobydick) August 14, 2015
@geronimobydick @craigcalcaterra Greinke and Kershaw, then cast of Hee-Haw.

— PCB (@ComericaEric) August 14, 2015
@craigcalcaterra Number one, number two, then a heap of steaming poo. #dodgers

— Cam Hoff (@camhoff) August 14, 2015
@ComericaEric @geronimobydick @craigcalcaterra Clayton and Zack and the rest get whacked.

— Jesse Spector (@jessespector) August 14, 2015
OK I'll bite @craigcalcaterra – Clayton and Zack and pitching ipecac.

— ChrisDallasTX (@ChrisDallasTX) August 14, 2015
@craigcalcaterra Zack and Clayton then bring on the hatin'

— Chris (@tpgMets) August 14, 2015
And finally, my favorite:
@craigcalcaterra Kershaw and Greinke and the inevitable heat death of the universe oh God what's the point of anything

— Greg (@stopthewave) August 14, 2015
My apologies to Brett Anderson, Mat Latos and Alex Wood. None of whom truly deserve this abuse, but all of whom will readily agree, I hope, that Kershaw and Greinke are a tad better than them.