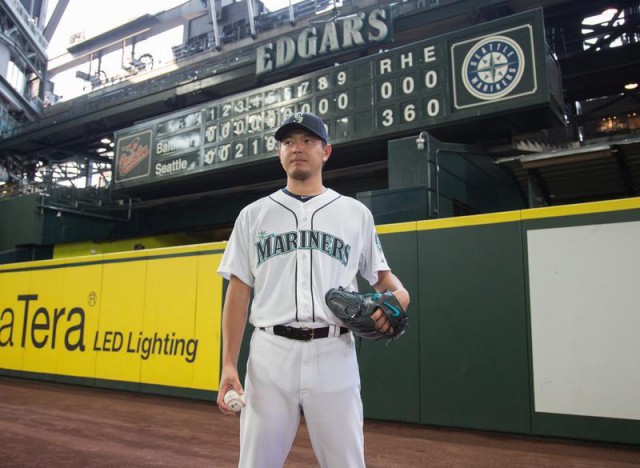 Mariners 3, Orioles 0: Hisashi Iwakuma with the no-no. He walked three and struck out seven. It's been a not-great year for both Iwakuma and the M's, but this will at least give them something to put on the highlight reel. You've probably seen the final out highlight a few times since yesterday, but don't sleep on Kyle Seager's sweet catch in foul territory in the ninth to keep things going:
[mlbvideo id="361029283″ width="600″ height="336″ /]
Mets 3, Rockies 0: Midseason additions Juan Uribe and Yoenis Cespedes each knock in a run, Cespedes on a homer, and Jacob deGrom continues to be ridiculous, striking out 10 in seven innings. Question: did the Rockies even bring their bats to New York?
Indians 2, Yankees 1: The Yankees; offensive struggles continue, this time managing only one run against Danny Salazar and the Tribe. And with that New York falls out of first place in the AL East. Maybe, like the Nationals, they have a veteran on the team who thinks it's actually better to be in second place. I sort of doubt it, but I didn't think such a beast existed before yesterday, so who knows?
Blue Jays 10, Athletics 3: Ten straight wins for Toronto and that puts them in first place. Chris Colabello and Justin Smoak, each castoffs from other teams, went deep with three-run shots. Josh Donaldson, who the A's figured would be cool to trade away, knocked in two more runs giving him 85 on the year. And R.A. Dickey pitched well, giving the Jays their sixteenth straight game in which their starter has allowed three or fewer earned runs. They have one more this afternoon against the A's and then weekend they face the Yankees in Toronto. It's gonna be nuts.
Marlins 14, Red Sox 6: The Fish put up a ten-run sixth inning during which rookie J.T. Realmuto drove in five all by himself. He drove in six runs overall on the day. All this from a guy whose name sounds like something a kid make up on the spot when caught by a security guard with a spray paint can or something.
"Hey, you! Put that can down! What's your name, kid?"

"It's um . . . J.T. . . uhhh . . .Re . . .al . . .muto."

"No, wait a minute. I know your parents. You're Beth and Ryan Hogard's son. That's it, I'm calling your father!"

"Aw, man."
Meanwhile, David Ortiz hit two homers in a winning effort in a losing cause.
Astros 2, Giants 0: Five pitchers, led by Scott Feldman, combine to toss a five-hit shutout for the Astros. Chris Heston allowed a homer to Colby Rasmus but otherwise pitched well. Ya need help, though.
Phillies 7, Diamondbacks 6: Down by one, the Phillies put up a four-run sixth inning capped by a Cameron Rupp three-run homer. He also had a sac fly in the game giving him four RBI. Rupp also made a nice swipe tag on a play at the plate that went to replay review and was upheld. Here's Dbacks manager Chip Hale after the call went against him:
"I thought he was safe. I guess it wasn't enough evidence," Hale said. "That's what you always hear. That's their excuse. Not enough evidence. That's the way it goes."
You mad, bro?  The Phillies avoid the sweep. 
Reds 7, Padres 3: Matt Kemp hit a first inning three-run homer, but that's all the Padres would do. Joey Votto hit a two-run homer. He also scored on a balk by James Shields, who has not won in 13 starts. Only three years left on that $75 million deal.
Rays 9, Braves 6: The Braves blew a four-run lead in the seventh when the Rays put up a six-spot. Curt Casali hit a two-run homer that inning along with a James Loney RBI double and a Logan Forsythe sacrifice fly. There was also a wild pitch and some clownshoes Braves defense in the mix. Personally, I spent my evening watching the Perseid meteor shower. It was far more engaging.
Cardinals 4, Pirates 2: Michael Wacha beats Gerrit Cole, giving the former his 14th win and leaving the latter at 14 wins, which ties both of them with Felix Hernandez for tops in the game. This was the Yadier Molina show, though. He had an RBI triple thanks to a poor decision in the outfield by Gregory Polanco, who let the ball get by him. He also stole a dang base — third base! — and threw out Polanco trying to steal.
Cubs 3, Brewers 2: Assuming, as it often safe to assume, that a wild pitch is a joint failure of catcher and pitcher, Miguel Montero contributed to this one going to extra innings when a wild pitch went past him in the ninth to tie the score. But he atoned just fine, thanks, by hitting the walkoff homer for the Cubs sixth straight win and their 12th in 13 games. Chicago is only a game and a half behind Pittsburgh for second place in the Central and first place in the NL Wild Card race.
White Sox 3, Angels 2: Avisail Garcia doubled in Jose Abreu in the 13th for the walkoff win. There was some controversy here in the ninth inning when the Angels tied it up, though. Angels shortstop Erick Aybar struck out to lead off the ninth against Dave Robertson. The ball was in the dirt, so catcher Tyler Flowers reached out to tag Aybar on the leg and was called out, but Aybar still broke for first base. A replay challenge ensued on whether the tag was made. After the out was confirmed, Mike Scioscia came out to argue and/or get an explanation from the home plate umpire. As he did so, he stood in front of home plate. After the game Robertson, who went on to blow the save that inning and force extras, called the move "bush league" by Scioscia, claiming that he was delaying the game by arguing and implying that he did so in that exact spot to keep Robertson from getting loose during the replay delay. Scioscia denied it. Fun, fun times.
Tigers 7, Royals 4: Detroit rallied with a four-run eighth inning and added one more in the ninth. The rally started against Edinson Volquez, who Ned Yost left to begin the eighth inning rather than go to Kelvin Herrera. Herrera was eventually called upon and let a couple of inherited runners score. Defensible given where Volquez's pitch count was, I suppose, and the Royals lead in the Central is so big that it kind of doesn't matter I guess. It's the kind of decision that Yost would be wise to avoid when the games matter a bit more in October.
Twins 11, Rangers 1: Miguel Sano homered twice as the Twins win in a laugher. Both of his shots were absolute rockets that went upper deck. They were almost as impressive as the Perseid meteor shower.
Dodgers 3, Nationals 0: Clayton Kershaw with eight strikeouts in eight shutout innings. He was perfect through six. He also crossed the 200-strikeout mark and it was only August 12. It's his sixth straight year of 200Ks, which matches Koufax and Tom Seaver for the lead in that department in the National League. I assumed Nolan Ryan, like, doubled up on that at some point but even he never had six-straight 200K seasons. Which is sort of amazing to me, but that's how streaks go I guess. And that's how crazy consistent Kershaw has been.