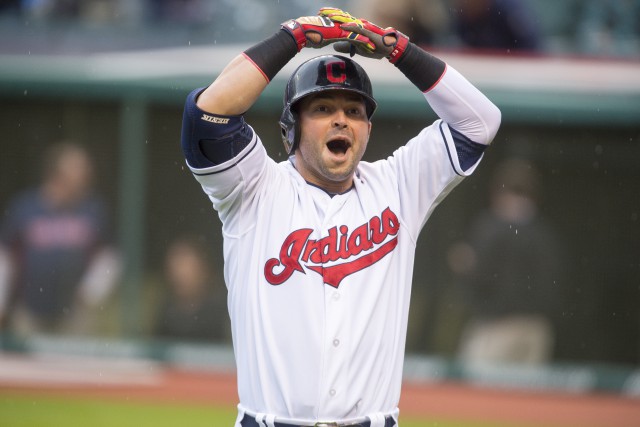 I was at the Indians spring training camp in March of 2013 as Nick Swisher was just getting to know his Indians teammates. At the time they all loved him and his insane enthusiasm. Swisher himself was crazy-intense when I interviewed him and many of his teammates, from Jason Giambi on down to some guys with hardly any big league experience all talked about how great he was to have around.
I just spoke to Terry Francona and he said about Swisher that "he doesn't just talk the talk, he walks the walk."

Walking out of the clubhouse, I ran into some of the team media people. I told them that whatever they're paying Swisher, it's not enough. They all agreed. He's probably paid off his contract in increased season ticket sales already.

Right now Swisher's energy is exactly what the Indians and their fans need. It's a totally different thing than this team has seen in years. But I do wonder: what happens once the season begins? What happens if the Tribe loses six of their first eight and Swisher struggles?  Will the intensity lag? Will it stay where it is and rub teammates the wrong way? It's long season and no one can keep up Swisher's energy for seven months, can they?
I guess things do feel different when you're not playing well and not winning and that Swisher's enthusiasm did rub poorly on guys after a time. Here's Zack Meisel of Cleveland.com, writing the other day about Swisher's former teammates' reaction to his being traded:
Not all teammates shed a tear when Swisher packed up his belongings and jetted to Georgia. His relentless enthusiasm wore on members of the clubhouse and the fan base, as they longed for numbers in his stat line worthy of those on his paychecks.

The energy and over-the-top bubbly attitude helped eliminate any lasting effects from a defeated team that amassed a 68-94 mark in 2012. When his performance went south, however, his insistence on being the club's commander and cheerleader didn't carry much weight.
Players can like or dislike their teammates as any people in any workplace do. But "good chemistry," defined as that special part of a winning team follows winning. It's never the other way around. And that's the case no matter what people want to tell you.
(h/t Let's Go Tribe)