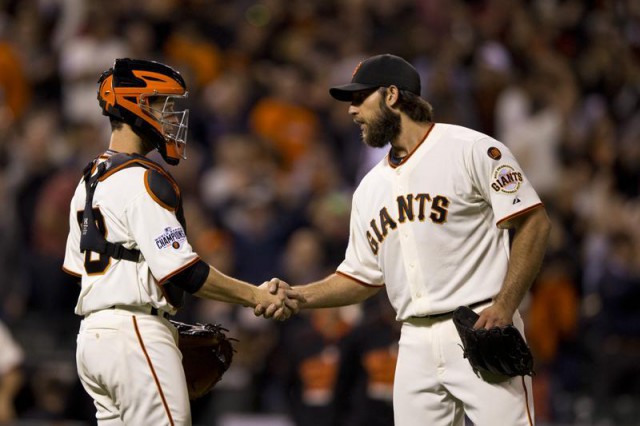 Giants 3, Astros 1: Madison Bumgarner doing Madison Bumgarner things. Allowing one run in a complete game in which he struck out 12. He only threw 105 pitches too, which is hard to do when you strike out that many guys. In support, Belt belted two homers. I'm sure no one has ever used the "Belt/belt" combination with him before. My use of it there was totally novel, I guarantee it.
Blue Jays 4, Athletics 2: Blue Jays fans, for good reason, are getting excited:
The Blue Jays have won nine times in a row. pic.twitter.com/Tf0WyypQOy

— fleetwood windows (@ruhee_) August 12, 2015
Toronto is just a half game back of the Yankees. They were seven back of the Yankees on July 28. I finally submitted that passport application on Monday, so go ahead and make the World Series, Toronto. I'm totally prepared for it.
Indians 5, Yankees 4: Michael Brantley hits a walkoff single in the sixteenth inning. That's four straight losses for New York. The four runs, though, is something of an offensive outburst for them lately so, um, progress?
Marlins 5, Red Sox 4: The Sox had a 4-0 lead in the sixth and blew it. Which seems to have happened to them a number of times recently. In the tenth Dee Gordon tripled to lead off and then scored on a walk-off single by Justin Bour. After the game Marlins starter Justin Nicolino said this:
"Guys like David Ortiz and (Pablo) Sandoval and growing up watching them was really cool, but actually getting to facing them and seeing them in the batter's box was pretty cool, too."
The other day I felt old when someone mentioned their dad liking Bartolo Colon. But for cryin' out loud, Ortiz didn't even play 100 games in a season until 2000. Sandoval debuted in 2008. Kids are ruining this game for the rest of us, quite frankly.
White Sox 3, Angels 0: Carlos Rodon struck out 11 Angels in seven shutout innings and Melky Cabrera doubled in a couple of runs. Trayce Thompson hit his first career home run. If you had asked me who "Trayce Thompson" was before this game I probably would've said "Um, the woman who replaced Vicki Lawrence as Carol Burnett's second banana when Lawrence left for her own variety show?" Which is just wrong, as she stayed with Carol until the end, God bless her. Fun Fact: Vicki Lawrence also appeared on "The Love Boat" in five different episodes as five different characters. TV was way different back then, you guys. You know, way before Justin Nicolino was born.
Mets 4, Rockies 0: There were a few starts in there a little while back when people were worrying about Matt Harvey. They need not have worried. Here he shut out Colorado for eight innings on four hits and didn't walk anyone. In fact, it's the third straight start in which he hasn't walked anyone.
Rays 2, Braves 0: Kevin Kiermaier hit a two-run homer in the seventh inning and Erasmo Ramirez pitched seven innings of shutout ball and that was basically that. Braves starter Williams Perez tossed a complete game loss. You don't see a ton of those these days.
Cubs 6, Brewers 3: Chicago has won 11 of 12. With this win and the Pirates' loss they're only two and a half behind Pittsburgh for the first Wild Card. Not that that matters a ton, but jeez, a home playoff game for the Cubs in 2015? Could you even imagine that a year ago?
Royals 6, Tigers 1: I had my brother visiting from last Saturday until this morning. He is nominally a Tigers fans and has been since he was a kid, but he has sort of let baseball go in the past decade or so and is really just a hardcore hockey fan now. Yesterday we were in the car for two hours coming back from a trip to an amusement park with the kids and he decided to quiz me about how the Tigers are doing. He is generally aware that they aren't doing good this year, but wasn't sure why. When I got to the part about the bullpen he said "is Phil Coke still there?" My first impulse was to laugh. My second impulse was to think "heck, maybe he'd help these guys? Maybe he could even start!" At any rate, they lost again, with Lorenzo Cain going 4-for-4 and homering and Mike Moustakas homering and driving in three. K.C.'s lead in the division is a silly 12 games.
Twins 3, Rangers 2: The Twins may be sliding out of the playoff picture, but they're not packing it in like some teams we could mention. Here they showed some late fight, scoring all three of their runs in the eighth and ninth inning, capped by Eduardo Escobar's two-out double in the ninth. Making the playoffs this year was never expected and that they contended as long as they did was a nice surprise, but certainly give them credit for showing some fight and being generally entertaining.
Cardinals 4, Pirates 3: Another of many comeback wins last night as the Cards rallied when down 3-1 in the fifth behind a Jason Heyward RBI single and an RBI double from Yadier Molina. Stephen Piscotty singled in the go-ahead run. Meanwhile Carlos Martinez got stronger as the game went on, pitching eight solid innings. The Cards maintain a six-game lead in the Central.
Diamondbacks 13, Phillies 1: There are some things you just don't come back from and an 11-run second inning is one of those things. The Dbacks rocked David Buchanan like a hurricane for all 11 of those runs. Not that they needed them all as Jeremy Hellickson allowed only one run in eight. David Peralta hit a grand slam. Hellickson himself went 2-for-3 and drove in three. The 7-8-9 hitters in Arizona's lineup went 7-for-13 with seven driven in.
Mariners 6, Orioles 5: Austin Jackson singled in the winning run in the tenth. Nelson Cruz and Mark Trumbo homered. Cruz's homer extended his hitting streak to a career-high 21 games, which is tied for the longest in baseball this season.
Dodgers 5, Nationals 0: The Yasiel Puig show: he tripled with the bases loaded and hit a two-run homer, driving in all five of the Dodgers' runs. Zack Greinke, meanwhile, recovered from his last rocky start to shut out the Nats for six innings. Puig's triple should've probably been a fly out or, at the very least, should've scored one run, as it was a shallow fly down the right field line that Clint Robinson misplayed badly. But that's how the Nats are rolling these days.
Padres 11, Reds 6: Colin Rea made his MLB debut, pitched well and got a hit. Hard to beat that. And staked to an 8-0 lead after two innings, he could relax some too. Jedd Gyorko drove in two for him, singling home two runs in the first and hitting a two-run homer in the second.