Blue Jays 2, Yankees 0: A pretty darn big sweep here, both in terms of what it means in the standings and what it means for, I dunno, the optics of it all. Three straight games from the team you're chasing is a big deal, and now the Jays are only a game and a half back of the Yankees. But doing so in three straight low-scoring games in which the Yankees scored only one run is kind of crazy. We've gotten used to the Blue Jays bashing the hell out of people. Seeing them hold New York down like this is another thing altogether. That's eight straight wins overall for Toronto. Look out American League.
Diamondbacks 4, Reds 3: Chris Owings had a walkoff single in the tenth, but the Reds tried to turn this into a Merkle's Boner game by claiming that the runners didn't properly advance and finish the play before going to celebrate the win. That didn't end up washing — Owings and the runner who scored ran out their end of the play — but the discussion about it certainly made the end of things weird. Also, it gives us all the chance to say "boner," and that's always good.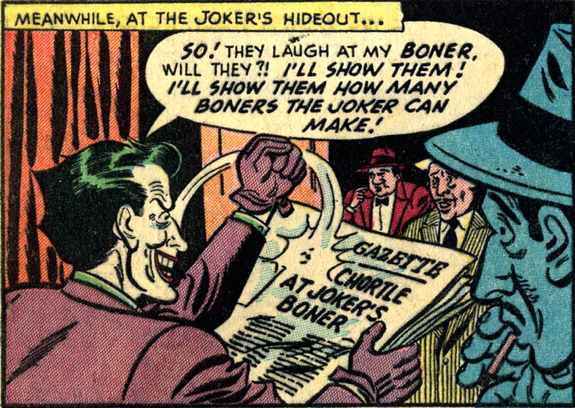 Angels 5, Orioles 4: David Murphy drove in four, including a walkoff single in the 11th inning. Buck Showalter walked both Mike Trout and Albert Pujols with two out to get to Murphy before his game-winning hit, willingly putting a runner on third base to do it. Which ain't exactly the best strategy I've ever seen, but even Buck Showalter is allowed to have a bad day, right? After the game Showalter said "I was just trying to give us the best chance to win." I get that I guess, but pitching to anyone with the bases loaded seems more dicey to me than trying to retire even really good hitters with a runner on second. Also, someone watch the video of Murphy's hit and explain to me why the outfield was playing so damn shallow. Anything on the ground scores a runner from third. With two outs, don't you play straight up? And if you're playing straight up, doesn't the left fielder catch that fly from Murphy? Just weird.
Rays 4, Mets 3: Richie Shaffer hit a tie-breaking homer in the seventh inning off of Bartolo Colon. After the game he talked about how it was a big deal for him because his dad is from Cleveland and is a big Cleveland Indians fans and used to like watching Bartolo Colon. If you need me I'll be in the next room crying all day after realizing just how damn old I am that major league ballplayers talk about how their DADS used to watch old timers who broke into the big leagues two years after I graduated from college and got married.
Red Sox 7, Tigers 2: Jackie Bradley Jr., who has been a non-factor on offense in the majors, homered, tripled and drove in five. Henry Owens got his first big league win. Go Junior Red Sox.
Indians 8, Twins 1: Corey Kluber tossed a three-hit complete game allowing one run and striking out ten in a cool 100 pitches. It was very nice of him to let the Twins get to the airport and back to Minnesota so early like that.
Rockies 6, Nationals 4: That's a game that'll bug the Nats for a good long while. Max Scherzer on the mound against a bad team like Colorado and a lead heading into the sixth inning. The Rockies tied it on a Carlos Gonzalez homer, however — they hit three off Scherzer in the game, two from Gonzalez — and then Drew Storen gave up two runs in the eighth inning. Washington mounted something of a rally in the ninth, but nothing came of it. They remain a game and a half behind the Mets.
Royals 5, White Sox 4: On paper, a game in which Danny Duffy couldn't make it out of the fourth inning, Kelvin Herrera blew a lead and Greg Holland was unavailable would seem like the sort of game the Royals lose. Nah. Because they just don't lose much these days. The sweep puts the Royals lead in the Central at a hilariously insurmountable eleven and a half games.
Brewers 5, Cardinals 4: I don't pay that much attention to Khris Davis in the grand scheme of things, but every time he comes to my attention it's because he's hit two home runs in a game. Some people never touch your life. Some people you can't stop thinking about. Some people serve some narrow role in it like "the player you will forever think about when someone says 'two homers in a game.'" The Brewers' win snapped the Cardinals four-game winning streak.
Cubs 2, Giants 0: The Cubs sweep the Giants in the four game series. Jake Arrieta pitched shutout ball into the eighth and also [all together now] helped his own cause when he tripled and eventually came in to score in the second inning. The Cubs have won ten of 11 and are now three an a half up on San Francisco for the second wild card. The Giants will be better off looking at the division title, where they trail the Dodgers by only three.
Athletics 5, Astros 4: Newcomer Danny Valencia homered in the fourth inning and singled in the winning run in walkoff fashion. Valencia is 7-for-16 with five RBI since coming over from Toronto. Houston's loss — their third straight — puts them a mere half game up on the Angels.
Mariners 4, Rangers 2: Nelson Cruz tied Mike Trout for the league lead in homers at 33 and extended his hitting streak to 19 games. During the streak he's batting .422 with 11 home runs, six doubles and 15 RBI. In addition to leading the league in homers, he's one point behind Jason Kipnis and Prince Fielder for the lead in batting average and seventh in RBI, 14 behind the leader, Josh Donaldson. That last one may be too hard to make up for the Triple Crown, but he's at least within shouting distance. Just an amazing season for the guy.
Phillies 5, Padres 3: Phillies sweep the Padres because the Phillies are actually good now and nothing makes sense in the universe. Jerome Williams of all people starred here, allowing one run in seven innings. When Jerome Williams shuts you down, you need to take a good long look in the mirror.
Marlins 4, Braves 1: The Marlins snapped a six-game skid. Brad Hand allowed one run in seven innings and [all together now] helped his own cause by driving in two runs on sacrifices.
Pirates 13, Dodgers 6: The Dodgers took a 5-4 lead into the seventh inning in this one. I suppose, somewhere, someone turned the game off at that point because they were tired or whatever. In which case they missed the Pirates score NINE RUNS in the bottom half of the frame. Dodgers reliever Jim Johnson was charged with eight of those runs in two-thirds of an inning. I swear he was actually halfway decent for Atlanta this year before heading to LA in that three-way trade with the Marlins. But he has stunk up the joint for the Dodgers. Pittsburgh sweeps the three-game series and wins their sixth in seven games.