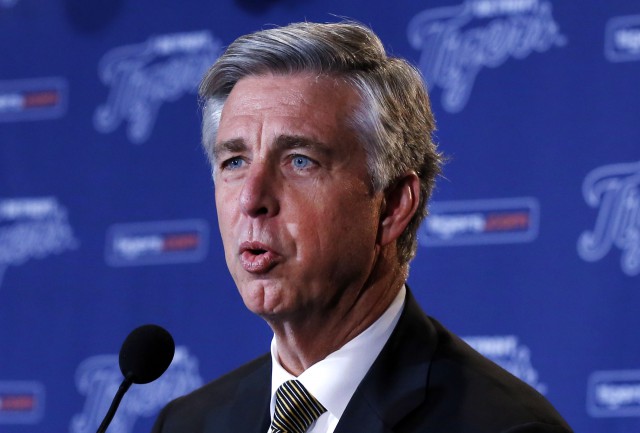 Dave Dombrowski is 59 and unemployed. That's scary for most people, but when you have his track record you could very well have your choice of your next gig. So, a day after he was let go, it's worth thinking about where he might go after this season. Some candidates:
Boston: Larry Luchhino is stepping down at the end of the season and, while Sam Kennedy is taking over as team president, he's not a baseball ops guy. It strikes me that the role of President of Baseball Operations so many teams now have over their GM is one that Ben Cherrington could easily fill based on his experience — is he any less qualified than Andrew Friedman was when he got the gig with Los Angeles? — but many in the Boston media are talking about Dombrowski coming in and a working above Ben Cherington. That'll be interesting to watch;
Toronto: The Blue Jays are looking for a president, too, with Paul Beeston stepping down at the end of the season. It would be a different sort of setup for Dombrowski there than he had for the past 13 years in Detroit, with Rogers Communications usually setting a budget and stepping back as opposed to being open to persuasion about bold moves like Mike Illitch seemed to be. Still, the Jays have a nice core in place and could be winners for a while and that may be enticing;
Anaheim: This is one a lot of people are talking about due to Dombrowski's reportedly close relationship with interim Angels GM Bill Stoneman. Also appealing is that the club requires the sort of team-building, as it were, that the Tigers of the past few years have: the maintenance of a winner, not a rebuild. The problem, of course, is that as we saw with Jerry Dipoto's ouster, the GM is probably the least powerful person in that organization. If you think for a minute that Dombrowski wants to take orders from Mike Scioscia, you gotta be crazy. Also, like Detroit now, the Angels farm system is thin and whether Dombrowski wants to do that kind of building is an open question;
Seattle: This is based more on the notion that, after a disappointing year and underwhelming results, GM Jack Zduriencik is clearly on the hot seat. Howard Lincoln is the CEO of the club and he basically represents the absentee owners of Nintendo. There has always been the sense that, in some ways, Seattle operates like Toronto — corporate sets a budget and then steps back — but it could be that the Mariners are looking for a more dynamic front office setup. Or, at the very least, they should be;
Baltimore? Milwaukee?: Less chattered about in the past 24 hours, but interesting all the same. Doug Melvin has been said to be considering retirement. Dan Duquette in Baltimore was rumored to be up for the Jays job earlier this year so some musical chairs could happen. There are likely other teams who will find themselves with openings by the time, or soon after, the season ends.
Either way, this is a good time for Dombrowski to be on the market.