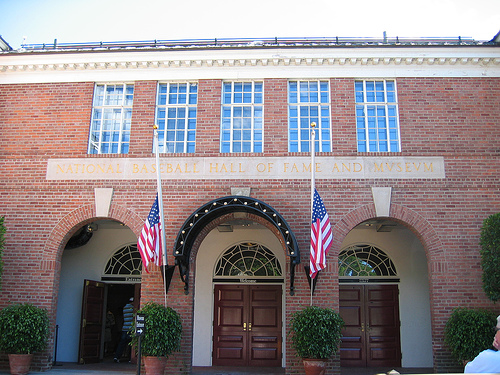 Last week the Hall of Fame changed the composition of the electorate to remove any voters who had not actively covered baseball in the past ten years. According to Philip Hersh of the Chicago Tribune, that culls 130 of the 650 voters. Philip Hersh included. He is not too pleased with that:
That move will delight the anonymous Twitter trolls who have hectored me every year to give up my vote because they apparently are upset that I roundly dismiss the candidacies of players like Barry Bonds, Roger Clemens, Mark McGwire and Sammy Sosa, whose use of PEDs was apparent, admitted or both.

My only regret in losing the vote now is not having a further voice in shutting that crowd out of Cooperstown until their 15 years of eligibility is over. One can only hope that 26 percent of the 520 or so remaining voters will continue to bar the door.
A few thoughts:
1. If you write a column lamenting the injustice of your Hall of Fame vote being taken away, not realizing that players no longer have 15 years of eligibility but, instead, only ten, doesn't help your case that much.
2. The job of a Hall of Fame voter, one would think, is to vote for players for the Hall of Fame, not to "bar the door." But of course Hersh has always though it was the latter. Such as back in 2012 when he wrote this:
Oh, the joy I will have snubbing Sosa, Bonds and Clemens (plus McGwire and Palmeiro, natch) on my HoF ballot.

— Philip Hersh (@olyphil) November 28, 2012
I have a ballot because I covered baseball for nearly 20 years. And I'm keeping it just to vote against the druggies. — Philip Hersh (@olyphil) November 28, 2012
For the record, Hersh also likes to "bar the door" against guys who have no public evidence of PED use against them such as Jeff Bagwell. In any event, sorry you no longer get to use your vote for self-gratification and spite. Also, having those couple of tweets in your portfolio and then calling other people "Twitter trolls" is pretty rich.
3. Hersh spends the bulk of his column arguing for Mark Belanger's inclusion in the Hall of Fame because, dadgummit, when Hersh covered baseball in Baltimore, Belanger amazed him. Part of this is offered to support the idea that having voters around who saw the players on the ballot play is useful. How he squares that with the fact that his contemporaries, who also saw Belanger, made him a one-and-done on the ballot is something only he knows.
Anyway, if his column accomplishes anything, it shows us that the Hall made the right call in thinning the voting herd.