On some level it's silly to declare winners and losers a mere hour after the trade deadline passes. For the buyers these trades, in the shortest term, are designed to help them get over the top and into the playoffs, so we can't know until October if they were successful. For the seller it could be years before we know if the prospects they received in return truly paid off.
But this is the Internet, and things like "reason" and "waiting" are just not concepts that can be abided. And, at the very least, we can certainly talk about who, in our gut anyway, did OK this trading season. So let's go with our gut for moment, shall we?
First, go check out our entire rundown of every deal of consequence at the deadline over at our Trade Deadline Tracker.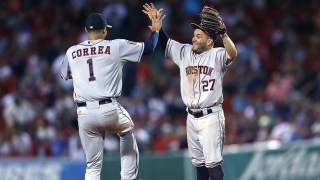 WINNERS
Astros: Carlos Gomez helps fix their thin outfield, Scott Kazmir gives them another ace behind Dallas Keuchel and Mike Fiers helps solidify the back end of the rotation. And they got this haul despite not parting with any truly top prospects such as Vincent Velasquez, Mark Appel and Michael Feliz. A great upgrade in a go-for-it season without sacrificing any of that bright future? You gotta love it.
Royals: Ben Zobrist and Johnny Cueto are excellent win-now pickups, and the Royals are certainly winning now. Kansas City paid a pretty steep price for the Cueto rental — Brandon Finnegan, John Lamb and Cody Reed could all be a part of the Reds' rotation over the next couple of years — but this is the Royals day and they are seizing it.
Tigers: It's been a bad summer for Detroit and, at least as far as the public was concerned, they weren't selling until about 48 hours ago. But in that 48 hours they got a lot of something out of what would've been nothing after this lost season. David Price was not going to sign with the Tigers after this year and, at most, they'd get a first round pick for him if they held on. Instead they got three nice arms in Daniel Norris, Matt Boyd and Jairo Labourt. Like the Cincy trio, all of these guys will figure in the Tigers' major league future. They wouldn't have even gotten a draft pick for Yoenis Cespedes, so getting a couple of arms for him — including a nice one in Double-A pitcher Michael Fulmer — was a decent return. Detroit sure didn't want to sell, but if they had to, they did well.
Reds: For the reasons mentioned in the Royals comment, they got the most out of their big asset, Cueto. Their overall management of this roster has not been exemplary, but they made a good trade there. And, more importantly, they didn't panic and move Jay Bruce and Todd Frazier just to say they moved them, which I feel would've been a mistake. They are both valuable bats at a time when bats are scarce. They can either try to move them through waivers in August or, more realistically, in the offseason when everyone is less panicky and it's easier to see how to fit a position player into your plans than it is on the fly in July.
Blue Jays: This could be a situation in which, a couple of years from now, when they're paying a declining Troy Tulowitzki and David Price has long since gone, they will regret these deals. But for now you have to credit them for going big rather than going home. They have a lot of ground to make up and they gave up a lot of talent to do it, but if these moves turn into an October run it will have been worth it. That's what a lot of people who judge trades often forget when, ten years later, they ignore the veterans and only talk about the kids involved who turned into something. The Tigers traded John Smoltz for Doyle Alexander. Know what? They were right to do it given their situation in the summer of 1987 and don't let anyone tell you different, even if it stings Tigers fans a bit to think about what life with Smoltz would've looked like.
Phillies: Ruben Amaro has gotten a load of crap over the years. And heck, maybe he didn't make these moves. Maybe Pat Gillick or Andy MacPhail did. I don't know. But whoever it was who called these shots, they got a decent return for Cole Hamels in the form of Jorge Alfaro, Jake Thompson, Nick Williams, Alec Asher, Jerad Eickhoff and Matt Harrison and a couple of nice relief prospects for Ben Revere. They also unloaded Jonathan Papelbon and the specter of his 2016 option. Maybe they should've rebuilt years ago, but they did the best with what they had now.
UPDATE:  OK, I'll include the Mets here in their pickup of Cespedes. It certainly improved the offense. I'm not sure it's enough — it's still a pretty bad offense — but credit where it is due for addressing a problem.
LOSERS
No one really got hosed here, but the following teams didn't make the sort of bold moves one would have assumed they would.
Marlins: OK, they're true losers. Sorry, hard to sugarcoat this. They traded away guys who made money and who likely appeared on season ticket brochures in Mat Latos and Dan Haren. None of the prospects they got back seem projectable and all of their deals seemed aimed at salary relief. Which is par for the course for them.
Yankees: They didn't have a lot to work with, but they definitely needed a starter or, short of that, another reliever to help that strong bullpen get stronger and diminish the impact of that problematic starting five. And . . . they did nothing. While Toronto picked up two huge pieces and even the Orioles added talent. They have a nice division lead and my bet now is that it holds up, but it was rather surprising not seeing the Yankees making any moves.
Dodgers: Picking up Mat Latos and Alex Wood help their depleted rotation, and Jose Peraza is a nice long-term piece for the Dodgers at second base, but given their money and their prospects, I'm rather shocked they weren't in on the Price/Cueto/Hamels action. Some of their fans likely will be too. Certainly not hard losers — they improved their team –but they sort of surprised in their lack of big moves.
Braves: I'm somewhat torn here, because if you look at the Braves' overall plan since they decided to blow things up last offseason, a lot of what they did makes sense and fits in a larger "smart moves" narrative. Including Bronson Arroyo in the deal that brought them Hector Olivera ended up — if you rationalize things just right — getting them Olivera and pitching prospect Touki Touissant for basically free, and that's good. But you can also say that they traded a well-thought-of, team-controlled lefty starter and one of their top position playing prospects for a 30-year-old infielder who has never played in the bigs and who has an injury history. Which, eh.
Cardinals: They're leading their division and seem like a team in good shape, but like a lot of clubs, just wanted one more bat. And they got it in Brandon Moss. So, good, right? Welp, I dunno. They gave up a nice pitching prospect in Rob Kaminsky to do it. You'd figure he could get you more. Maybe Ben Zobrist if they had moved aggressively? Hard to say, but it's a lot for Moss, who has had a rotten year.
Cubs: A big caveat here in that, in their heart of hearts, I bet Theo Epstein and Jed Hoyer didn't think they'd contend this year and thus don't really feel comfortable trading a lot of talent for a 2015 run. If I were them I'd have a hard time doing that, that's for sure. I'd be all about getting David Price next winter, frankly. Still, if they were going t0 make a move to make it look like they were making a move, I'm not sure why Dan Haren was that move. He has been OK overall, but he has pitched WAY WAY worse on the road than he has in Marlins Park and will likely give up a ton of homers in Wrigley Field. Indeed, I feel like his second half will be rather ugly.
OK, so that exercise is done. And, as noted above, maybe it was silly given that time is required to truly judge these moves. But this is the Internet, dang it, and the Internet is made for this kind of insta-analysis, right?