In the fifth inning of Thursday's game between the Rockies and Cardinals, a struggling Carlos Martinez drilled D.J. LeMahieu in the hip with his 95th pitch of the game. It looked like a purpose pitch, though nothing leading up to it had suggested anyone would want to be throwing at anyone. Whether it was intentional or not, Martinez's immaturity showed when he walked off the mound and jawed with LeMahieu afterwards. Worse, after escaping the inning, Martinez directed an obscene gesture towards the Rockies dugout.
Fast forward two innings. Rockies reliever Christian Friedrich, in his first inning of work, got the first two batters he faced. He then sent his first pitch to Kolten Wong not only in his direction, but up near his head: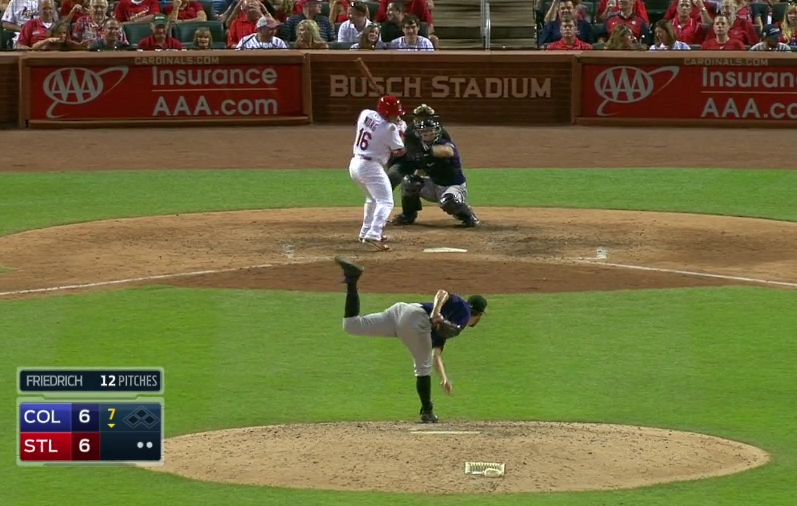 Fortunately, no real harm was done. Wong took the pitch off his shoulder and walked to first without incident. The incredible thing is that Friedrich was allowed to continue pitching, even though warnings appeared to be issued after the earlier incident.
Regardless, herein lies the stupidity of beanball wars. Whether Friedrich intended to go up there or put one in his ribcage, the end result could have ended Wong's season or worse. He deserves a lengthy suspension, and manager Walt Weiss should also be banned from the dugout for a spell. It's 2015. There's  no longer any place for these purposely dangerous acts in baseball, and it shouldn't take a career being ended for MLB to do something about it.