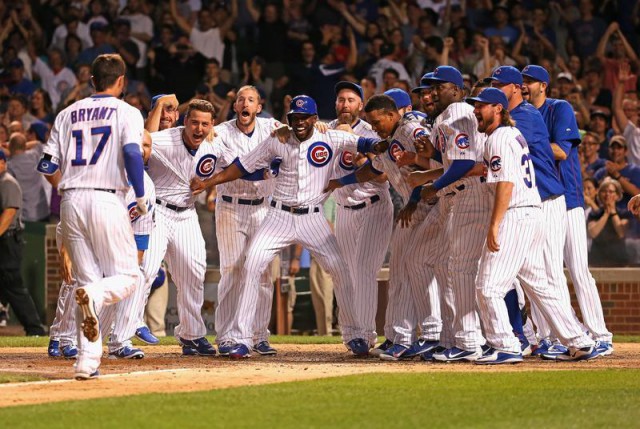 Cubs 9, Rockies 8: Kris Bryant hit two-run homer with two outs in the bottom of the ninth and the Cubs trailing by one. That's about as big as a walkoff comes. This negated Carlos Gonzalez's two-homer game, one of which gave the Rockies the lead in the top of the inning. After the game the Rockies shipped Troy Tulowitzki and LaTroy Hawkins to Toronto. Read the details of the trade here. And here is our analysis of this very, very strange deal. For the record, Tulo's last game as the Rockies shortstop: 0-for-5 and an RBI on a groundout.
Orioles 2, Braves 1: Matt Wieters with a walkoff homer in the 11th. This in a game that was 0-0 until the ninth. In that frame Adonis Garcia — apparently the Braves' new hero — homered. Jim Johnson couldn't lock down the 1-0 lead in the bottom of the frame, however, giving up a couple of singles and a sac fly, setting the stage for Wieters' heroics a couple of innings later.
Royals 9, Indians 4: Eric Hosmer drove in four runs and Kendrys Morales knocked in three as the Indians continue to spiral into oblivion. The Royals are just great, though. They even had some fans representing for them in Cleveland. The game story put it this way: "Downtrodden for so many years, these Royals are being treated like rock stars." Personally, I've never been overly taken with the romance of rock stardom. When I hear that I think "they're being taken advantage of by shady advisors and being screwed out of their publishing rights; they're indulging too much in excess under the false assumption the money and stardom will keep flowing and then, later, they'll crash. On the upside, we'll all be able to see the Royals at a state fair or something in about 15-20 years.
Rays 5, Tigers 2: Curt Casali, which sounds like an alias my brother Curt would use, homered twice and Nathan Karns took a one-hit shutout into the seventh. An uninspiring Tigers performance which led to a closed-door meeting after the game with Dave Dombrowski in attendance. No word on what was discussed then the doors opened again and no news spun out of it. Maybe Dombrowski gave the old law school "look to your left, look to your right, this time next week one of you will be gone" speech. Maybe, like Rajai Davis yesterday, Dombrowski was just trolling the media.
Yankees 6, Rangers 2: A-Rod homered on his 40th birthday. Which leads to a cool factoid: he became the fourth player in major league history to homer as a teen and in his 40s. The others: Ty Cobb, Rusty Staub and Gary Sheffield. Cobb, Sheffield and A-Rod all took major criticism for being horse's asses. I don't know about Staub's reputation in the game in general, but I once talked to Mickey Lolich who, for whatever reason, went on and on about how Staub was a prima donna. It could be that Lolich is just a crank. Or maybe baseball longevity and being a horse's ass have a lot of things in common.
Cardinals 4, Reds 1: I hate calling homer's "dongs," but part of me really wants to say that the story of this game was a "Wong dong." What kind of dong? A grand salami! The saddest part is that it went out to right center. If it went to left, we could've called it an "oppo taco!" That is, if we're horrible, horrible people who like to use the worst and dumbest slang around. Not saying we're better than that, of course.
Diamondbacks 4, Mariners 3: Seattle native and University of Washington produce Jake Lamb won the game with a sac fly. Paul Goldschmidt homered in this one as he continues one of the quietest .346/.465/.611 seasons in baseball history.
Giants 4, Brewers 2: Heston stars, Crawford shines in a supporting role. No, I'm not talking about season five, episode 39 of Matin and Lewis' Colgate Comedy Hour, which was the only time both Charlton and Joan appeared in a production together. I'm talking about Brandon, who hit a homer and Chris, who allowed two runs over seven.
White Sox 10, Red Sox 8: Sox wi–
Can't wait for @craigcalcaterra to use his "Sox win!" line for the next four days

— Not John Sterling (@Sterlinghomer) July 28, 2015
Well crap. It's no fun now. Thanks. You totally ruined one of my hackier jokes. 🙁
Haha, just kidding. Sox win! Sox win! Adam Eaton, playing DH because of a sore left shoulder, had three hits and drove in two. Which is cool, even if a bunch of you dead-enders would rather have had John Danks hit and Eaton be benched. Yeah, that's right: old jokes AND dredging up arguments from three or four months ago.