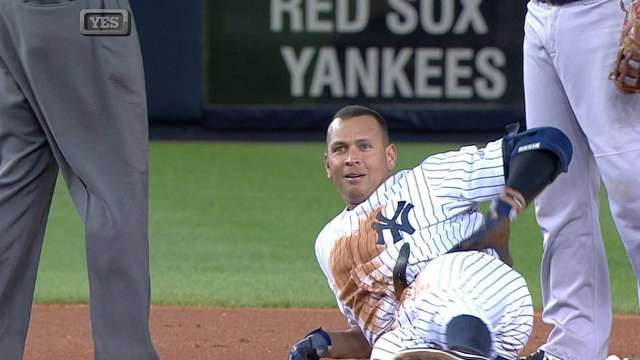 Today Alex Rodriguez turns 40-years-old. Today, his batting line stands at .277/.375/.539. He has 23 homers — on pace for 38 — and has driven in 58, on pace for 97. On Saturday he hit three homers in a game.
Quite impressive for anyone, let alone a 40-year-old who (a) missed all of last season due to a suspension; and (b) had major hip problems before that. Have yourself an extra piece of cake, Alex.
Also, go back and read the things the Daily News said about your career prospects in the past couple of years. They're always fun.
Things like this, from July 2013:
It is now a frantic footrace with the MLB drug posse for Alex Rodriguez, who will never play another game for the Yankees but is desperately trying to make sure he doesn't lose a penny of the $100 million owed him on the last 4½ years of his contract.

In plain view, A-Rod is going through the motions, playing in rehab games for the Class-A Tampa Yankees in the Florida State League, all in the name of making his way back to the Bronx by the end of the month. It is just an elaborate charade.
And this, from September of that year:
He needs to get a grip on reality — which is that he's finished as a player and guilty as charged as a serial steroids cheat. His best option now is to try and make a deal with MLB, so at least all the lurid details of just how guilty he is and how much he betrayed Don Hooton's kids may never come out.
There was a time, during Alex Rodriguez's 2013 "wild west show" summer of lies, lawsuits, demonstrations and general anti-Yankee, anti-MLB mayhem, that baseball's now most notorious drug cheat invoked the name of George Steinbrenner in an email to Yankee president Randy Levine, pleading for a truce . . . We all know now what a crock that was — A-Rod saying he could make a big difference in the game (without steroids?) . . . If George were alive, you can be sure he would be doing everything in his power to get retribution for the $275 million contract A-Rod signed with the Yankees under false pretenses in 2007 — as well as for everything he has done to besmirch and embarrass the Yankees.
At the moment, if George were alive, he'd be posing in photos with Alex Rodriguez, next to a giant blow-up of today's standings, which show the Yankees to be six and a half games up on the rest of the AL East. Thanks, in large part, to one Alex Rodriguez.
Any comment about that today, Mr. Spink Award winner?

Didn't think so.