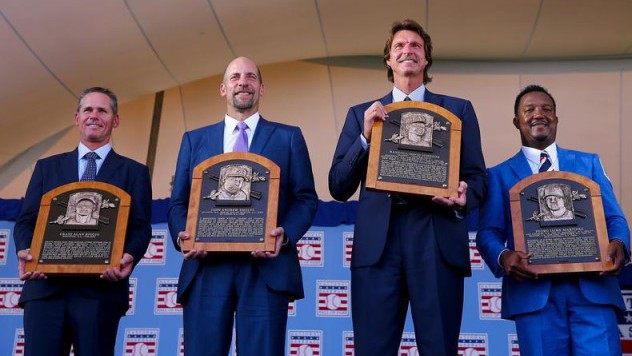 We're not fully finished inducting the backlog of 1990s and 2000s superstars who deserve to be in the Hall of Fame, but yesterday we took a big step toward getting through the pile as Craig Biggio, John Smoltz, Randy Johnson and Pedro Martinez were inducted in one of the most impressive Hall of Fame classes in history.
It was the first time since 1955 that four players were inducted, and all of them were highly deserving.
Everyone likes to note that Randy Johnson was a strikeout machine, but he was more than the sum of his Ks. Indeed, he may have been the greatest left-hander of all time. With all apologies to Lefty Grove, he almost certainly was once you adjust for the level of talent he faced.
Pedro Martinez was Sandy Koufax, but only if Sandy Koufax pitched against crazy-good hitters in the most insane offensive eras since at least the 1930s and maybe ever. He may be the only mutli-time Cy Young Award winner who everyone says is great at the drop of a hat yet is still underrated.
Smoltz, while not the equal of his teammates Greg Maddux and Tom Glavine, paired Cy Young starting with shut-down closing to give his career the sort of arc we haven't seen since Dennis Eckersley retired. And, of course, Smoltz was the better starter.
Biggio, who naysayers like to dismiss as a "compiler" but who certainly was not that, combined fantastic on-base ability, great gap power (and no small amount of homers for a middle infielder) and plus defense despite the fact that second base was not his natural position. In any event, catchers and second basemen have shorter peaks and careers than a lot of guys yet Biggio, who came up as a catcher still managed to play 20 years and collect 3,000 hits.
Their Hall of Fame induction speeches were great too, with Martinez leading the way. In his speech, he talked about his pride as Dominican player and how his induction is a "sign of hope, faith, determination, strength, courage, and dignity" for his countrymen. Smoltz — the first inductee to have undergone Tommy John surgery — ended with some words about the epidemic of the arm injuries which occasion the procedure. Biggio thanked everyone who ever touched his career, reminding us that Yogi Berra was an Astros coach for a time and that Nolan Ryan was still an Astro back when Biggio came up. Johnson, never the most talkative major leaguer, was not comfortable on the stage but was touching as he talked about his mother and his late father, to whom he owed everything.
You can watch the speech highlights here:
[mlbvideo id="299952983″ width="600″ height="336″ /]
And here are their plaques. Most notable — aside from Biggio's leading with his being "a gritty spark plug," which is not something one would normally want in a spark plug — was the reference to the "high-octane offense" of Martinez's era. I think that may be the first and only reference, however oblique, to PEDs on a Hall of Fame plaque. But it does get the point across about eras I mentioned above, so kudos for that.
So, let's do this again next year? Four players (at least) inducted again? Among the four: Ken Griffey, Jr., Jeff Bagwell, Mike Piazza and Tim Raines. Doing so won't totally fix the Hall of Fame's overlooking of a couple of decades of baseball, but it'll go a long, long way in doing so.