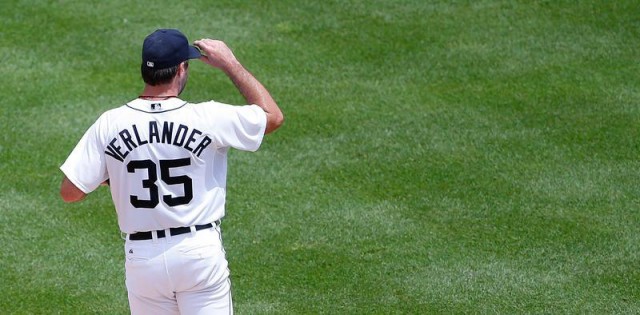 This is part 2 in a three part series in which HBT looks at the Detroit Tigers. Yesterday we discussed how a Tigers team which has won the past four AL Central titles finds itself at a crossroads. Today we look at their former ace, Justin Verlander, who finds himself at a crossroads of his own. 
DETROIT — If Justin Verlander was a comic book character he would not be one of those angst-filled, super heroes form 1980s and 1990s gritty reboots. No, he'd be a suave, carefree and charming hero who actually has a lot of fun while defeating all of the bad guys. Sort of like Iron Man with fewer gadgets, only slightly less money but with a better-looking girlfriend and less of a tendency to engage in self-doubt. Really, it's good to be Justin Verlander.
And, until last year, it was very bad to face Justin Verlander. Since becoming a regular part of the Tigers rotation in 2006 and on through the end of the 2013 season, Verlander was 137-75 with a 3.38 ERA (good for an ERA+ of 128) and 1,664 strikeouts against 540 walks in 1,760.2 innings. He has a Rookie of the Year Award, a Cy Young Award, an MVP and was on the short list for Best Pitcher on the Planet.
Since that time, however, his arc reactor has been on the fritz. In December 2013 Verlander injured some abdominal muscles during offseason conditioning drills. At the time it was thought to be the best possible timing for a bad injury and, following surgery, he was ready for spring training and Opening Day. He made 32 starts last season but, as Verlander told me when I spoke to him on July 4, he did not think he pitched healthy at any time in the 2014 campaign. The results reflected that. He had a 4.52 ERA and saw a sharp reduction in his strikeout rates.
This past spring Verlander was injured again, straining his triceps. The road back from that injury was much longer. He had three MRIs and a chronic buildup of fluid in his arm which kept him from returning until mid-June. Since mid-June his performances have been, in a word, ugly. In six starts he has given up seven runs twice, six runs once and has allowed 39 hits — eight of them homers — while walking 12 in 34 innings. That translates to an ERA of 6.62 and a WHIP of 1.5, all while his strikeout rate has once again dropped and his walk rate has climbed.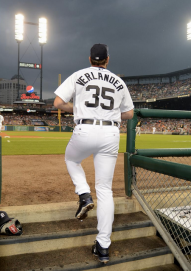 Most observers have noted that Verlander's velocity took a dip in 2014. Which is true. It ticked back up in his first couple of starts this year and has settled back down again to the same rate he had in 2014: 93.1 m.p.h. on his fastballs. But velocity is not the be-all and end-all of pitching. For one, thing, unless your name is Nolan Ryan, a pitcher's velocity is always going to go down a bit over time. Indeed, Verlander's has been on a mild decline since it peaked in 2009 and 2010 and, until last year, it wasn't that big an issue. And it may not be the biggest issue for him now. A pitcher can do well in Major League Baseball with a 93 m.p.h. fastball if he does other things well.
The biggest issue for Verlander is that hitters are putting wood on the ball way more often than they used to and, when they are, they're hitting the ball hard and far. Specifically, they're teeing off on fastballs he throws inside the strike zone, making contact on them 87.8% of the time. That's the highest contact rate for strikes Verlander has posted since he was a rookie. Batters are swinging and missing at his strikes a mere 8.7% of the time, which is his worst rate since 2008. When they make contact and hit the ball in the air, it's going over the fence 16.3% of the time which, while based on only six starts, is still a dramatic increase over his career numbers in that regard.
Put simply: Verlander is trying to throw heat past guys like he did when he was younger but isn't getting away with it anymore.
When I spoke to Verlander on July 4, I asked him about that. About how, as a pitcher gets older and loses a couple of ticks on the gun, one has to adjust. I mentioned Tom Seaver to him and how he made adjustments as he got older. Greg Maddux and how, even if he is remembered for his location and control, he came up with a plus fastball and perfected his wizardry as his career wore on. I asked him how, now that he's not a 97 m.p.h. fireballer who can mow anyone down, what sorts of changes he's making to his approach. Based on what he told me, it doesn't sound like he's making any yet.
Q: Obviously when you're 18, 20-years-old you feel like you can do anything —

A: [interjecting, with a big, confident smile] I still do!

Q: You still do?

A: Yeah.

Q: OK, but do you have a different mental approach now, though, compared to when you were younger? Do you think 'OK, I can't just throw it by these guys now, so I have to change what I'm doing?' Make them guess a bit more?"

A: In fairness I don't think I pitched healthy at any point last year, so I'm not going to completely change an approach that has worked for so long based on one season. So I'm just looking to get back in rhythm and know I can pitch before I start making any major adjustments.
At this point it seemed clear to me that Verlander wasn't going to accept my premise of him being at a point where, maybe, it was time to make adjustments. Which is totally fair. He had forgotten more about pitching in the five minutes we had been talking than I'd ever know in my life so he's allowed to set the premises here. But I still wanted to know his view of change and aging in the abstract, even if he didn't think he needed to now. So I gave him a hypothetical:
Q: OK, say it's five or six years from now and you've lost a few ticks. Who would you talk to or who would you look at as an example of how to adjust and be a different pitcher than you were before?

A: I'm good friends with Kenny Rogers still. He started out as a hard-throwing lefty and by the time he got here he was a crafty lefty. I guess I'd call him [laughs].

Q: You plan to be a crafty righty someday?

A: Sure, ha ha ha.
But not yet. On that day, he said that he's still not back to 100% yet. That starting the season on the DL and not being able to ramp up and get into this normal routine has prevented him from being himself and that he's not going to panic and seek to make major adjustments until he's been 100% and it's still not working.
"I'm not quite back to normal yet," Verlander said. "I felt like in spring, the last start right when I got hurt, everything was coming together. I was kind of right where I wanted to be. But then I obviously hurt myself. Neither of those things is quite back where it was then. But it's getting there. I think velocity's been pretty good. Not excellent, but I think it's been getting a little bit better every start. And location, you know, you just gotta pitch.  That's the best way to get your location. My last three innings of my last start were better than my first three. Had to knock the rust off a little bit. Hopefully I'll just continue to get better and better."
But he hasn't gotten better. The day after our conversation, Verlander gave up seven runs on seven hits in five innings. He also gave up a 450-foot foul ball to Edwin Encarnacion that didn't show up in the box score. One of the homers he gave up was on a fastball right down broadway to Jose Bautista in a hitter's count. It seemed as if Verlander was channeling his 2009 self and thinking that he'd toss his heater right by one of the best power hitters in the game.
The next time I saw him pitch, this past Sunday against the Orioles, he was touched for seven more runs on eight hits and didn't make it out of the fourth inning. After Sunday's game he said he needed to execute better out of the stretch. To "pitch better." He said there was a "tip your cap" factor in play too, as the Orioles teed off on what he considered to be good pitches. That may be true.
But it's also true that, from all appearances, Verlander is approaching the game the same way he did back in the day when he used to throw the ball 97 miles per hour. That he is doing the same thing he has been doing for the past two years now, and expecting different results. There's a word some people have for that. It may be an overused cliche, but the fact is that the Tigers' former ace needs to find a new way to get guys out because the old ways are not working.