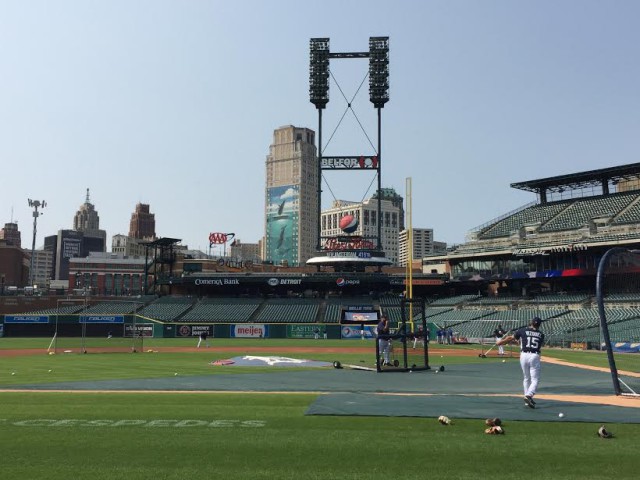 DETROIT — I came to Comerica Park with the idea that I'd write a story about how a team which has won consistently for several years maintains its momentum. I'd talk to some veterans and some coaches and some front office people and ask them the difference between winning when everyone is young and enthusiastic and winning when everyone is older and has been there and done that and now needs to find ways to stay fresh. Teams rise, win, then lose, then fall, and you hear an awful lot about the rise and the fall. You don't tend to hear, however, all that much about that time in the middle when they're simply keeping the momentum going. It seemed like something worth writing about.
And, at the time, heading into the July 4th weekend series against the Blue Jays, it was something the Tigers were more than eager to talk about. Particularly about how they have always been good at integrating new players into their core of established veterans and keeping their winning ways going. It's a team that always shoots for first place and, if anything, makes some little tweaks over the course of the season. Consistency and continuity is the name of the game. Since 2011 they have won four straight AL Central titles, one AL pennant and have made three appearances in the ALCS.
"We know we have a good ballclub but we're uniquely kind of relaxed. Happy. Good clubhouse, good atmosphere. You don't let all of the outside noise creep in and let its way into what we have going on here," starting pitcher Justin Verlander said.  "The main thing since we've been on this run is the mix of veterans and young guys. We don't have anyone on this team that's a prima donna or who won't say 'hi' or won't talk to the young guys," Verlander told me. "Everyone is kind of easy to approach or will take someone under their wing or whatever. It's pretty easy for guys to slide in and quickly figure it out."
Bench coach Gene Lamont echoed that sentiment, saying that "Dave [Dombrowski] has always brought guys in," and that there has never been a problem keeping a good winning clubhouse chemistry going. "It's easy when everyone wants to win and we've always had players who want to win," Lamont said.
Tigers Legend Al Kaline, a special assistant to Dave Dombrowski but present in the Tigers clubhouse far more than your typical special assistant usually is, agrees that the current Tigers are particularly good at seamlessly integrating new pieces to the machine and keeping things running.
"When I was playing, young players weren't particularly welcomed by the older players. Today the veteran players take these kids under their wing, take 'em out to dinner, buy 'em clothes. Spend time with 'em. Back when I played they pretty much ignored you and figured you didn't belong here if you were young. Until you won your stripes. It's harder to play right now but it's easier to be here." He singled out Miguel Cabrera and Victor Martinez as two guys who have helped keep the clubhouse happy and cohesive and who makes sure everyone keeps their head screwed on straight.
But happy is not enough. Winning is the bottom line. Of that Kaline said  "We're a good team. We're gonna be competitive all year long. I think we can still contend in the Central."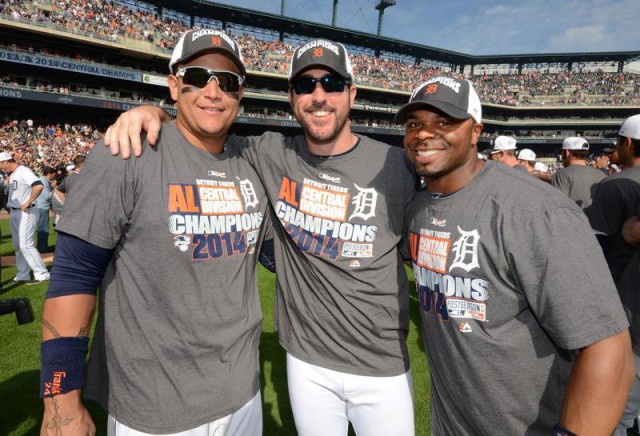 In late June and the first few days of July it was hard to disagree with Kaline's sentiment. No, the Tigers were not in first place, but they hovered between four and six games back of the Royals. We've seen this sort of thing from them before. In 2014 they were three games back in late August. They were six games back in June of 2012 and still trailed by four and a half as late as July 7, but again won the division. They've rarely been a perfect team, but they have the best hitter in baseball and you can never go more than a couple of days without having to face one of their former Cy Young winners. The Tigers have always had another gear.
On the Friday night of my first weekend trip, however, Miguel Cabrera was on first base and then broke for second base on an attempted hit-and-run. He pulled up lame and was eventually diagnosed with a Grade 3 calf strain. He'd be placed on the disabled list the next day and is not expected back until late August at the earliest.
Cabrera's prognosis was announced on the morning of July 4, before a daytime tilt with the Blue Jays. And, that morning, everyone seemed pretty relaxed. Despite losing Cabrera, the Tigers won the game the night before.
Manager Brad Ausmus was certainly not pleased to lose the man he called "the best hitter on the planet," but he was pretty zen about it all, saying "We still have a very good offense, with names like Cespedes, and [J.D.] Martinez and [Victor] Martinez. And we're going to need some contributions from other places as well. It doesn't have to be one person that steps up. It can be a number of people that step up over the course of this timeframe."
Justin Verlander has more time in with this club than Ausmus does and he, for one, was not panicking.
"You can either look at it negatively or positively. And I think this is a positive clubhouse," Verlander said. It's time for everyone to step up . . . If the veterans aren't panicking the young guys aren't."
Catcher Alex Avila said "I don't think anyone is going to feel sorry for us . . . I'm not giving up in here, and if there's anyone else giving up in here you can pack your bags and leave. With him going down, it hurts us, but there's still a lot of good players on this team. We've got to keep it there for when he gets back and make a run at this."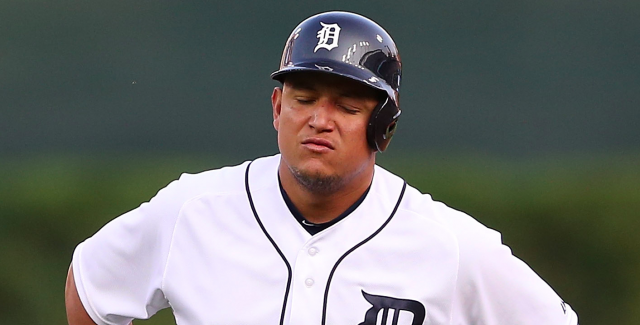 Those sentiments were expected. But wouldn't the Cabrera injury be an awful lot to overcome? Wouldn't this team, with its porous bullpen and depleted starting rotation be well-served to use the Cabrera injury as a pretext for a restructuring? Maybe not a wholesale rebuild, but might it be worth punting 2015, trading the players who were likely to leave via free agency after the season, and going back at the Central with a healthy Cabrera in 2016?
At the time I asked several Tigers officials, all of whom wished to remain anonymous, about that possibility. One said "Dombrowski is a buyer. He's never been a seller." Two made mention of the fact that owner Mike Illitch is 85-years-old (he turned 86 yesterday) and that given his age and the amount of money he has poured into the team, the notion of tearing things down was just not a thing anyone discusses. When I asked them to tell me what they'd do as the GM right now, especially given that the Tiger's farm system is mostly barren of desirable, projectable talent, I was given variations on NBA-style trades in which good players were acquired via the acquisition of bad contracts. One suggested getting Jonathan Papelbon. Another thought that the Reds may be willing to trade Aroldis Chapman if the Tigers took on Jay Bruce.
Since that morning the Tigers are 6-7. The division-leading Royals are 10-4. The second place Twins are 8-4. Even the Indians and White Sox have gained ground on the Tigers, who now find themselves nine and a half games out of first place. The mood among the fan base has changed as has the front office's idea of how to proceed for the rest of the season.
"Blow it up. We gotta blow it up and start over," said one Tigers fan I spoke to when I returned to Comerica this past weekend. "We're old. We're hurt. Verlander is lost. The pen sucks. We're not going to sign David Price. We need to trade everyone and start all over." This came after Friday night's 7-3 win over the Orioles. As the weekend wore on, the sentiment of fans and team officials I spoke to, and even that of some players, turned even more sharply negative.
On Saturday night the Tigers got a strong performance from David Price. Chris Tillman, however combined to toss a one-hitter. The crowd was never into it and, by the time Price was gone and the pen had given up two runs, there were scattered boos throughout Comerica Park. One of those pro-buying team officials I had spoken to previously — who is not in baseball operations, it should be noted — was now all about a fire sale. "Price has one foot out the door. Soria too. Maybe you let them walk and get draft picks, but you could get real talent for them now. Cespedes too."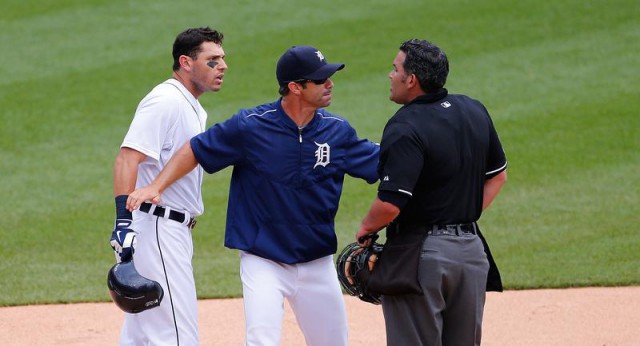 Sunday was worse. Justin Verlander took the hill and didn't survive the fourth inning, surrendering seven runs on eight hard hit balls. Getting shelled is something he's been doing a lot lately — more on him tomorrow — and Tigers fans are all but resigned to it. Ian Kinsler was ejected by the home plate umpire for throwing his bat in frustration. Third baseman Nick Castellanos took a grounder to the face that, somehow, also injured his finger. It was an ugly, ugly game and those scattered boos from Saturday night turned into widespread boos on Sunday. "I don't think booing is the way to help," Verlander said after the game. "I think cheering would be more beneficial than booing, but we're frustrated, too. We don't want to be in this position."
Late in the game I looked up from where I was sitting and saw this: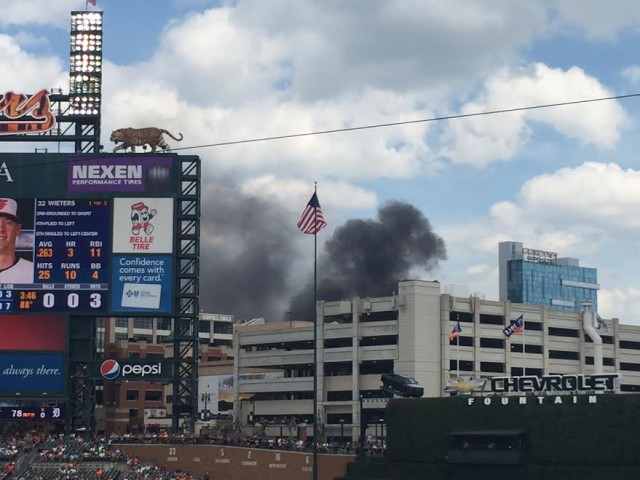 It was a car fire in a nearby parking lot. I tweeted the picture out and was met with dozens of replies from Tigers fans, all of whom rushed to joke about how it was really a picture of the dumpster fire that was the Tigers bullpen. Or the tire fire that was Verlander's approach to hitters with his diminished velocity. Or a symbol of what the Tigers' 2015 season has become.
The man in charge, Dave Dombrowski said nothing at all that weekend. I requested a chance to speak with him or someone else in baseball operations on Sunday, but was politely, and perhaps understandably, invited to interview him or an assistant by phone sometime later this week. Seems they're quite busy at the moment, with a report out now that he is planning on punting on 2015 and trading multiple veterans, including David Price and Yoenis Cespedes. You have to figure Soria is on the block as well. Officially Dombrowski said that plans have not yet been finalized, but he didn't deny the report either. In the past two weeks the conversation has turned away from integrating new pieces into the core of veterans and keeping the Tigers mini-dynasty alive and, instead, breaking things up and, if not rebuilding, certainly retrenching.
The question I had in my mind as I drove up to Detroit two weeks ago was "how do you keep a dynasty alive?" The answer, it seems, is "you don't."