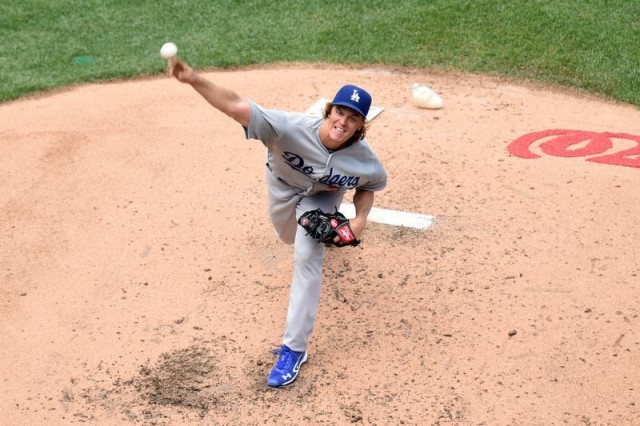 Dodgers 5, Nationals 0: Zack Greinke with eight more shutout innings to increase his scoreless innings streak to 43 2/3. The record, of course, is Orel Hershisher's 59. Bryce Harper went 0-for-3 with two strikeouts and a walk against him and after the game said "I think he was okay . . .  For me, I don't think he was very tough," and said that the key to his winning yesterday was that he was "getting five to six inches off of the plate." Which makes him just the latest National who, for whatever reason, thinks it's important to say how unimpressed he was by the team or player who just handed his ass back to him.
Orioles 9, Tigers 3: I was at this game and, in fact, took in the whole series. And while I am always skeptical of narratives and omens and the identification of turning points and watershed moments, it's hard to escape the feeling that one was happening here for the Tigers. Talking to fans and even some Tigers people revealed this to be the weekend when everyone's feeling that, if thusandsuch just happens, the season can be saved was disposed of. No one feels that way right now. Indeed, many feel like the run the Tigers have been on the past few years is over and this weekend was when everyone began to accept it.
In the 5th or 6th inning, I saw this from my seats: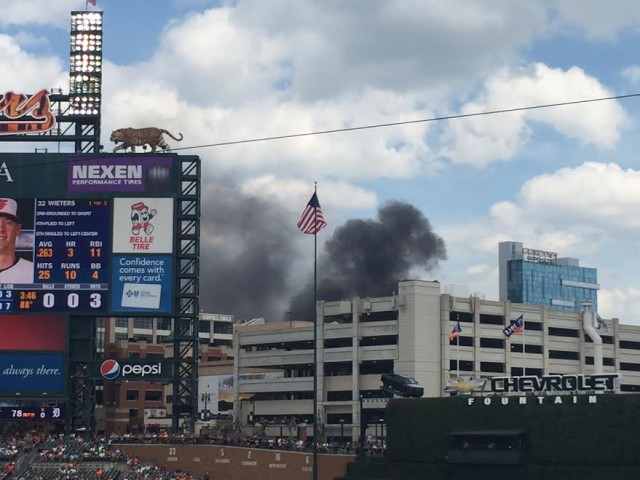 It was a car fire in a parking lot a block or two from the ballpark. But it served as a nice symbol for Justin Verlander's performance and current trajectory. For the bullpen. For the Miguel Cabrera-free Tigers offense. For the season. And maybe even the current mini-dynasty the Tigers have put together. Fire sale, anyone?
Indians 5, Reds 3: Cleveland takes two of three from Cincinnati in the Battle for Ohio. And no, it's not the case that the loser of this series gets stuck with Ohio. The Reds walked Indians batters with the bases loaded four times. FOUR TIMES. They gave up ten free passes in all, six of which came from the misfiring arm of Johnny Cueto. There are a lot of miserable ways to lose a ballgame, but walking in four of the opponents' five runs has got to be among the most miserable possible.
Yankees 2, Mariners 1: Mark Teixeira's homer put the Yankees over the top but the big takeaway here was CC Sabathia not, you know, sucking. One run over six innings and seven strikeouts? That's what the Yankees need from him to stay in first place.
Blue Jays 4, Rays 0: A couple of two-run homers and eight shutout innings from Marco Estrada, who just loves pitching against the Rays, it seems. Remember this last month? That's 21 straight scoreless innings for Estrada against the Rays this season.
Phillies 8, Marlins 7: Down a run in the 9th, Jeff Francoeur hits a two-run homer to give the Phillies an 8-7 walk-off win over the Marlins:
[mlbvideo id="272098583″ width="600″ height="336″ /]
Best part: as he crosses home plate Freddy Galvis kicks him in the butt. As one does.
Royals 4, White Sox 1: The Royals just keep on humming, taking two of three from the Sox. Danny Duffy, backed by some slick defense, allowed one run over eight innings and somehow rapped 11 hits off of Chris Sale. Lorenzo Cain and Paulo Orlando homered. The Royals are now 20 games above .500.
Brewers 6, Pirates 1: The Pirates were the hottest team in baseball heading into the All-Star break. The time off didn't do them wonders, as they come in to Milwaukee and get swept by the last place Brewers. Taylor Jungmann improves to 5-1 since his callup.
Astros 10, Rangers 0: Dallas Keuchel struck out a career-high 13 in seven scoreless innings. And afterwards talked about how Rougned Odor "disrespects the game." So a strong performance from Keuchel in both the pitching and the ballplayer cliche department on Sunday.
Mets 3, Cardinals 1: Eighteen innings and nearly six hours of baseball, most of which featured a score of 1-1 0-0. The Mets finally broke through with a run-scoring sac fly and a squeeze play. Overall the Mets left 25 men on base and went 1-for-26 with runners in scoring position. But they won, which makes those numbers mere conversation pieces.
Athletics 14, Twins 1: Jake Smolinski homered twice for four RBI and Josh Reddick hit a grand slam. Billy Butler and Josh Phegley each hit two-run homers.
Giants 2, Diamondbacks 1: Madison Bumgarner only went five innings as he didn't have his best stuff, but the Dbacks still could only get one run off of him. Justin Maxwell homered and Hunter Pence doubled in a run in a game where all the scoring was concluded by the third inning.
Cubs 4, Braves 1: Jake Arrieta struck out ten in seven shutout innings, besting Braves All-Star Shelby Miller. Arrieta is 5-0 with a 0.96 ERA over his last six starts.
Rockies vs. Padres: POSTPONED; Red Sox vs. Angels: POSTPONED: It was the first home Padres rain out since 2006. The first Angels home rainout since 1995. Which can mean only one thing:
I haven't seen your face in a year
I can't wait till I get there
Just to kiss and squeeze and hug
Girl you know the rest 'cause they tell me
It never rains in southern California
It never rains in southern California
Maybe I'll take the flight out tonight
and you can pick me up about 8
I don't know what airline girl
but I know it won't be late 'cause they tell me
It never rains in southern California
It never rains in southern California