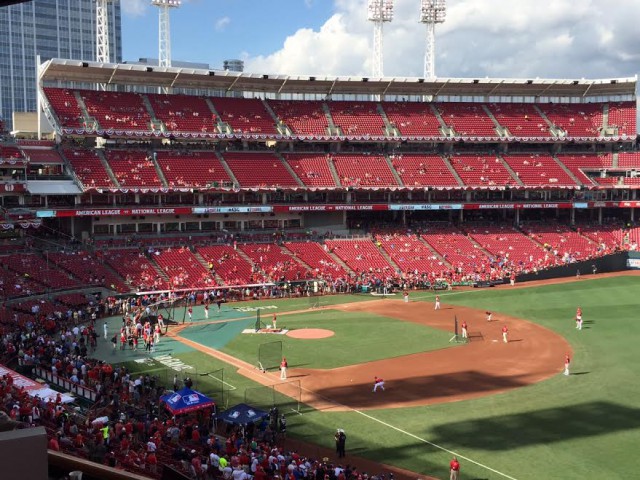 CINCINNATI — All of the parties, the Derbys the parades and the baloney is out of the way. Now it's time for the actual All-Star Game.
Well, not quite yet. This evening there will still be a lot of . . . stuff. Pete Rose will make an appearance on the field here at Great American Ballpark, and I predict his ovation will be louder than even that given to Todd Frazier last night.
Also, the four "Greatest Living Ballplayers" and the "Franchise Four" of each team — all of which were voted on by fans — will be announced prior to the game. One of those Greatest Living Ballplayers is set to throw out the first pitch. That should create some controversy and argument fodder over the next couple of baseball-free days.
The U.S. Navy will conduct a flyover featuring four FA-18 Super Hornets. They practiced here yesterday. They're loud. Not quite as loud, but definitely amplified will be Ciara, who will sing the U.S. National Anthem and Leo Welsh who will perform the Canadian Anthem. Country singer Josh Turner will sing "God Bless America."
But then there is a game. Here's what you need to know:
First Pitch: 8:15PM
Channel: FOX
American League Lineup
1. Mike Trout, CF, Angels
2. Josh Donaldson, 3B, Blue Jays
3. Albert Pujols, 1B, Angels
4. Nelson Cruz, DH, Mariners
5. Lorenzo Cain, RF, Royals
6. Adam Jones, LF, Orioles
7. Salvador Perez, C, Royals
8. Jose Altuve, 2B, Astros
9. Alcides Escobar, SS, Royals
Dallas Keuchel, SP, Astros
Notes: Quite a familiar AL group. Nelson Cruz, Josh Donaldson, Sal Perez, Mike Trout and Adam Jones all started last year, and many of them are on their third or fourth go-around. Missing is Alex Gordon and there is also no Miguel Cabrera due to injuries. Chris Sale may only be available in an emergency. Sonny Gray is unavailable due to pitching on Sunday.
National League Lineup
1. Andrew McCutchen, CF, Pirates
2. Todd Frazier, 3B, Reds
3. Bryce Harper, RF, Nationals
4. Paul Goldschmidt, 1B, Diamondbacks
5. Buster Posey, C, Giants
6. Anthony Rizzo, DH, Cubs
7. Jhonny Peralta, SS, Cardinals
8. Joc Pederson, LF, Dodgers
9. DJ LeMahieu, 2B, Rockies
Zack Greinke, SP, Dodgers
Notes: Joc Pederson is filling in for the injured Matt Holliday. No Giancarlo Stanton or Dee Gordon for the same reasons. Max Scherzer pitched on Sunday or else you figure he'd get the start. Otherwise it's McCutchen and Goldschmidt and a lot of guys who haven't been here much. At least as starters. There's a lot of experience here from guys who were reserves in the past.
All of the reserves and pitchers — plus and minus a few substitutions — can be seen here.
As for a prediction? Well, these things are total crapshoots. I think Ned Yost constructed a more real life roster with middle relievers and utility guys in places, whereas Bruce Bochy has more starters and veterans. But if that is an advantage to Yost, it's probably made up for by the fact that Bochy is the better manager.
Ultimately, however, this is the most unpredictable game played all year because it's almost entirely not a game as we tend to understand baseball. But hey, at least it doesn't count for anything important, right?
Oh, wait. It does. Something that has, historically, mattered a whole lot. As in,since 1985, the team with home-field advantage has won 23 of 29 World Series. And until the Giants beat the Royals on the road in Game Seven last year, the home team had won nine straight World Series Game Sevens.
Play ball?