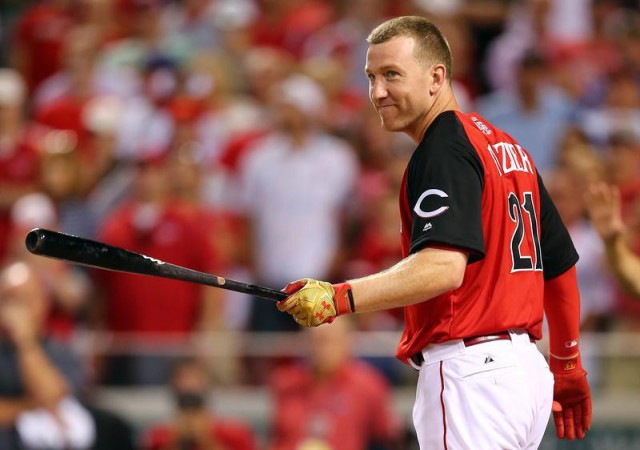 CINCINNATI — The hometown favorite took home the trophy, and he did it in amazingly dramatic fashion. Indeed, it was an amazingly dramatic 2015 Home Run Derby all around.
The format change this year — going to a timed, head-to-head bracket system — energized an event that has dragged and even bored in the past. No such thing happened this year, however, as the homers came fast and furious. The quick pace and knowledge of exactly how many homers someone needed to advance created all manner of excitement. And, in many cases, buzzer-beating moments.
Frazier supplied many of them himself, passing Prince Fielder — who had a strong first round himself — with thirty seconds to go in round one. Then, in round two, Frazier started slow and ended up passing Josh Donaldson with his tenth homer with mere seconds left in the round. The crowd — which had been with Frazier, screaming its head off since pre-broadcast batting practice — found a new level and cheered Frazier on, his final shot of the round leading to fireworks from the Great American Ballpark smokestacks.
Meanwhile, Joc Pederson was asserting himself on his side of the bracket, hitting homers in bunches, making quick work of Manny Machado and then passing Albert Pujols. That meant it came down to Pederson — who leads the league in average home run distance so far this year — against Frazier, a man who has made Great American Ballpark his playground over the past few seasons.
Pederson's 14 in the final round tied Frazier for the most in any round and put him to the test. And, after a sluggish start, it looked like the final round would be anticlimactic. But then Frazier put his foot down on the gas, hitting one after the other out, almost all of them no-doubters. He tied Pederson with 12 seconds to go in regulation and, by virtue of hitting more than two 425 foot homers out, had thirty seconds in which to surpass the Dodgers rookie in Bonus Time.
He didn't need it. On his first swing the ball went out, the crowd went wild and Frazier was the champ. He hoisted a WWE belt above his head as the chants of "Fra-zier! Fra-zier!" filled the Cincinnati night. Following the trophy ceremony and a post-Derby fireworks and laser show, the overwhelmingly Reds-fan crowd headed for the exists, having experienced their highlight of the year thus far.
They had already seen a laser show, of course, on what was a triumphant night for Todd Frazier. It was also a wonderful night for the fans. And, completely unexpectedly, an entertaining as all get-out night for Major League Baseball, which somehow — maybe accidentally, maybe by design — found the recipe for an exhilarating Home Run Derby. One that even the most jaded of baseball fans, present company most definitely included, could call a rousing success.
[below is a live blog, written contemporaneously with the night's events]
———————–
10:33 PM: Frazier comes up for the last round of the night. The scoreboard puts up a "MAKE SOME NOISE" sign, but the crowd doesn't need it. They were going to do it anyway. Frazier's signature music, "Fly me to the moon" comes on before his pitches begin. This is about as good as the Derby has ever been.
His first homer comes on his fourth swing, but he's not hitting them out too quickly. At the three minute mark he put his foot down on the pedal with three quick ones. But he still only has five with two minutes and thirty-five seconds left. He's gonna have to book it. It's not happening. He's still at five at the 2:00 mark. Six. Seven at 1:41. Eight at 1:28. Nine at 1:20. Ten at 1:09. Eleven at :59. Can he do it?!
Twelve at :46. Thirteen! He's almost there! He ties Pederson with 12 seconds to go! But that's all he gets in regulation. He has 30 seconds of bonus time to win it. It seems . . . inevitable?
Frazier does it on his first swing! He's the champ!!
10:21 PM: And here . . . we . . . go!
Pederson first. Is he gassed? He has to be gassed. Only one homer in the first minute. But then four on his next four swings. Make it five in a row. Six! Six in a row is the best we've seen tonight, and give in that one minute is the best so far too. He calls timeout with 2:15 left. Did he ice himself? Three straight swings without homers. Then five more on five swings! They're come in buckets for Perderson. He has 11 with one minute to go. A controversial no-call as a fan reaches over to get what would be number 12. Then he hits a 12 that counts. Thirteen comes with 13 seconds to go. Will he keep getting lucky? No, he ends regulation at 13. Bonus time. Frazier has the most in any round with 14 so far. Pederson can pass that.
There's 14. But that's all. Todd Frazier has to tie or beat 14 to win. Not easy, but he can do it. He has already.
10:09 PM: as an old guy myself I feel like I can say that old guys feel the rust more. Don't tell that to Albert Pujls, who hit three homers on his first three pitches in his round and had four in the first minute. But then something came undone, as Pujols went into line drive mode. He had five at the time he called timeout with 2:13 left, one of which was awarded after a late revision of a scored ball, correctly it seems. Post timeout Pujols went back into a grove, hitting three quick ones. Then more slog, both in pace and in his swings, some of which pounded balls into the ground. Pujols ended regulation with ten. Another buzzer beating chance for Pujols? He needs two to tie, three to advance in his final 30 seconds . . .
No! He only hit one more. Pederson advances! It's Pederson vs. Frazier for the championship!
10:00 PM: Joc Pederson, many people's darkhorse, is now up. Like Donaldson before him, Pederson seems a bit gassed compared to his first round. Understandable. Four just past the two minute mark. He was at seven just past the one minute mark and is obviously loosening up, quickly to nine then ten, with 30 seconds left, many of them long shots. He finishes regulation with ten, five of which were over 425, giving him 30 seconds of bonus time. Two more in the final 30 seconds for 12. Now it's Pujols.
9:45 PM: Frazier starts slow, only two in the first minute, but in the next minute he hit four more, which I think is the most in a single minute so far. He's like Vinne Johnson, heating up like a microwave. He got to eight with a minute thirteen to go. But then a stall! More drama for Frazier! He tied Donaldson at nine with less than ten seconds to go and then . . . BAM! The tenth and go-ahead homer at the buzzer. A roar from the crowd, more fireworks. This is pandemonium!
9:37 PM: Josh Donaldson Hit five in his first minute fifty, called time out and made it to six by the two minute mark. He only hit two more before regulation was up. In his 30 seconds bonus Donaldson hit just one more, finishing with nine. Now it's Frazier time.
It may be my imagination — and my lack of closeup shots like you have on TV — but I fee like the pace is slower and perhaps Donaldson is tiring. This format is exciting, but it's a lot of swings in a much shorter time than previous years' Derbys. It has to take a lot out of these guys.
9:25 PM: Albert Pujols, the Derby's most senior citizen wasn't in synch from the get-go, but boy he closed with some drama. He had only three in his first minute and thirty seven seconds. Then he called time out. Four in his first two minutes, only one in excess of 425 feet. He was up to seven with one minute to go and then seemed to find his groove late, tying Bryant at nine with 12 seconds to go in regulation and passing him up at 10 on his last possible swing, hitting it over at the buzzer.
Ya know, it's almost as if baseball is more exciting with a clock!
Into the second round — the semifinals if you will — with Josh Donaldson vs. Todd Frazier in one matchup, Albert Pujols and Joc Pederson in the other.
9:16 PM: Kris Bryant only had twelve homers in the first half of the season and it's possible that his selection was a reach here. He hit two in his first minute and only had four in the first two. Six by the one minute mark with lots of liners and grounders sprinkled in. He ended up with eight in regulation, tied with Anthony Rizzo for the least so far. One more in extra time for Rizzo, who finishes with nine.
9:05 PM: Pederson hit four in his first minute. Like Machado, though, struggled to get a rhythm. Minute two was much more like it, though, with some long ones to right, including one that went closer to going completely out of the park than anyone has so far. Ten by the two minute mark, including three over 425. Frazier passed Machado at 13 with a full minute to spare. After he got it down he looked like he could hit them out all night. And, without having to go four full minutes, I wonder if he'll have more energy left for round two.
Albert Pujols and Kris Bryant will finish out round one next.
8:59PM: To the left side of the bracket and Manny Machado. All oddsmakers seem to have him as the longest shot in this thing. In the early going that seems justified. Two homers in his first minute, neither no-doubters. Then some foul balls and line drives. Under one just short. He picked up steam in his second minute, getting to five by the two minute mark. Seven by the one minute mark, two over 425. He got hot late, though, getting up to ten in regulation, four over 425. A quick towel-off before his bonus round. Two quick homers and . . . that was it. Twelve for Machado, which is pretty good considering his slow start.
Next up: Joc Pederson, who has the longest average home run distance in baseball so far this year. Let's see if that translates.
8:46 PM: Todd Frazier's turn, and it was a good one! Not as many moon shots as Fielder, but a great round. Another huge ovation. He hit five in his first one minute and twenty-three seconds, two over 425 feet. Then he called time out and the crowd started up a stadium-wide "Let's Go Frazier [clap clap clap-clap-clap]" chant. Seven in his first two minutes. Nine in his first three, with four over 425. He tied Fielder at 13 with six seconds to go, but he got extra time. Thirty seconds to hit one homer to pass Fielder and . . . he did it on his first swing, into the bullpen! Fireworks! The crowd goes wild!
Folks, I have hated the Home Run Derby for years, but this head-to-head timed and bracketed format is the cat's pajamas. I don't say this too often, but good going MLB!
8:38 PM: Prince Fielder time. I feel like his theme music should be "Forgot about Dre." Everyone's sleeping on him, even though he won the thing twice. His first two swings brought two 425+ homers. Four homers in the first minute. Six in the first two minutes. Nine in the first two minutes and fifty-one seconds before he called a timeout. Six of which were over 425. Ten was a moon shot. Eleven was a bullet that could've killed someone in the front row. I genuinely fear for the safety of the kids shagging the balls out there. He ended regulation with 12, eight of which were over 425. So he gets 30 more seconds. One in extra time for 13 total. He's a machine, folks. None of these were cheapies.
8:26 PM: Josh Donaldson is next. This is a power display. And a display of that carry to left, as he got under a couple that wouldn't have gone out anyplace tonight except left field at GABP. He hit eight to tie Rizzo in his first 2:20. But then he seemed to run out of gas. He passed Rizzo with 18 seconds to go, and forfeited the rest of his time. Which is cool because it's a bracket system. No need to wear himself out. He moves on to face either Prince Fielder or Todd Frazier. Either one of which seems like a tough draw.
Bonus! Former Red — the Mayor — Sean Casey is in the stands behind the left field foul pole. He caught a ball — a long foul — off the bat of Donaldson. The crowd went crazy when they realized it was him. He always could flash the leather.
8:17 PM: Anthony Rizzo is first. He's not doing so good. In his first minute he hit no homers. And he was allowed to call a time out, which, OK. I didn't know you could do that. He came back strong after the break and hit seven out in regulation, one of them to near the top row of the right field stands, which was OK. Because he hit two over 425 feet he got bonus time and hit one more out. Eight total, but he clearly didn't have a fantastic rhythm. The wind is blowing right to left tonight too, really helping the righties, so Rizzo was at a disadvantage I think. Still, heck, maybe no one else hits eight. That's the cool thing about being first!
8:11 PM: Ken Griffey Jr. Just threw out the first pitch to his dad. From about halfway between the mound and home. Not quite as inspirational as when Bush did it. Guy had decades on the Kid and he did it from the mound. Really, Jr.?
8:07 PM: Marlana VanHoose did the national anthem and knocked the dang thing out of the park farther than anyone will hit a ball tonight. She should just do it for every baseball jewel event ever. Can we make that happen? Here's her story.
8:01 PM: They're introducing the Derby participants. Todd Frazier's ovation was louder and longer than I've heard in my three Home Run Derbys to date. There's not a lot to cheer about here in Cincy this year. They got Frazier.
7:53 PM: Or a semi-live blog. I'll certainly be updating as I watch the thing unfold before me in all of its bloated, unnecessary glory.
Less bloated this year to be sure, as they have cut the thing down even more than they had already, shaving each round to four minutes from five. Seems there's more bad weather coming in later and they want to get this bad boy in.
It's brackets, remember. And here are the matchups: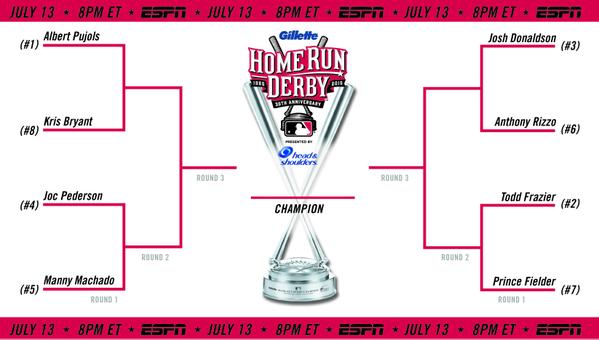 Before this gets going we have some musical performer. Walk the Moon, I believe they're called. I'm old. I dunno. They're coming on the stage now. The keyboard player is wearing a Johnny Bench jersey, so that's something. Later Ken Griffey Jr. will throw out the first pitch because you have to have a first pitch for a Home Run Derby, right? It'll be a gas.
Anyway, keep this thread open and refresh as I update. And as you talk about how good a job Chris Berman is doing with the "back backs."