Bottom of the sixth, Cardinals have a 4-2 lead but the bases are full of Cubs. Miguel Montero at the plate. A borderline pitch was called a ball instead of a strike. The very next pitch, Montero hits a double to the gap. Cardinals catcher Yadier Molina is angry and argues, presumably about that last pitch.
Except he does it in the middle of the dang play while Cubs runners are circling the bases. Watch:
[mlbvideo id="241967383″ width="600″ height="336″ /]
Seriously, the argument unfolds almost immediately, and is going on while Dexter Fowler, Anthony Rizzo and Jorge Soler all come in to score.
I presume Molina has enough sense of the field at this point to know that there likely wouldn't be a play at the plate and probably was still watching it unfold out of the corner of his eye. Still, this is pretty inexcusable all the same. he's distracting the ump, who could be called on to make a call, either at home if a runner doesn't touch or to help out at third base. He's possibly signaling to Soler that there is no play at the plate as well, erasing any doubts in his mind if he or his third base coach had any.
I mean look at this: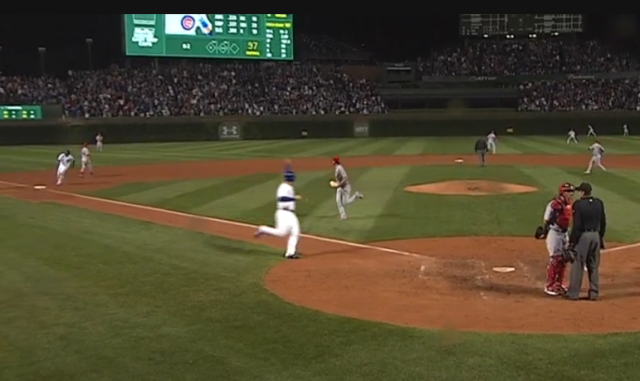 Mostly, though, it's just unprofessional. If you have a beef with the strike zone — and he may have had a longstanding one that built with the game, I have no idea as I didn't watch it — take your beef up when there isn't a play unfolding. Molina was ejected here, and I don't have any problem with it whatsoever. Not because he's arguing balls and strikes, but because he's literally getting in the way of a play.