Pictured below is the 2015 Home Run Derby bracket, via MLB Communications …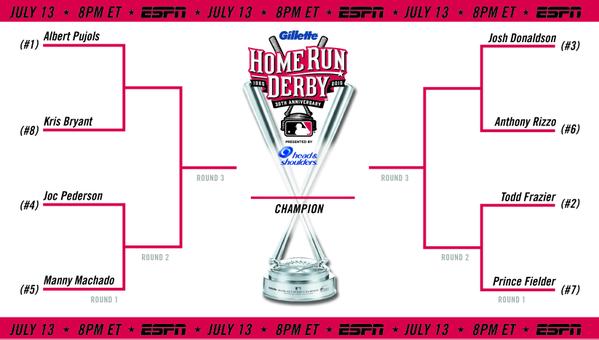 Here's a breakdown of the rules under this new Home Run Derby format, via our own Bill Baer …
It's a bracket-style, single-elimination tournament in which the loser of each bracket is eliminated immediately. Seeding is based on 2015 home run totals as of July 7. Ties are broken by home runs hit since July 7, with the winner getting the higher seeding. The higher seed hits last.

Each batter gets five minutes per round, with the timer starting when the first pitch is thrown. Home runs hit during the final minute will stop the timer. The timer will not start again until hits a non-home run, or swings and misses.

Batters can attain bonus time. They can get one additional minute for hitting two home runs that equal or exceed 420 feet (as measured by MLB Advanced Media's Statcast). A home run greater than or equal to 475 feet will result in 30 bonus seconds. The two bonuses are not mutually exclusive.

If two batters are tied at the end of a round, they'll go into a 90-second swing-off. In a swing-off, the timer cannot stop for any reason and no bonus time can be claimed. Should a tie remain at the end of a swing-off, they'll move into successive three-swing swing-offs until a winner is decided.

In any round, once the second batter (the "home" batter, for all intents and purposes) passes the first batter ("away") in home runs, the round will be stopped and he will advance.

Each batter can use one 45-second time-out per round to collect his thoughts, take a breath, etc.
The hope is this format will help the event flow more efficiently and maintain a certain level of excitement. It has tended to drag on in years past. Watch the 2015 Home Run Derby live next Monday night on ESPN.