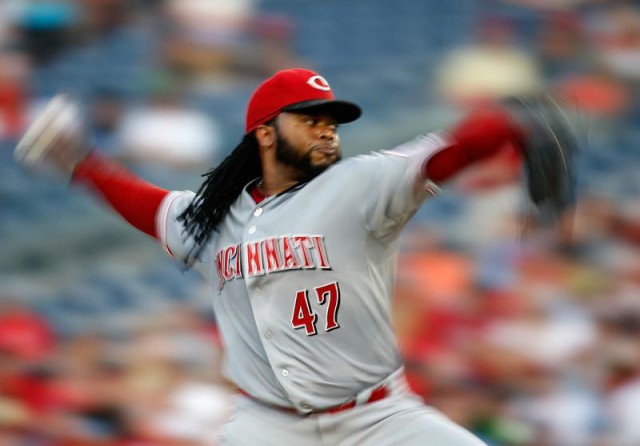 Reds 5, Nationals 0: Johnny Cueto has submitted his resume to the other 29 teams, nailed the interview and now awaits offers. Or at least the Reds do, and they're likely going to get a nice haul for him. A complete game two-hit shutout with 11 strikeouts and not a care in the world that his opponent was Max Scherzer. Joey Votto didn't much care that he was facing Scherzer either, as he went 3-for-5 with a double, homer and three driven in. Neither Votto nor Cueto was selected for the All-Star team, by the way.
Pirates 3, Padres 2: A couple of Pirates, including Gregory Polanco got a save here. As in helping save a groundscrew member who was being swallowed up by the tarp during a third inning rain delay:
[mlbvideo id="238102683″ width="600″ height="336″ /]
Later an even better highlight: Justin Upton stone-cold robbing Andrew McCutchen of what would've been a go-ahead homer in the fifth:
[mlbvideo id="239222283″ width="600″ height="336″ /]
The Pirates got the win anyway, again with help from Polanco, who hit a go-ahead triple in the eighth.
Royals 9, Rays 5; Royals 7, Rays 1: The walkoff grand slam by Paulo Orlando in the first game was only soured a tad for the Royals in that it came against Brad Boxberger, who Royals manager Ned Yost had just added to the All-Star team the day before. Maybe rethinking the omission of Corey Kluber is in order? Eh, maybe not. In the second game it was the Alex Gordon show, as he drove in four on a 4-for-5 night. The Royals are now four and a half up in the Central, tied for the biggest division lead in all of baseball with the Cardinals.
Cubs 7, Cardinals 4; Cubs 5, Cardinals 3: The Cardinals' lead was reduced thanks to dropping both ends of this twin bill. Jake Arrieta held their bats at bay and Anthony Rizzo homered. Worse: Kolten Wong went out with a head contusion. Addison Russell helped lead a comeback in the nightcap, giving the Cubs the first doubleheader sweep of the Cardinals since 1992. Note: the Addison Russell hit in that comeback was REALLY controversial. More on that later.
Athletics 4, Yankees 3: Bad day for All-Star relievers, eh? Here Brett Lawrie homered off Dellin Betances in extras. Not that Lawrie dominated the night — he struck out thrice and was behind in the count to Betances, almost to the Golden Sombrero — but he certainly made up for it. Oakland has strangely owned the Yankees of late, having won 12 of their last 15 meetings.
Red Sox 4, Marlins 3: The Sox came from behind with a three-run seventh, with all of those runs coming off the bat of Xander Bogaerts, who cleared the bases with a single. Wade Miley struck out nine.
Indians 2, Astros 0: Corey Kluber: not an All-Star, but he did shut down one of the scariest lineups in the American League, tossing shutout ball into the seventh. Michael Brantley was 3-for-4 with a homer.
Diamondbacks 4, Rangers 2: Robbie Ray took a shutout into the eighth inning, outdueling Yovani Gallardo, whose long-playing scoreless innings streak ended at 33 and a third.
Blue Jays 2, White Sox 1: Felix Doubront started this one, his first start since last year. It went well: six and two-thirds innings, one earned run and six strikeouts. Josh Donaldson's fourth inning homer was the eventual game-winner, as the Jays played a rare low-scoring game.
Braves 4, Brewers 3: Manny Banuelos put up his second nice start to begin his major league career, allowing one run in five and a third. This after his debut in which he pitched five and two-thirds shutout innings against the Nats. A.J. Pierzynski homered and had three hits in all. Pierzynski is hitting .289 on the year and has an OPS of .778. I never would've guessed he'd be that solid, but he's been a solid pickup for Atlanta.
Twins 8, Orioles 3: Miguel Sano hit his first career homer — a two-run shot — and walked with the bases loaded. He has hit safely in all six games since he was called up. This has been an absolutely nuts year for great young players being called up.
Angels 10, Rockies 2: Four homers from the Angels' bats: Albert Pujols, Mike Trout, Matt Joyce and Chris Iannetta. The Angels have won four straight, scoring 43 runs in those games. It's almost as if playing the Rangers in Texas and the Rockies in Colorado is good for offense.
Mariners 7, Tigers 6: Robinson Cano with a walkoff single in the bottom of the 11th. Cano also hit a solo homer. The Tigers had their chances in the 10th and 11th innings, having the go-ahead run at third both times, but couldn't deliver.
Phillies 7, Dodgers 2: Chad Billingsley faced his old mates in Dodger Stadium and notched his first win in over two years. A nice story after the dude had two elbow surgeries. Not a lot of guys could come back from that. The Phillies beat up Brett Anderson a bit, who didn't look completely right after slipping on the mound early on, but he apparently didn't hurt himself or anything. Maybe it was my imagination.
Giants 3, Mets 0: Hunter Pence comes back and just like that the Giants' seven-game losing streak ended. Pence made a sweet sliding catch to turn a double play and drove in two runs on a single and a fielder's choice. Matt Cain tossed six shutout innings.