DETROIT — It may be the Fourth of July, but Miguel Cabrera's calf strain has sapped Comerica Park of its festive spirit. Indeed, despite sunny summer skies and red white and blue everywhere you look, it's the gloomiest I've ever seen it.
When Cabrera came out of last night's game with a calf strain you knew it had to be serious. Cabrera has played hurt in the past. He's played injured in the past. He's played when he probably shouldn't have more times than I can count. But short of him literally missing a limb you never expect him to come out of a game.
That's when Brad Ausmus knew it was bad, well before the MRI results showing a grade-3 calf strain came back.
"When Miggy says he can't play, it's serious, because Miggy plays through anything," Ausmus said this morning. But he won't be playing though this. Ausmus said he's still waiting on a second opinion, but he doesn't expect it to be any better. "I looked at the MRI. You can ask me about it," Ausmus said. But even Dr. Ausmus is resigned to the fact that the best hitter in baseball will be out six weeks. And as he sat and spoke to the media this morning, he made it clear that the Tigers' options are limited.
Alex Avilia will get the start today, but he has played only three career games at first base. And, Ausmus reminded us, he was just activated from the disabled list himself. He's worried enough about Avila playing back-to-back games at the position he knows, let alone one that's mostly unfamiliar.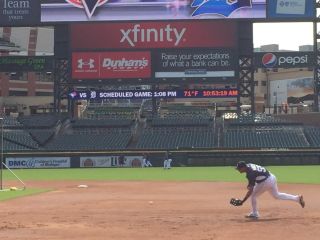 The Tigers called up Jefry Marte from Toledo to take Caberea's spot on the roster. Marte is 24 and is an eight-year minor league veteran. He's hitting a respectable .271/.337/.497 at Toledo this year, but he is a third baseman, having only played a handful of games at first base in the Texas League and the Arizona Fall League. The system is devoid of anyone at first with major league experience. "Minor league free agent first basemen don't want to sign with the Tigers," Ausmus said "knowing that the best hitter in the game is here on a long term deal." The 37-year-old Mike Hessman, just a few homers shy of the all-time minor league record, has played over 450 games at first between the majors and minors, but no one considers him an option.
What say you about Victor Martinez, Brad Ausmus? He's played nearly 200 games at first.
"Victor in my mind is not an option," Ausmus said. "He's not on the radar." The reason is simple: health. And, Ausmus added, "if you play him at first base and he gets hurt, then you've lost two bats."
That leaves the trade market, but the pickings for a solid first baseman look slim. Ryan Howard is out there, but given how he's hitting this year you can't bet on him being a better option than Marte, at many, many times the price, either in salary or trade. And what do the Tigers trade anyway? Their most obvious trade chit may be Yoenis Cespedes, but you have to think the Tigers were hoping to hold him for a trade for a pitcher. Or two. And if you deal him now, the lineup will have only one serious power threat in J.D. Martinez.
One option, which I presume no one associated with the Tigers is eager to consider let alone speak about in public, is to make the best of a bad situation and use the Cabrera injury as an excuse to punt on 2015 and reposition for 2016. Be willing to go without that power in the second half if you can get someone who helps next year. Move some other pieces or even engage in an on-the-fly rebuild. After all, the Tigers are six games out in the AL Central. Maybe it's time to get creative.
Or, maybe, when your owner is 90-years-old and has poured serious, serious money into this club, "rebuild" is a four-letter word.
Where does that leave the Tigers?
"Sometimes you find out more about a team when a player like Miggy goes down," Ausmus said. "We'll see what type of fight we have."
We'll find out right along with him.