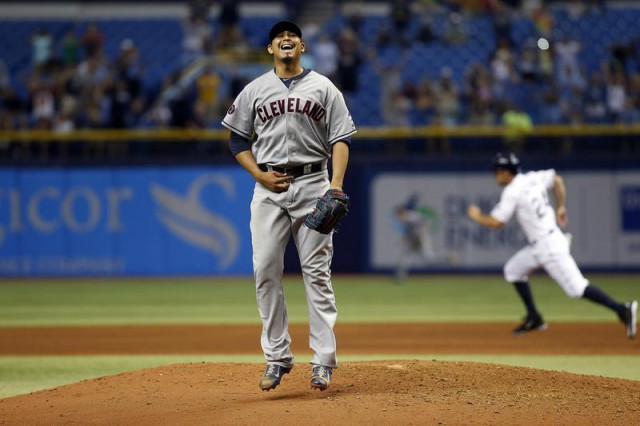 Indians 8, Rays 1: So close to a no-hitter for Carlos Carrasco, but not quite. And maybe it was inevitable given his pitch count, which was up over 100 to begin the ninth inning, which happens when you strike out as many guys as he did (13 by the time he was pulled). In the ninth he walked Asdrubal Cabrera and then plunked Brandon Guyer before a fielder's choice and a strikeout. Then Joey Butler singled on Carrasco's 124th and final pitch of the game. Still a great start for the guy and crazy-dominant given how many swings and misses he generated by Rays hitters: 30, which is a BIG number. Who knows, maybe this is a look ahead to a great second half in 2015 like he had in 2014.
Reds 2, Twins 1: Johnny Cueto gave the Twins nothing to work with, holding them to one run over eight innings while striking out eight. Given the schedule and the All-Star break, there is a chance this was the last home start for Cueto as a Red. If so, he left the hometown folks happy.
Blue Jays 11, Red Sox 2: Yesterday everyone made jokes about how Bobby Bonilla is still being paid by the Mets for doing nothing. Maybe the bigger scandal is that the Red Sox are paying Rick Porcello for this. The Jays teed off on him — Justin Smoak hit two homers — and now Porcello has given up 16 homers on the year. This from a sinkerballer who is supposed to leave things on the ground. Mercy. And Happy Canada Day!
Athletics 4, Rockies 1: Remember the other day when Billy Butler fell a triple short of the cycle and I made some joke about how he'd die on the base paths if he had tried to leg out a triple? Well, Billy Butler hit a triple. To be fair, the only reason he could do it was because the outfielder crashed into the wall and hurt himself, leaving the ball to roll around forever. Still: box score says it's a triple, so it's a triple. The fifth of his career. I assume the previous four also involved injured and incapacitated fielders. Watch:
[mlbvideo id="217148983″ width="600″ height="336″ /]
Mariners 7, Padres 0: Taijuan Walker shut the Pads out on one hit over six innings and the bullpen did the rest, allowing only two more hits the rest of the way. Robinson Cano doubled, homered an drove in three, proving that he may not, in fact, be in a coma. The second shutout in a row for the M's over the Padres.
Yankees 3, Angels 1: An inefficient start for Nate Eovaldi pitch count-wise, but a good one results-wise, as he shut the Angels out into the sixth inning. Chase Headley and Didi Gregorius each hit RBI singles. I watched the first couple of innings of this game in a bar. Early on Alex Rodriguez came up and singled. A guy down the bar from me said, with disgust "guy gets caught with his hands in the cookie jar and he's still here." I turned to him and said "you know he missed a year and lost over $20 million in salary, right?" The guy, still digusted and unimpressed said "Yet here he is!" I guess nothing short of a literal execution would be enough for some people. In other news, don't tell me that sports columnists and talk radio dudes don't have influence.
Orioles 4, Rangers 2: Wei-Yin Chen mostly tamed the Rangers boomsticks and JJ Hardy hit a tie-breaking two-run homer in the seventh. Oh, and this happened:
[mlbvideo id="217517883″ width="600″ height="336″ /]
Brewers 9, Phillies 5: Adam Lind homered and Scooter Gennett doubled twice, tripled and drove in three runs. The Phillies will certainly cure what ails ya.
Pirates 9, Tigers 3: Neil Walker drove in the go-ahead run in the 14-inning on Tuesday night and then, comes into this game and hits two homers among his four hits overall. Alfredo Simon, who started for the Tigers, gave up 15 hits in five and two-thirds innings. Which is a lot of dang hits to give up. He's lucky he only allowed six runs.
Braves 4, Nationals 1: The Braves beat the franchise that is now the Nationals for the first time since Rusty Staub played for 'em. At least that's what it feels like. A.J. Pierzynski and Juan Uribe, who I have come to think of as colorful mercenaries on a team that is otherwise not that fun to watch, hit back-to-back homers in the fourth. Rookie Matt Wisler — one of the young guys who are actually likely to be part of the next winning Braves team — only allowed one hit and no runs in five and a third, atoning for his start against the Nats last week which was . . . not as good.
Cubs 2, Mets 0: Mets pitchers have allowed three runs in two games and the Mets have lost both games because their offense is basically chipped beef on toast. Everyone was scoreless until the 11th in this one, when the Cubs scratched across two runs on singles. Both Jon Lester and Bartolo Colon shut the opposition out for seven innings and deserved better fates in this one. Mets pitchers always deserve better fates.
Marlins 6, Giants 5: There are walkoff homers and then there are three-run homers when your team is down two. That's the kind Justin Bour smacked to win the game for Miami. The Giants turned five double plays in this one to keep that lead late, but it wasn't enough.
Astros 6, Royals 5: The sweep, as Jose Altuve had three hits and scored the tiebreaking run, Chris Carter and Marwin Gonzalez hit solo homers and Evan Gattis drove in two. Bad news, though: George Springer was plunked on the wrist and may be missing some serious time. Updates on this when we hear them.
White S0x 7, Cardinals 1: Jose Quintana allowed one run over six. Effin' Quintana, man. That creep can roll. A five-run ninth turned this one into a laugher, though. St. Louis had a six-game winning streak heading into this series but were limited to one run in both games.
Dodgers 4, Diamondbacks 3: With Joc Pederson out Kike Hernandez got the start. All he did was triple, double, scored twice and drive in a run. The Dodgers have taken nine of ten from the Dbacks. Both Arizona and Atlanta should get together and have a discussion of what a "rival" is.