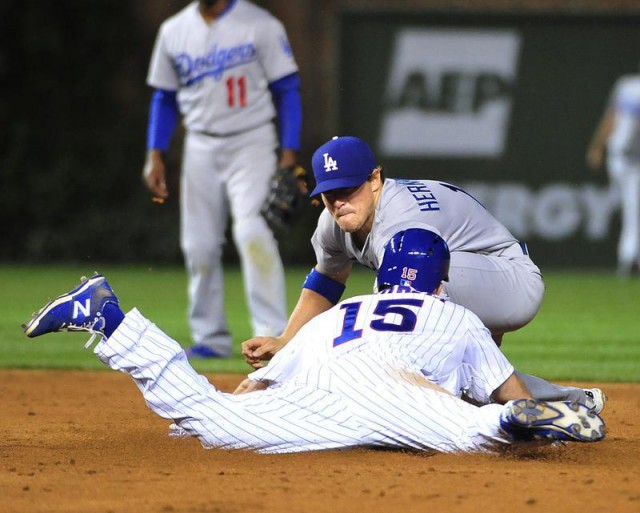 Last night the Cubs lost to the Dodgers. The last play of the game featured Cubs batter Chris Denorfia smacking a base hit into the left field corner. It looked like a sure double, but Scott Van Slyke fired the ball to second base and shot down Denorfia as he slid into the bag head first.
Or did he? It was a close play at first blush, and it went to instant replay:
[mlbvideo id="196309583″ width="600″ height="336″ /]
Close to be sure, but the center field angle made it look like Denorfia touched the bag before the tag touched his chest. Replay officials ruled that the call on the field stood, as there was not definitive evidence to overturn the out call.
That play may not have made the difference in the game — the Dodgers were up by three at the time — but it certainly got under Joe Maddon's skin.
"I think it screams for an independent group back there to research the video," Maddon said after the game. "That's what I think it screams for as opposed to working umpires that are actually on the field. I think you should get a bunch of nerds back there that know how to look at a videotape and then come to a conclusion. I think it would be much more interesting that way."
Maddon seemed to be particularly upset about something we talked about last week, which is the whole burden of proof thing, in which calls on the field are given deference unless there is definitive evidence to overturn this. Maddon seems to be saying what I was saying about how the calls should be made clean by replay officials, with their better view substituting for the judgment of the on-field umpires who, especially in this case, did not have a great look at the play. Why they are given deference is a mystery to me.
Also, the "nerds" comment seems to be Madden wondering why it's field umps working the replay booth back in New York. He didn't come out and say it, but I will: why would they be eager to overturn their on-field brethren when umpires are no doubt judged on how often they're overturned? Next week it could be them, after all, and the notion of overruling another ump may be distasteful to them unless they absolutely have to do it.
Independent, de novo review of challenged calls makes far more sense than the system we have now. Major League Baseball needs to implement such a system.