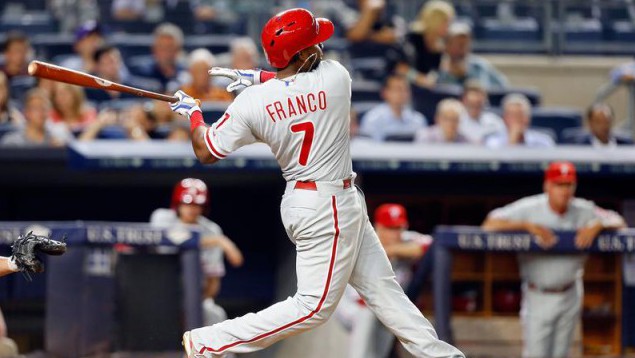 Phillies 11, Yankees 8: A bright spot for the Phillies in this otherwise dark year: Maikel Franco. A prospect who's actually young (22) and not just young for the Phillies. A prospect who's good and not just good for the Phillies. And, last night, a prospect who broke the hell out, going 4-for-5 with two homers and five driven in. He also did this:
[mlbvideo id="189441783″ width="600″ height="336″ /]
Franco is hitting .312/.353/.574 with nine homers and 24 driven in in his 36 games. One of the great things about baseball: even when things are at their worst, there is the chance to see hope for the future.
Royals 4, Mariners 1: Have you ever said a nonsense sentence just for the sake of hearing it and for the sake of thinking "no one in the history of the world has EVER said this"?  I do that sometimes. Like, I'll just be driving down the road and I'll say something like "Don't ride your bicycle into the paella, Marie Curie, for there are Bigfoots in it!" Really, in a thousand years of English, no one has EVER said that. It's a neat and nerdy little game to play! Here, let's do another one: "Joe Blanton outdueled Felix Hernandez."
Angels 4, Astros 3: Yet another guy with two homers last night: Albert Pujols. Who now has 23 on the year — on pace for 52 — and a line of .275/.336/.581. Report/death/exaggerated. The fireworks notwithstanding, the Erick Aybar and Angels scored the go-ahead run on a safety squeeze. But man, Aybar probably should've been out. Watch the play and ask yourself what in the hell Chris Carter is doing throwing a shovel pass home like this:
[mlbvideo id="190638283″ width="600″ height="336″ /]
Fielding is fundamental.
Tigers 8, Indians 5: The Tigers own the Indians, particularly at Progressive Field. Ownership continued last night, with Yoenis Cespedes homering and driving in three. Miguel Cabrera singled twice and walked twice, once with the bases loaded. He's 24-for-37 with five homers and 16 RBI against the Indians this year.
Blue Jays 8, Rays 5: Drew Hutchison wasn't great — three runs and nine hits over five innings — but it was enough on a night when he got some good run support. Asdrubal Cabrera had an interesting night too, tossing his bat and helmet out on the field after getting ejected. Which were then confiscated by Joe West for some reason. Which is not a thing I've ever seen, but it's Joe West and he's his own man.
[mlbvideo id="189351383″ width="600″ height="336″ /]
Oh, and at one point in this game some of the lights in Tropicana Field went out for no reason. Because Tropicana Field.
Twins 13, White Sox 2: Kennys Vargas went 4-for-4 with a three-run homer and four RBI and Byron Buxton had three hits and scored three times hitting at the top of the order as God and Gleeman intended. Joe Mauer and Brian Dozier homered too, as the Twins romped.
Cubs 4, Dodgers 2: Two homers for Kris Bryant, one of which came off of a Clayton Kershaw curve ball. Six Cubs pitchers combined to stymie the Dodgers.