Orioles 19, Phillies 3: Well that was thoroughly ridiculous. The Orioles set a franchise record with eight homers in this one., with Manny Machado and Chris Parmalee each hitting two. Of course the highlight of this — or was it the lowlight? — was Jeff Francoeur coming in and pitching two innings, about which we'll have more to say later this morning. Or maybe the lowlight was the Phillies' bullpen phone being off the hook, preventing Ryne Sandberg from getting anyone else to warm up when Frenchy was clearly laboring. Or maybe it was when Chase Utley was quite visibly mad at Sandberg when he was on the mound talking to Francoeur to see if he could get more pitches out of him. Either way, for every bit as uplifting and hilarious this was from the Orioles' perspective, it was pathetic and awful from the Phillies' perspective. I'd say it's the kind of game that gets managers fired, but to be honest, I can't say I've ever seen this kind of game before.
Cardinals 3, Twins 2: For as much as I wanted to wake up this morning and write about how the Cardinals went up there hacking, I can't, because they only struck out four times and didn't hit any homers. Maybe the greatest disappointment for me, personally, in the 2015 baseball season. You only get so many shots at zingers like that, an when they fail to present themselves it's really disheartening.
Astros 8, Rockies 5: Luis Valbuena, however, took his hacks, hitting two homers and knocking in four. But really, it's not just the same here. Sure, I could maybe make some contrived "victim takes ownership and control over the crime that befell them," analogy, but that's tortured even for me. Anyway, Valbuena has 41 hits this season, 16 of which are homers. After the game Hank Conger said "This guy is like the kid who only hits homers." Which I'm pretty sure was a rejected Donald Westlake book title from 1979. He still wrote the book, but it ended up way, way too dark so he slapped his Richard Stark pen name on it and turned it into a Parker book. As usual, the movie adaptation was lacking.
UPDATE: I had no idea this existed, but multiple people have mentioned it now: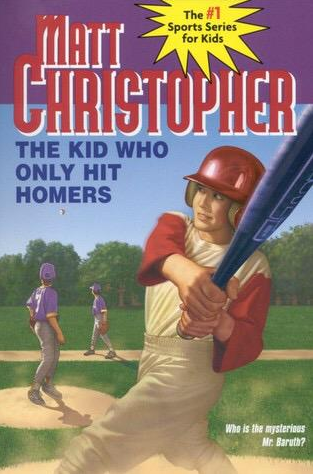 That kid HAD to have been given a bunt sign once or twice, right? Took one the other way once in a while in order to take what the pitcher was giving him? Or is this a steroids story? So many questions.
Athletics 6, Padres 5: Eric Sogard drove in the go-ahead in a tie game in the ninth inning off Craig Kimbrel to spoil Pat Murphy's managerial debut. Murphy was Sogard's college coach. Not going to go back and read any background on them because I'm going to choose to believe that they had a falling out once and this was a student-comes-back-and-kills-his-old-sensei-for-reasons-we'll-never-know situaish.
Giants 6, Mariners 2: The first Giants home win in ten tries. Matt Duffy hit a two-run homer and added an RBI single. He also said after the game that the win came following a team conversation:
"We had a little discussion about it today. These fans are too good for us to be playing the way we have been at home."
In other news, most of human experience can be described as dealing with an inherently chaotic and random universe by attempting to craft fictions in which we portray ourselves as having agency and control.
Red Sox 9, Braves 4: The losing streak ends and Brock Holt hits for the cycle. If I was a member of the Boston media I'd write a straight-faced column this morning wondering why Holt couldn't have hit a second double instead of that single and ask whether it means his focus is lacking. It could cause Dustin Pedroia to explode and that would be sort of fun. Julio Teheran gave up six earned runs on 13 hits. I can't remember the last pitcher I saw who, when he was good he was fine, but when he was off got totally tattooed as much as Teheran get tattooed.
Pirates 3, White Sox 0: The Pirates shut the White Sox out for the second straight game. This time it was Charlie Morton who led the way, with seven scoreless innings. Morton's ERA is 1.62. The Pirates, in fact, have three starters with ERAs under 2.00.
Reds 5, Tigers 2: Todd Frazier had two homers and Jay Bruce added one. There was an odd replay after a play at the plate on Anthony Gose in this game that (a) took a long time; and (b) seemed to go the wrong way. After the game, Brad Ausmus voiced his frustration at the way replay has gone this year:
"I definitely think that instant replay has regressed this season," he said. "I thought for the most part, they changed calls in order to get the play right, and they did that on a regular basis.

"I'm not seeing that this year."
His comments on that closely mirrored what I had to say about this yesterday: that replay officials are giving too much deference to the call made on the field as opposed to simply making the better call from their better vantage point.
Mets 3, Blue Jays 2: The good Matt Harvey made an appearance, shutting out the best offense in baseball for seven innings and striking out six. Not that the Blue Jays' efforts were in vain. Kevin Pillar helped provide a teachable moment to all the little leaguers out there: never forget to look to your third base coach. Or at third base, for that matter, as someone may be standing on it when you try to advance there.
Marlins 12, Yankees 2: Nathan Eovaldi returned to Miami and did more for the Marlins last night than he did all last year, really. The Fish scored eight off of him in the first inning ending this one before it began. Giancarlo Stanton hit a three-run homer in the fifth giving him 24 on the year. Maybe if he hits more he'll pass Nori Aoki in the All-Star voting.
Nationals 16. Rays 4: Jeff Francoeur may have gotten all the headlines for position players pitching last night, but the Rays used two position players on the mound: Jake Elmore and Nick Franklin. Wilson Ramos homered off of each of them in this rout. Things got pretty wild last night, man.
Rangers 3, Dodgers 2: The Rangers coughed up a two-run lead in the top of the ninth when Josh Turner hit a two-run bomb, but Robinson Chirinos got it back with a walkoff homer. Before the Turner homer, Rangers starter Chi Chi Gonzalez was going for a shutout. In other news, I can't tell you how happy I am that we have a Chi Chi playing major league baseball.
Indians 6, Cubs 0: Trevor Bauer tossed seven shutout innings and Carlos Santana drove in four with a three-run homer and an RBI double. Santana also walked twice, helping end a personal skid. Or maybe just interrupting it. Recall what I said above about an inherently chaotic and random universe? Part of dealing with that also involves grafting artificial end-points onto a never-ending river of time.
Royals 7, Brewers 2: Chris Young pitched well (7IP, 5 H, o ER) and drove in three at the plate on two RBI singles. Royals fans suddenly vote him ahead of Mike Trout as the ninth starter in the All-Star Game.
Angels 4, Diamondbacks 1: Two-run homers from Albert Pujols and David Freese was all the Angels needed, but they also got seven strong innings from Garret Richards in which he allowed only one unearned run. The game story leads with stuff about how Mike Scioscia switched the lineup around to put Pujols in the cleanup spot. Pujols will not hear about that meaning anything:
"You don't change your approach because of where you're hitting in the lineup. It doesn't matter if you hit eighth, leadoff … you've still got to go out there and play. I wish you guys flip that page and stay focused on the things we have to concentrate on, and that's winning — not about where I hit, or Trout hitting third. I mean, if that's your wish, you got it tonight."
Prediction: a future Hall of Famer explaining in no uncertain terms that hitters don't change their approach based on where they are in the lineup will do nothing to stop the media from claiming that hitters change their approach based on where they are in the lineup. Why? Probably because, in addition to (a) attempting to craft fictions in which we portray ourselves as having agency and control; and (b) grafting artificial end-points onto a never-ending river of time, we deal with a hostile and uncaring universe by telling ourselves that we truly matter and that our place in it gives us importance merely by our occupying it. "I'm a baseball writer," the baseball writer thinks, "and if I say something, it must be insightful and true, even if it is demonstrably not."
Man. Today got kind of existential. Not sure why. I'm guessing Francoeur pitching had something to do with that. Really threw my ju-ju off.