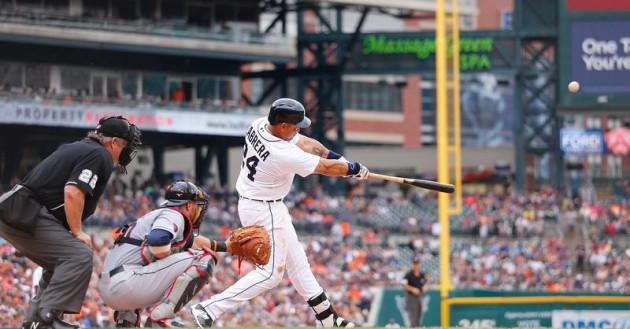 Ah, it's good to be back. If you're curious about where I was, you can read what I wrote about it here, here, here, here, here, here, here, here, and here. If you're not curious, well, let's get right back into it, shall we?
Tigers 8, Indians 1: All Miguel Cabrera does is hit 450+ foot homers against the Indians. He did it on Friday and again here yesterday, this time tagging Corey Kluber. Also, if you ever visit Miguel Cabrera's house, ask him to show you the bill of sale for when he acquired Kluber. For he certainly owns him: he's 20-for-35 with five homers against him in his career.
Mets 10, Braves 8: The Braves were up five at one point, but the Mets just bashed the living hell out of them to come from behind. Four homers in all for New York, including Juan Lagares' go ahead three-run homer in the sixth to cap the scoring in a game that looked like the American League circa 2000. Oh, and I should note that Dana Eveland pitched in this one for the Braves. He was acquired by them while I was gone, and I did not get to make mention of it. Long time readers will know of my fascination with Eveland and the fact that he has the EXACT name I would use if I was a pretty young starlet in 1940s Hollywood. And which I bet at some point some starlet did use, only she didn't make it big because she wouldn't sleep woth Howard Hughes or some such thing and got buried in RKO B-movies. Sure, she came back once in a "Murder, She Wrote" episode in the late 80s and John Waters stunt-casted her a couple of times, but it wasn't much of a career, frankly.
Rockies 4, Marlins 1: I'll always remember where I was when Jorge De La Rosa passed Aaron Cook for the all-time Rockies franchise win record. Specifically, I was . . . um. Wait. I did some laundry yesterday. And I met some friends for an early dinner. Hmm, not sure when this game ended so I can't really be sure. OK, guess I won't always remember where I was, but that doesn't mean it didn't happen. Charlie Blackmon and Nolan Arenado homered in this one.
Dodgers 4, Padres 2: Adrian Gonzalez drove in three, including a two-run single in the top of the 12th to put the Dodgers over. I did not say "put them ahead," because I wanted to use a wrestling term there in honor of the Late, Great Dusty Rhodes who died last week. I don't follow wrestling now but I sure as hell followed it back in the mid-80s and Georgia/Mid-Atlantic was my circuit of choice. Rhodes owned that world, jack, telling us all about "Hard Times" and lamenting the time Baby Doll — that Jezebel! — spent $5,000 of his hard-earned dollars on assorted men and papaya juice. RIP, American Dream.
Rays 2, White Sox 1: Asdrubal Cabrera hit a two-run homer off Chris Sale in the seventh and that's all the Rays would need. Which was unfortunate given how well Sale pitched otherwise, striking out 12 and allowing only two hits apart from that mistake to Cabrera. Sale was clearly tiring, however and finished that inning with 125 pitches on the day.
Yankees 5, Orioles 3: The Yankees kept pace and maintained their percentage points lead over Tampa Bay with a victory here. Free passes helped key the Yankees' rally. Two Orioles pitchers managed four straight walks to force in a run and then John Ryan Murphy hit a two-run double.
Blue Jays 13, Red Sox 5: The last time I did an "And That Happened" was ages ago. June 3, to be exact. And that is the last time anyone around here was able to write about a Blue Jays' loss, which last happened the evening before. Now it's 11 straight for Toronto, and they stand only a game behind the Yankees and Rays. Some things are the same as before I went on my little trip: the Red Sox sucked then and they suck now. Ryan Goins homered, doubled and drove in five in this one.
Pirates 1, Phillies 0: Josh Harrison drove in Neil Walker with two outs in the bottom of the 11th for the win, but it was really A.J. Burnett and Cole Hamels who owned the day. Burnett pitched nine, shutting out the Phillies in regulation on five hits. Hamels only went seven but he too shut out the opposition, striking out 12. It's a shame neither of them figured in the decision and one of their team's had to come out on the losing end.
Nationals 4, Brewers 0: Max Scherzer must've been feeling right yesterday: 1 hit, 16 strikeouts and the complete game shutout. All he's done this year is post a 1.93 ERA with a 113/14 K/BB ratio over 93 1/3 innings. Yet he's only 7-5 and the Nationals aren't in first place, meaning that he really has not done his job, right?
Astros 13, Mariners 0: The Astros take two of three from Seattle. In the two wins they outscored the M's 23-0. Not too bad. Here Lance McCullers had a no-hitter going through five but was nonethless pulled. That's what happens when you're a well-regarded kid and you've already tossed 90 pitches in those five innings. Four relievers came in after him and helped to combine for a two-hitter. Evan Gattis had four hits. Colby Rasmus and Hank Conger each drove in three. Houston: still in first place after Flag Day. Who'da thunk it?
Twins 4, Rangers 3: Byron Buxton made his big league debut. No hits and he struck out twice, but he scored the go-ahead and winning run from first base in the top of the ninth after reaching on a botched sac bunt in which the lead runner was thrown out.
Athletics 8, Angels 1: The A's are double-digits behind the division leaders but Sonny Gray has done his job at least. He allowed only one unearned run in seven and two-thirds to lower his ERA to 1.60. Ben Zobrist — likely coming to a contender near you in the next month or so — went 3-for-5 and scored three times.
Diamondbacks 4, Giants 0: Good day for De La Rosas. Jorge set a team record and Rubby took a shutout into the ninth. He couldn't seal the deal but he did get his first win in ages. Chris Heston, alas, did not pull a Johnny Vander Meer, allowing a hit in the second and being chased after five after giving up three runs.
Cubs 2, Reds 1: For the second game in a row Starlin Castro got a walkoff hit. This one in the 11th. Chicago took three of four. They're seven games over .500. Six and a half back and in third place, mind you, but they'd be leading three other divisions and, given how strong the NL Central is, it's totally possible three playoff teams come out of that division anyway.
Royals vs. Cardinals: POSTPONED: Another rainy day, we're trapped inside with a train set
Chocolate on the boil, steamy windows when we met
You've got the attic window looking out on the cathedral
And on a Sunday evening bells ring out in the dusk
(sorry; I saw Belle and Sebastian in concert last night, so everything is nice and twee today)