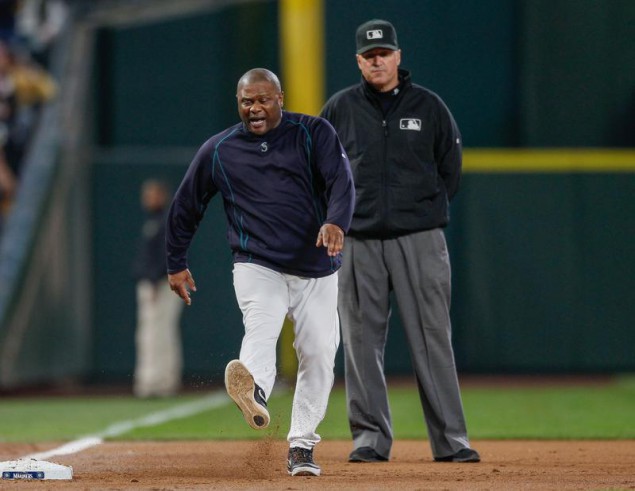 Yankees 5, Mariners 3: Comeback win for the Bombers, who tied it in 9th when Fernando Rodney couldn't hold a one-run lead and then won it in the 11th thanks to a Garrett Jones three-run HR. The tie came via a two-out double from Stephen Drew who offered some keen insight into his accomplishment: "Just trying to get a good pitch to hit. Not try to do too much." He ACTUALLY SAID THAT. And people wonder why I don't go into clubhouses to talk to players after ballgames.
Yuck. Let's cleanse the cliches from our palate with Lloyd McClendon going crazy after his catcher got ejected in the third inning for flipping out after a bad check swing call on an A-Rod walk:
[mlbvideo id="142346583″ width="600″ height="336″ /]
This is Lloyd's second stint as a manager and he spent years coaching. I feel like having all of that time in the dugout, much of which he spent learning at Jim Leyland's elbow, really helped his showmanship here. That's one of the things we're losing with all of these handsome, low-experience managers in the game. They still think like players. More apt to offer those "good pitch to hit, not trying to do too much" cliches rather than let the old id loose. I don't want to go back to the days of Billy Martin because he was a big jackass, but once in a while I'd like to see some friggin' fire out there. Thank you, Lloyd, from giving us a break from the BradMathenyCashBots.
Rangers 15, White Sox 2: Welcome to the big leagues Joey Gallo! We covered the highlights last night here and here. He finished his major league debut with four RBI. The kid has amazing power and has gotten better each year in the minors and he's going to be something special to watch. He wasn't the only one kicking butt here, of course — Carlos Corporan drove in five himself — but I feel like this will always be remembered in Texas as "the Joey Gallo Game."
Nationals 2, Blue Jays 0; Blue Jays 7, Nationals 3: Game 1 featured Jordan Zimmermann shutting down the Jays and the game ending in 2:17. Which adds fuel to my theory that teams intentionally buzz through Game 1 of a doubleheader in order to get more time to chill in between games. Game 2 featured Kevin Pillar hitting two home runs off Max Scherzer. Which adds fuel to my theory that baseball is about the most random thing possible.
Rockies 6, Dodgers 3: Dodgers 9, Rockies 8: Big homers were the order of the day here. First, big in distance — Joc Pederson's two massive blasts definitely fit that bill —  including one in the first game and again in the second game which, went even farther. Or, if you watch that video, "further," which is Charlie Steiner's choice of words. But if I remember my schoolin' accurately, it should be "farther" which is more often used for physical distance while "further" is more often used for figurative journeys. They may be interchangeable, however.
Another homer was big given the moment it was hit: Alex Guerrero's two-out grand slam in the ninth inning of the nightcap, giving the Dodgers the lead. Which, unlike a lot of leads in Coors Field, held up:
[mlbvideo id="142495683″ width="600″ height="336″ /]
Phillies 5, Reds 4: The Phillies don't come back late very often — they were 1-30 when trailing after seven coming into this game — but Maikel Franco tied this one in the eighth with a two-run homer and then Darin Ruf hit a walkoff single with one out in the ninth. The only reason Franco got to bat in the eighth was because Jay Bruce lost a liner in the lights that should've been out number three. That's another thing wrong with today's game. Lights, consarnit! What's wrong with playing in the daytime! If it was good enough for Rogers Hornsby back in nineteen dickety five, it's good enough for these whippersnappers!
Athletics 5, Tigers 3: Ben Zobrist hit a grand slam to cap a five-run seventh inning to give the Tigers their fifth loss in a row and their eighth defeat in their past ten games. Look, I know it's early June and a lot can happen, but I'm starting to get a bad feeling about the Tigers' chances. I don't believe in omens and hardly anything that happens in a baseball season can truly be seen as a symbol for anything, but this one feels ominous. Like they'll look back and say "yeah, that stretch against the Angels and Athletics in June. That's when we kind of knew we were screwed."
Red Sox 1, Twins 0: Clay Buchholz (8 IP, 3 H, 0 ER, 8K) only needed one run of support here and he got it via Rusney Castillo's RBI single in the seventh. Mike Pelfrey was no slouch himself (7 IP, 6 H, 1 ER).
Marlins 5, Cubs 2: From the AP gamer:
Miami Marlins left-hander Brad Hand stood at his locker eager to talk about a rare win, but the clubhouse stereo made conversation impossible, so he just smiled while rapper 2 Chainz's "Birthday Song" blared away.

"I like that song," Hand said.
Me too:
Easily the highlight of the Marlins' season so far.
Indians 2, Royals 1: Michael Brantley hit a two-out RBI single in the eighth inning to break a tie. Off of Wade Davis, no less, who hasn't been in the business of giving up two-out RBI singles much lately. Brantley probably shouldn't have made it to the plate, however, as there was a disputed safe call at first on a would-be double play earlier in the inning that both the umpire AND the replay officials blew. Of course, if the Royals scored more than one run off of Carlos Carrasco we're not even having that conversation.
Astros 6, Orioles 4: Baltimore took a 4-0 lead into the bottom of the third, but we play nine around these parts. Evan Gattis hit a three-run homer and Luis Valbuena knocked himself in for the go-ahead run with a solo shot as part of yet another Houston Astros comeback win. Their 17th to be exact, which leads all of baseball.
Cardinals 1, Brewers 0: Lance Lynn tossed shutout ball into the eighth. Fun times: Matt Holliday had his National League record on-base streak halted at 45. In part because he struck out on a bad call from Joe West (shocker) who then proceeded to eject Holliday. Probably would've been Holliday's last plate appearance anyway, but thank goodness we had Joe West around to make sure it ended definitively. People pay to see that master work.
Diamondbacks 7, Braves 6: A see-saw game ended with the Dbacks up high — or down low? How does one "win" at see-saw? — thanks to A.J. Pollock's two-out, two-run home run in the seventh which landed in the dang swimming pool.
Rays 6, Angels 1: Chris Archer was as dominant as all get-out, striking out 15 in eight innings of work. That tied James Shield's franchise record. Three of those Ks were of Mike Trout. The lone Angels run came on Albert Pujols' 534th career homer, which ties him with Jimmie Foxx on the all-time list. The homer also put him past Foxx and Ted Williams on the all-time extra-base hit list.
Padres 7, Mets 2: Noah Syndergaard had allowed only two earned runs in his previous three starts. Had. San Diego lit up the rookie sensation for seven runs on ten hits in four innings. All of which makes me wonder about the choice of headline in ESPN.com's version of the game story:

Sorry, You do not get to be mentioned in an "Outdueled" headline if you give up seven runs on ten hits in four innings. That's like saying "ant outduels foot."
Pirates 7, Giants 4: Remember when Andrew McCutchen started slow? Nah, me neither. Here he had four hits and drove in two runs. He's now hitting .398 (37-for-93) over his past 26 games, with 11 doubles, a triple, five homers, 21 RBI and 17 runs scored.
And with that I'm taking temporary leave of you all. I'll be gone from today through the end of next week. More pleasure than business, as I'm heading out on that Amtrak Writer's residency those of you who follow me on Twitter or read my musings on Tumblr may know about.
There will be some business. I have a couple of non-baseball projects I'm messing around with and I do plan on hitting up a the Rays-Mariners game in Seattle on Saturday night. I may post something at HBT if anything notable happens there, or if some Craig-bait PED story happens. But otherwise I'll be putting up periodic updates of my trip on Tumblr and Twitter.
D.J., Drew and Bill will be putting up Settling the Scores threads in the mornings. Aaron will be here all day. Please try to find things to be outraged about while I'm gone.