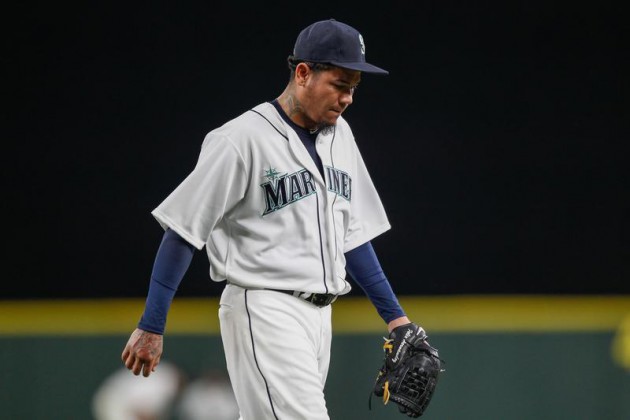 Yankees 7, Mariners 2: Felix Hernandez needed only six pitches to get through the first inning. He needed only nine pitches to get through the second. In the third he set the Yankees down in order once again, again on six pitches. Then this started happening:
King Felix might throw a perfect game.

— John Harris (@JiveJohn) June 2, 2015
I would like to congratulate Felix Hernandez in advance for his perfect game. — Tom (@Tomlikesmtndw) June 2, 2015
At this rate King Felix will throw a 63 pitch perfect game. #Mariners

— Mariners Nation (@MarinersNation) June 2, 2015
21 pitches through 3 innings… Hernandez on his way to a perfect game lol — Emanuel (@Bx_MaNoLo) June 2, 2015
This has "Felix Hernandez pitches second perfect game of career" written all over it.

— Anthony Mondi (@AnthonyJMondi) June 2, 2015
Yankees have to face Felix Hernandez tonight….. Perfect game incoming😭🔫 — John Mastice (@john_mastice4) June 1, 2015
That's why they play the game. Hernandez's line on the night: four and two-thirds innings pitched, six hits, seven runs, five walks and the loss. Mark Teixeira hit a grand slam off of him. The lessons: (1) watch the whole game; and (2) don't read what people say on Twitter. Basically, ever. It's an awful, awful website which will suck your entire life away.
Braves 8, Diamondbacks 1: Speaking of homers coming in bunches, get a load of Freddie Freeman, who has hit three in the past four games. He had three hits in all, as did Andrelton Simmons, who has a ten-game hitting streak. Chip Hale, after the game, explaining his team's poor performance:
"We played tonight, unfortunately, like a team that played 17 innings yesterday and lost and traveled home, which is my fault, the coaches' fault. We didn't have them ready to play. I will take the blame on that. It is embarrassing to me. It is not the way a team that I would ever want to coach would play a game. It's just sloppy, dead baseball and I apologize for that."
He then disembowled himself with his family's sword, handed it to bench coach Glen Sherlock who served as his kaishaku and completed the seppuku. Importantly, he did it all the right way.
Dodgers 11, Rockies 4: L.A. smacked four home runs. One by Howie Kendrick, who drove in four. It actually could've been a bigger beating here as the Dodgers had 18 hits and drew five walks. Heck, Adrian Gonzalez reached base five times last night and the only time he scored was on his solo homer. Clayton Kershaw even went 3-for-4 with run driven in. The only damage to Kershaw came on a Nolan Arenado two-run homer. He's homered in three straight.
Angels 7, Rays 3: Both L.A. teams hit four home runs. Unless you're one of those tiresome folks who insist that the Angels — formerly known as the California and Anaheim Angels and currently residing in Anaheim — aren't really an L.A. team. But, as current events helpfully remind us, when someone changes their name, they should be accorded the same respect received by anyone who has changed their name. They want to be the Los Angeles Angeles? They're the Los Angeles Angels. If you insist on calling them what you think their name really is or should be, you're being a jerk.
Brewers 1, Cardinals 0: Carlos Gonzalez's first inning RBI was all that happened on the offensive side of the game. Beyond that it may as well have been the high-mound, no-offense 1960s. Well, except for the part where it took eight pitchers to put up all of those goose eggs. I wouldn't bet my children's lives on this, but I would bet an awful lot on there never once being a nine inning, rain-free 1-0 game which required eight pitchers to finish between the years of, say, 1900 and 1990.
Astros 5, Orioles 2: Down one heading into the seventh, Houston scored four that frame, getting to a tiring Ubaldo Jimenez and an ineffective Brad Brach. This was the Orioles' first game outside of the Eastern Time Zone all season which is kind of crazy. Bring back the balanced schedule.
Cubs 5, Marlins 1: Jason Hammel has pitched 67 innings this year. He has 69 strikeouts and only 7 walks. Nice. Here he struck out 11 and allowed only one run in six and two-thirds, walking no one, naturally. He had a little extra mojo here due to not having pitched in eight days, but it's not like he's needed it lately.
Mets 7, Padres 0: Jacob deGrom didn't break a sweat, tossing eight shutout innings while allowing only two hits. The kid may be good. How good?
Jacob deGrom through 33 starts in the majors: 2.60 ERA with a 215/56 K/BB ratio over 211 1/3 innings.

— D.J. Short (@djshort) June 2, 2015
OK, you can read Twitter sometimes. There is some decent information on there. Andrew Cashner struck out 12, didn't walk anybody and still didn't make it through five innings. Which, well, OK! By the way, the Mets are in a virtual tie for first place with the Nats again.
Pirates 4, Giants 3: Neil Walker hit a tiebreaking two-run double in the fifth and Gerrit Cole struck out nine and allowed only two unearned runs. He's 8-2 with a 1.90 ERA. I know wins are lame, but Cole is on a pace for 25 of them which really doesn't happen much anymore.
Blue Jays vs. Nationals; Twins vs. Red Sox: POSTPONED: The breaker's roar
On an unseen shore,
In the teeth of a hurricane,
Oh, we struggle in vain
A hellish night,
A ghostly light,
Appears through the driving rain,
Salvation in a human chain