Mets 4, Marlins 3: Bartolo Colon is cunning. He set up this RBI double by intentionally hitting poorly for 18 seasons, lulling Ichiro into a false sense of security which caused him to play extremely shallow, thereby being unable to cut off the ball turning this into an RBI double:
[mlbvideo id="139105683″ width="600″ height="336″ /]
Colon playing the long con. I love it.
Reds 8, Nationals 2: Todd Frazier and Brandon Phillips each homered and drove in two and Joey Votto drew a three-ball walk which no one noticed at the time:
[mlbvideo id="139417583″ width="600″ height="336″ /]
I get you, me and any other fan losing the count. And I get a broadcaster losing the count on occasion as they have a lot of stuff they're keeping track of. But I'm not sure how the ump, pitcher, catcher and batter can. Maybe one of 'em. But all of 'em? Or maybe Votto didn't lose it but just heard the ump say "ball 3!" or "ball 4!" and went with it? Oh well, that ended up being a six-run inning for the Reds who swept the Nats.
Rockies 4, Phillies 1: Everyone got mildly excited when the Phillies won six in a row not too long ago. Now they've lost seven in a row so did it even happen? The Rockies, meanwhile, have won four straight and seven of eight. Of course come October they'll both be home and we'll wonder whether any of this mattered, and we'll be forced, once again, to consider how matchups between teams going nowhere serve as an apt metaphor for the futility of life when nothing awaits us other than certain death. Or, um, maybe I'm the only one who does that.
Brewers 7, Diamondbacks 6: If that Phillies-Rockies recap wasn't depressing enough for you, how about extending the metaphor to a crazy exciting life, filled with highs and lows, yet still ending in the grave? Because that's what you can take away from a 17-inning game between two losing teams which ends on a walkoff homer. Add in the notion that the walkoff was hit by Martin Maldonado, who was batting .157/.222/.209 before yesterday, and it also provides a metaphor for the fundamental injustice of those less worthy than you doing better in life. Bright side: those people die one day too.
Twins 6, Blue Jays 5: Hi, it's June and Minnesota has the best record in the American League. As noted above, futility and certain death are a part of life, but there is also serendipity and surprise too, which makes it all worth while. Trevor Plouffe hit a two-run homer, and Torii Hunter had a go-ahead double in the seventh. The last time the Twins had a 20-win month was the month I graduated from high school: June 1991. The choir sang "One Moment in Time" at that graduation ceremony. Nirvana's "Nevermind" was released three months later. And the month after that the Twins were World Series champions.
Rays 9, Orioles 5: When you have two dudes who hit two home runs in a game, you usually win that game, I'd reckon. Here Delmon Young and Manny Machado each went deep twice but the O's got beat anyway. Baseball, man. Steve Souza Jr. homered for his third straight game for the Rays and Jake Odorizzi got some rare run support from everyone else.
White Sox 6, Astros 0: John Danks allowed 10 hits, including five extra-base hits, yet still pitched a shutout. That's some 80-grade scattering. The last time a pitcher gave up 10 hits in a shutout was Carlos Silva, 11 years ago. No one has done it with five of those hits going for extra bases dating back to 1914, which is as far back the STATS, Inc. people have all of the relevant stats of which this factoid is comprised.
Cardinals 3, Dodgers 1: Carlos Martinez pitched one-hit ball over seven shutout innings. He now has 20 and a third scoreless innings. Jhonny Peralta homered and drove in all three of the Cardinals' runs.
Cubs 2, Royals 1: A walkoff RBI single in the 11th for David Ross and the Cubs. Or the Whales, which is the old Federal League club they were honoring with their throwbacks yesterday: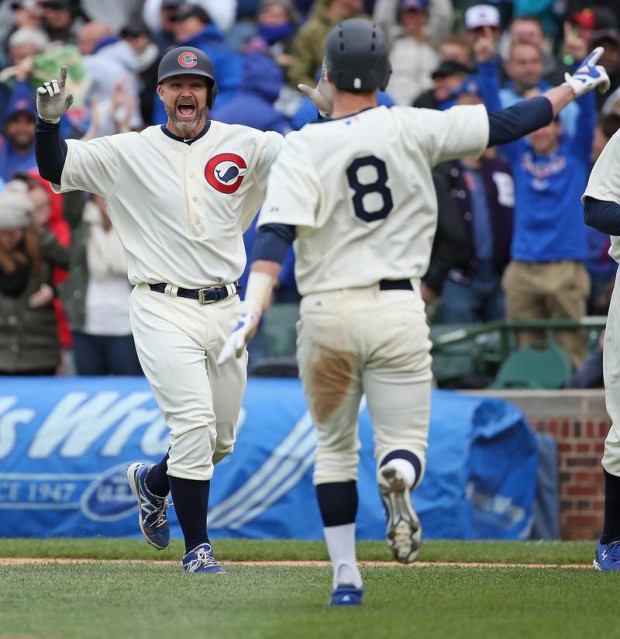 Pretty sweet. Including that authentic matte batting helmet which I assume everyone in the Federal League wore. The league went belly-up due to the fact that fabricated plastics weren't really available in 1915 and thus each batting helmet had to be created from mined plastic. The only plastic mines at the time were located in Belgium, which made it insanely expensive and dangerous for plastic miners due to the war. Really, if the people who ran the Federal League were more pragmatic, it may still exist today.
Rangers 4, Red Sox 3: Josh Hamilton came in to pinch hit in the ninth and smacked a walk-off two-run double. According to ESPN, it was the first pinch hit, walkoff double for the Rangers since Sept. 8, 1991. Which was 15 days before Nirvana's "Nevermind" came out and . . . stop looking at me like that. If the STATS and ESPN people can trot out somewhat interesting but basically meaningless and non-predictive or explanatory stats to fill out their copy, so can I.
Athletics 3, Yankees 0: Jesse Chavez wasn't John Danks or anything, but he did scatter seven hits over eight shutout innings. All the runs came off the bat of Stephen Vogt, who hit a two-run homer and had a sac fly. Martinez-Peralta, Chavez-Vogt: yesterday's two-man teams.
Braves 7, Giants 5: The Bravos managed a four-run ninth inning off of Santiago Casilla, highlighted by a Jace Peterson bases-loaded triple. A little before that Freddie Freeman hit a homer. So I guess homers don't always kill rallies. Sometimes they start them.
Indians 6, Mariners 3: Three runs in the 12th inning for Cleveland, including a two-run single from David Murphy. The Mariners were lucky to get to extras here, actually, notching only five hits in the whole dang game. Jason Kipnis had two doubles. His May: .429/.511/.706 4 homers, 17 RBI and 30 runs scored. He also is not even in the top 5 for All-Star voting at second base.
Angels 4, Tigers 2: The Angles sweep the sputtering Tigers in four games. David Price after the game:
"It's frustrating. We're not playing the way we're capable of playing right now," Price said. "Every team goes through it, and every team is going to feel this throughout 162 games. So you've just got to grind through it. We know we're a better team. Everybody knows that."
That's true. And it has often been true of the Tigers in recent years. But in recent years the AL Central has not been anywhere near as good as it is this year, what with the Royals and Twins playing as well as they have and with the Indians and White Sox being far stronger teams than their current records suggest. I have not written off the Tigers nor should anyone else, but I feel like things are a lot different now than they have been since the Verlander-Cabrera Tigers came to prominence.
Padres 7, Pirates 1: Odrisamer Despaigne allowed one run on seven hits in eight innings. It's the best pitching performance by a person whose name could easily pass for the name of a high-end Belgian ale in baseball history. Seriously, go put that on Untapped and people will start rating it and acting like the only reason you haven't heard of it is because it's only available in their town right now. "Try the Tripel," your friend will say. "If you can find it anyway."