Lots of jerks like to give famous people crap on social media. Most famous people ignore it. Chipper Jones is not most famous people.
Last night some troll started giving Jones crap over what appears to be decades-old anger that Jones didn't give him an autograph. Back when he was eight-years-old.
The troll:
@RealCJ10 still considered a piece of shit in my book! You were my favorite player until you ruined it by not signing a ball when I was 8

— Captain America (@thatgrayboy) May 28, 2015
Jones:
Love smack talkers! Meet today's class clown…..@thatgrayboy! All cuz I signed for 100s of peeps and he was #101. Bitter after 20 yrs! — Chipper Jones (@RealCJ10) May 28, 2015
That led to a back-and-forth in which Our friend Captain America decided to get personal:
@RealCJ10 chip chatter doesn't bother me. Your baby mama is typing this one. On my phone.

— Captain America (@thatgrayboy) May 28, 2015
Which led to Jones saying that he was sure the troll's parents were proud of him and the troll citing his three military deployments as proof of his worthiness as a person. Then, for reasons that are only clear to Chipper Jones, he decided to follow and direct message the troll. And challenged him to a fight: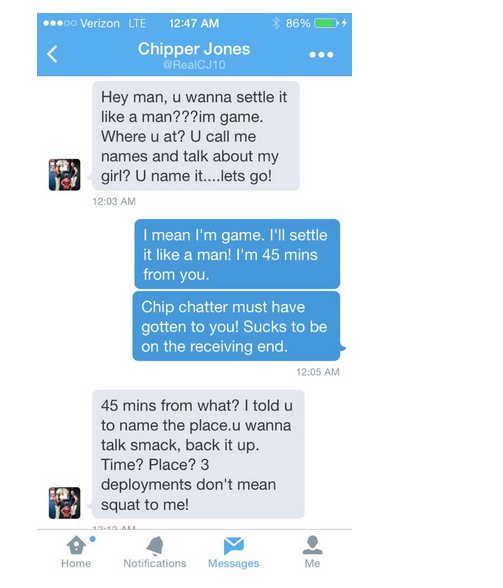 I presume we would've heard about it if there was a fight. But, man, really, Chipper? Don't let guys like this under your skin. My lord.