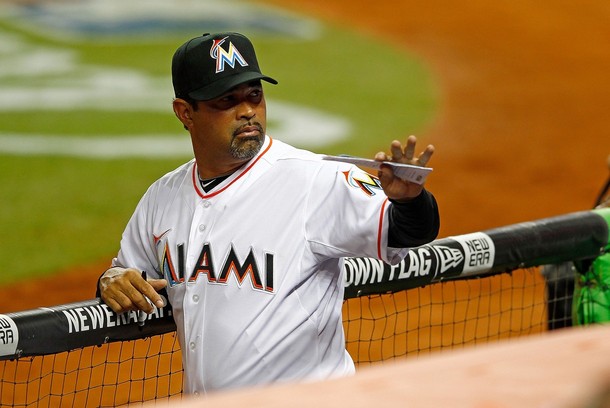 Bob Nightengale checks in on the Marlins' clubhouse, and it ain't a pretty sight. Ten days after Mike Redmond was fired and Dan Jennings was installed, the team is still losing, the players seem less-than-enthused and Jennings seems frustrated. He's even getting personal advice from Jim Leyland about how to, you know, be an manager.
But maybe the most interesting part of all of this is who the Marlins considered before settling on Jennings:
The Marlins, according to a high-ranking official, seriously discussed several candidates once they decided to fire Mike Redmond. They talked about bringing in Ron Washington, who resigned from the Texas Rangers last September. They brought upDusty Baker, who fired by the Cincinnati Reds after the 2013 season.

Yes, if you can believe it, they also debated the idea of bringing back Ozzie Guillen, who was fired by these same Marlins after the 2012 season, and is still being paid $2.5 million.
I'd say that all three of those guys would be better choices than Jennings. Well, Guillen would be a better baseball choice, but as Nightengale notes, he made himself toxic in Miami a couple of years ago when he made those Fidel Castro comments. Still, he'd be a better manager. Which is not a slam on Jennings personally. Just a fact.
Still, I'm a tad skeptical here. The Marlins took a lot of heat after the Jennings hire for being the latest team to ignore the "Selig Rule" by not considering minority candidates. Now a "high-ranking official" floats the idea that they considered two black candidates and a Latino candidate?
One wonders how strong that consideration was. Why it's just coming to light now. And why, given how much better any of them would be than Jennings, they weren't actually, you know, hired. All three of them have publicly stated that they want to manage again and aren't/weren't getting phone calls. I bet they'd take the gig.