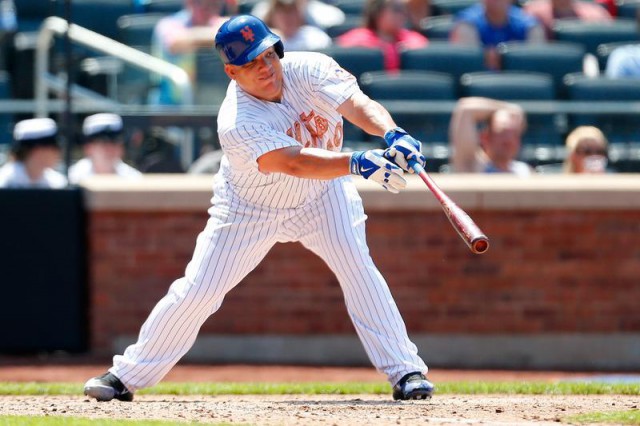 Mets 6, Phillies 3: Wilmer Flores hit a three-run homer in the sixth to break a 3-3 tie and to help put Bartolo Colon in the win column for the the seventh time this year. Colon also singled and actually ran the bases and stuff. Like this:
— Timothy Burke (@bubbaprog) May 25, 2015
Yankees 14, Royals 1: Jeremy Guthrie got shellacked, giving up eleven runs while recording only three outs. It's the first time a pitcher has allowed 11 runs while recording three outs or fewer in eight years. It's also the first time a pitcher allowed four home runs while recording three or fewer outs in ten years. Three RBI a piece for Brett Gardner, Chase Headley, Brian McCann and Stephen Drew. It was just the Yankees' second win in 12 games. It should count for two or three at least, you figure.
Pirates 4, Marlins 2: Charlie Morton scattered eight hits and allowed two runs over seven innings in his first action of the year. According to the AP game story Morton is said to have gone on "a six-week journey to rebuild his delivery from the ground up" as he recovered from offseason surgery. Morton once famously remade his delivery to be just like Roy Halladay. I wonder who he picked this time. Is there a big glossy catalog to be leafed-through in a big shiny and futuristic delivery-remaking clinic from which you can choose? "I want to be . . . Fergie Jenkins this time!" "Excellent choice, Mr. Morton!" Or is it more of a back-alley kind of place, like how Jack Nicholson was patched up to achieve his Joker look in the Tim Burton Batman?
Blue Jays 6, White Sox 0: Drew Hutchison with The Maddux. Which is not, contrary to popular opinion, a performance in which he yelled "F**K!" so loud from the mound that it was picked up by TBS microphones and ignored by Skip Caray, followed by him peeing on the feet of his teammates in the shower. I mean, yes, those are classic Maddux trademarks. But I'm referring to the fun stat created by Jason Lukehart three years ago and which MLB and its Twitter feed continuously reference these days without any acknowledgment that Lukehart made it up. Oh well. As for Hutchison, he gave up only four hits, struck out eight and didn't walk a soul.
Dodgers 6, Braves  3: L.A. hit three homers in the eighth inning — Andre Ethier, Alex Guerrero and Jimmy Rollins did the honors — to key the Dodgers' win. Ethier also drew a bases-loaded walk. Braves starter Williams Perez allowed only that walked-in run and scattered seven hits in six innings. The homers came off of Nick Masset who, apparently, gets to stay in no matter how many homers he gives up in close games. Must be a weird provision of his deal or something.
Angels 4, Padres 3: Tied at three in the ninth with two men on, Bud Black decided to intentionally walk Mike Trout to pitch to Albert Pujols with the bases loaded. While walking the bases loaded to pitch to Pujols was unthinkable back during the Bush Administration, it's pretty defensible these days, at least to get around Trout. But Pujols made Black pay by hitting a game-winning single to left field.
Rockies 5, Reds 4: Nolan Arenado homered, had three hits and drove in the go-ahead run with a sac fly in the ninth off of Aroldis Chapman. That's nine straight losses for Cincinnati. Three wins in a row for Colorado.
Orioles 4, Astros 3: I guess Dallas Keuchel was going to lose eventually. Not that the Orioles totally murdered him. As a team they only got six hits in the whole game and went down in order in six of their eight innings at the plate. But when two of those six hits were two-run homers — from Caleb Joseph and Steve Pearce — and when your four pitchers don't walk anyone and pitch out of trouble enough times, it's sufficient.
Giants 8, Brewers 4: Weirdness abounded in this one. Carlos Gomez has a gold glove and a stellar defensive reputation, but he also had two errors in one inning to help fuel the Giants' seven-run rally in the sixth. Also weird: Khris Davis hit a home run in the first, after which he was called out for allegedly failing to touch home plate. The Brewers challenged that call and he was then called safe. Davis homered again in the third inning. This time, when he scored, he stomped on home plate. I may have slid.
Twins 7, Red Sox 2: Ricky Nolasco pitched well and Trevor Plouffe hit a three-run homer. The Twins are 26-18 and are only two games back of the Royals in the AL Central. If the season ended today they'd be in the playoffs as the first Wild Card in the American League. And I'm not sure if the season ending on May 26 for some reason would be any more surprising than the Twins actually finishing the season in the playoffs. If they do make the playoffs, though, can we agree to officially abolish preseason predictions for eternity? Because it's unseemly for people to pretend they're experts and have any special, authoritative insight into a pursuit as random as baseball.
Nationals 2, Cubs 1: Denard Span and Wilson Ramos homered. Kris Bryant homered in a losing cause. Really, those three hits were the whole game.
Athletics 4, Tigers 0: Jesse Hahn pitched a four-hit shutout to give the A's their third win in a row. This despite his infield committing three errors behind him. Marcus Semien's made it 17 for him on the season. The A's have 49 overall, leading the league.
Rangers 10, Indians 8: Six wins in a row for the Rangers and the end of a six-game winning streak for the Indians. This game marked the return of Josh Hamilton, though he didn't do much. He was 0-for-3 with two strikeouts, but he did walk and score once. Prince Fielder hit his fourth homer in four games and is now at .365/.417/.575 on the year and is on pace to hit 32 homers and drive in 126. Last year, when everyone said his bat would come alive in Texas? They were right. Just a year and a healthy Prince Fielder too early.
Cardinals 3, Diamondbacks 2: Jhonny Peralta with the walkoff homer in the 10th. This was the Cards' eighth extra-innings win this year, which leads all of baseball. And, given that most analysts believe that, over time, extra innings wins tend to be heavily influenced by luck and random chance, it is evidence that the Cardinals possess black demon magic from an unholy source powering their success.
Mariners 4, Rays 1: Robinson Cano went 2-for-4 and drove in two runs, so I guess he's not dead. Factoid of the day courtesy of the Associated Press:
This was the first-ever matchup of major league managers who played in the Little League World Series. McClendon was with Gary, Indiana, in 1971, while Cash was part of the 1989 Tampa, Florida, team.
Alrighty then.